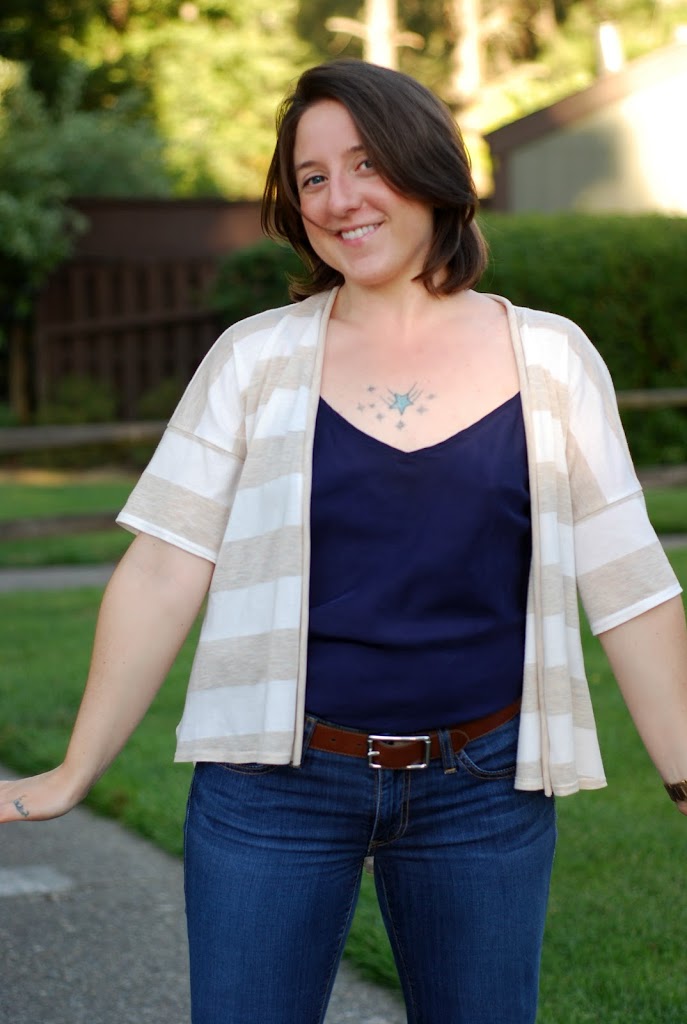 Summer Concert Tee to Cardigan (Guest Post by Lizz of A Good Wardrobe)
***We're continuing onward with the guest posts while I'm on vacay! Today I'm excited to have the lovely Lizz from A Good Wardrobe here sharing an awesome modification for my own pattern! I'm so flattered! 
 Lizz is currently living my own personal dream – going to school for pattern design in one of the coolest cities in the world and calling her wardrobe "good" is a total understatement. When I first came across her blog I fell in love! Er, let me explain. I fell in love with her clothes! She makes sophisticated and classy designs with a touch of femininity and, if I do say so myself, 100% badassitude! I seriously want to sneak in her house at night and steal all of the clothes she's made! Wow, that sounds creepy… But really, it's as if someone else made all of the clothes I'd imagine I'd want to make. Well, while I'm experiencing some serious sewing swoon over here let's get on with the post, shall we? ***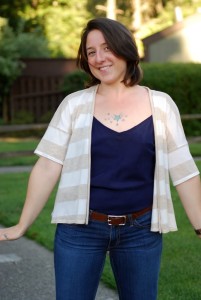 Hello, Dixie DIY fans! I'm Lizz from
A Good Wardrobe
! I can't tell you how excited I was when Dixie approached me about a guest post. I knew that I wanted to share with you one of my favorite things about sewing: pattern modification. It's amazing how tiny changes to an existing pattern can create an entirely different project. With just a few key patterns, you can create an endless amount of garments.
I live in the San Francisco Bay Area which means that on any given day I could go through two or three major weather changes. Layering is a must – especially in the summer. I've been in desperate need of a lightweight cover up recently and my spring/fall cardigans are just too heavy for the job. I thought it would be fun to play around with Dixie's Summer Concert Tee to create a cardigan and show you all how to do the same.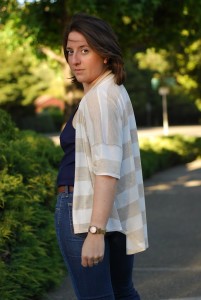 Fabric:  2 yards of jersey fabric or other single knit that does not fray. It's important that the jersey's right side curls onto itself as this design utilizes the natural curling tendency for the collar.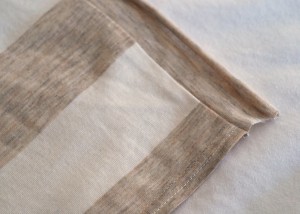 Please refer to the pattern for additional supplies and instructions on working with knit fabrics.
1. Print and assemble the pattern but don't cut it out just yet.
2.Select your size according to the pattern's size chart. I'm in between sizes and chose to size up since this a loose fitting garment.
3. Draw a grain line parallel to the center front. We'll be modifying this piece and will need a grain line when cutting out later.
4. Using a curved ruler or freehand, draw a line extending from the high neckline point (where the neck and shoulder meet) to the center front. You can see mine in the photo – it's the blue line.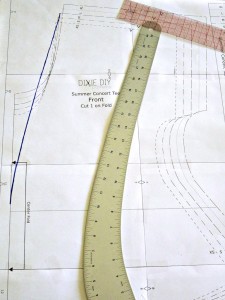 This is your new center front. When it's time, cut 2.
5. Draft a new collar piece.
– Measure the new center front from hemline to high neckline = a
– Measure back neckline from center back to high neckline = b
– (a + b – hem allowance of 1″) x 2 = c
– Draft a new collar pattern 2″ x measurement c
– Mark grain line running the length of the cross grain (selvedge to selvedge)
6. Cut pattern pieces out: front (cut 2), back (cut 1 on fold), sleeves (cut 2 on fold), and new collar piece (cut 1).
7. Follow the pattern directions steps 1 -4. At this point you will have the garment constructed and hemmed leaving only the collar to finish.
8. With right sides together attach the collar to the garment being careful not to stretch.
 The collar hem and side will be left unfinished.
That's it! You can have this cardigan finished and ready to wear in an afternoon. I hope you enjoy making it as much as I did. Happy sewing!