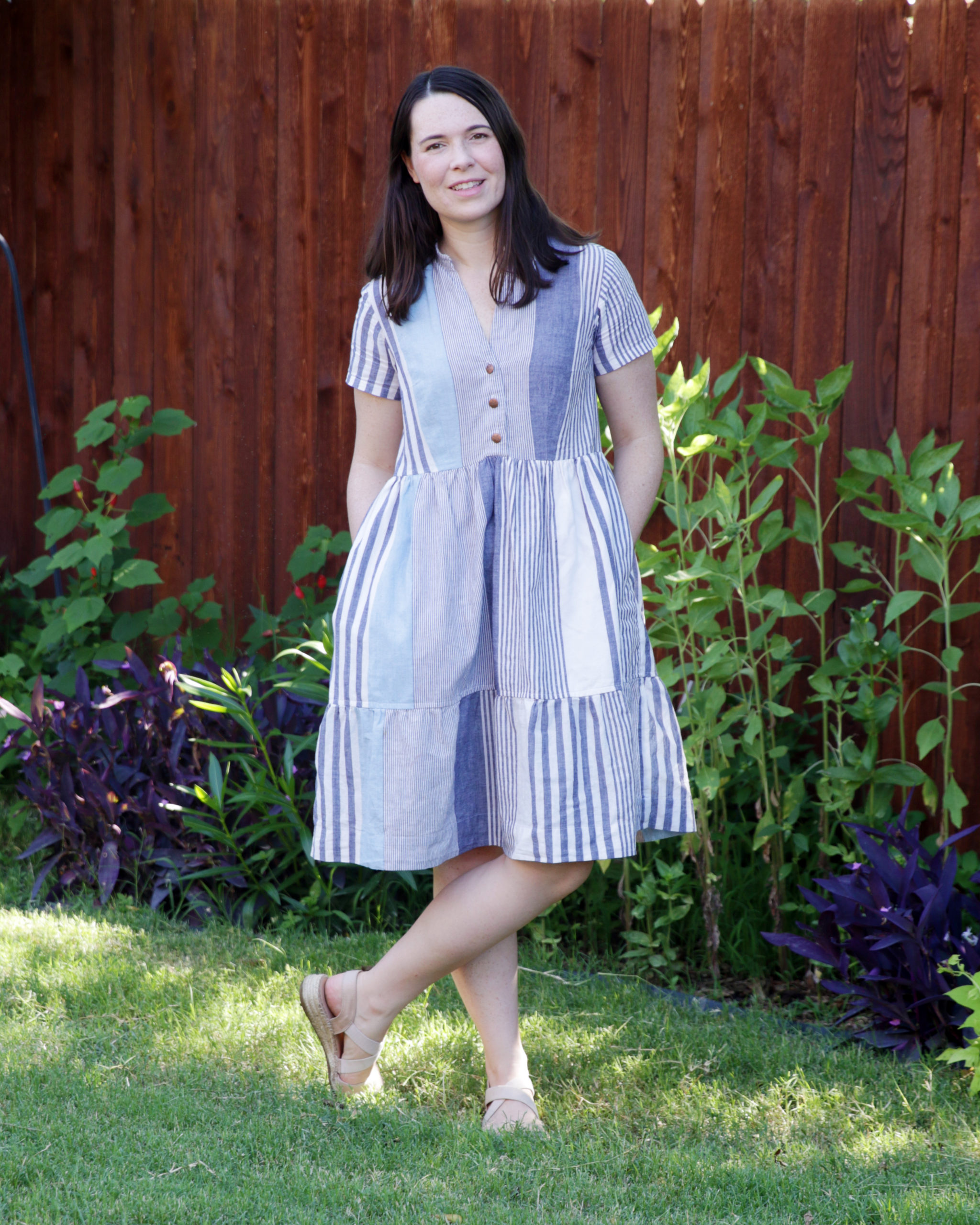 Handwoven Cotton Myosotis Dress
Dresses are my favorite to wear in the hot summer months, which in Texas is most of the year. And I need a few new ones to replace some tried-and-true dresses that are getting pretty worn out after years in my wardrobe.
This is my second Deer and Doe Myosotis dress and I love the loose-fit, shirt-dress style with the gathered skirt. But I'm disappointed, though, that some of my fave pattern companies don't have very inclusive sizing. Deer and Doe is especially egregious as their highest bust size is only about 46 inches!
I made a few fit adjustments since making my last Myosotis dress: changing the shoulder angle to fit my sloped shoulders and adding a bit of extra length in the upper back. I noticed my old dress wanted to roll down my back and I was getting some diagonal wrinkles at the front chest due to the shoulder slope. I think my adjustments helped without getting into "over-fitting" territory on a dress that is supposed to be loose-fit.
I also lengthened the skirt overall. Chasing after a kid combined with living in a windier city necessitates longer skirts these days.
This fabric is from Loom and Stars a company that sells handwoven cottons from India. The fabrics aren't cheap but they're very nice quality. This fabric is soft, lightweight, and slightly sheer. It's not super smooth like a lawn but it has a great drape. I really loved the combo of the different-sized stripes.
Buttons are some carved bronze shanks from my stash.
Unfortunately, I didn't have enough fabric to cut the proper width of the lower skirt tier so it's not as full and gathered as it's supposed to be
I lined the upper tier of the skirt with plain white muslin just because the striped cotton is a bit sheer.
This dress is certainly up there on my list of favorite makes and I'm sure it's going to be in heavy rotation for years to come!