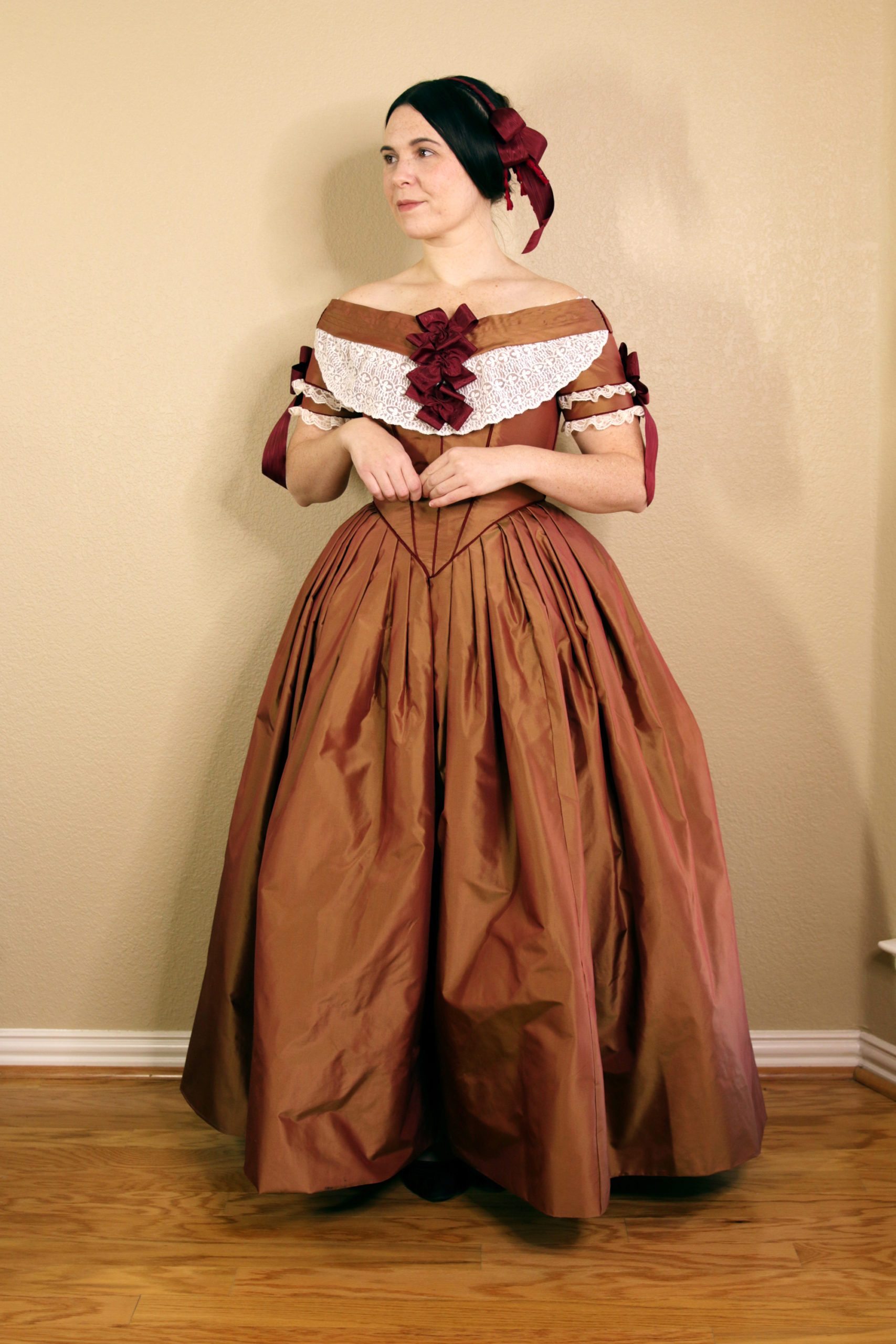 1840s Ballgown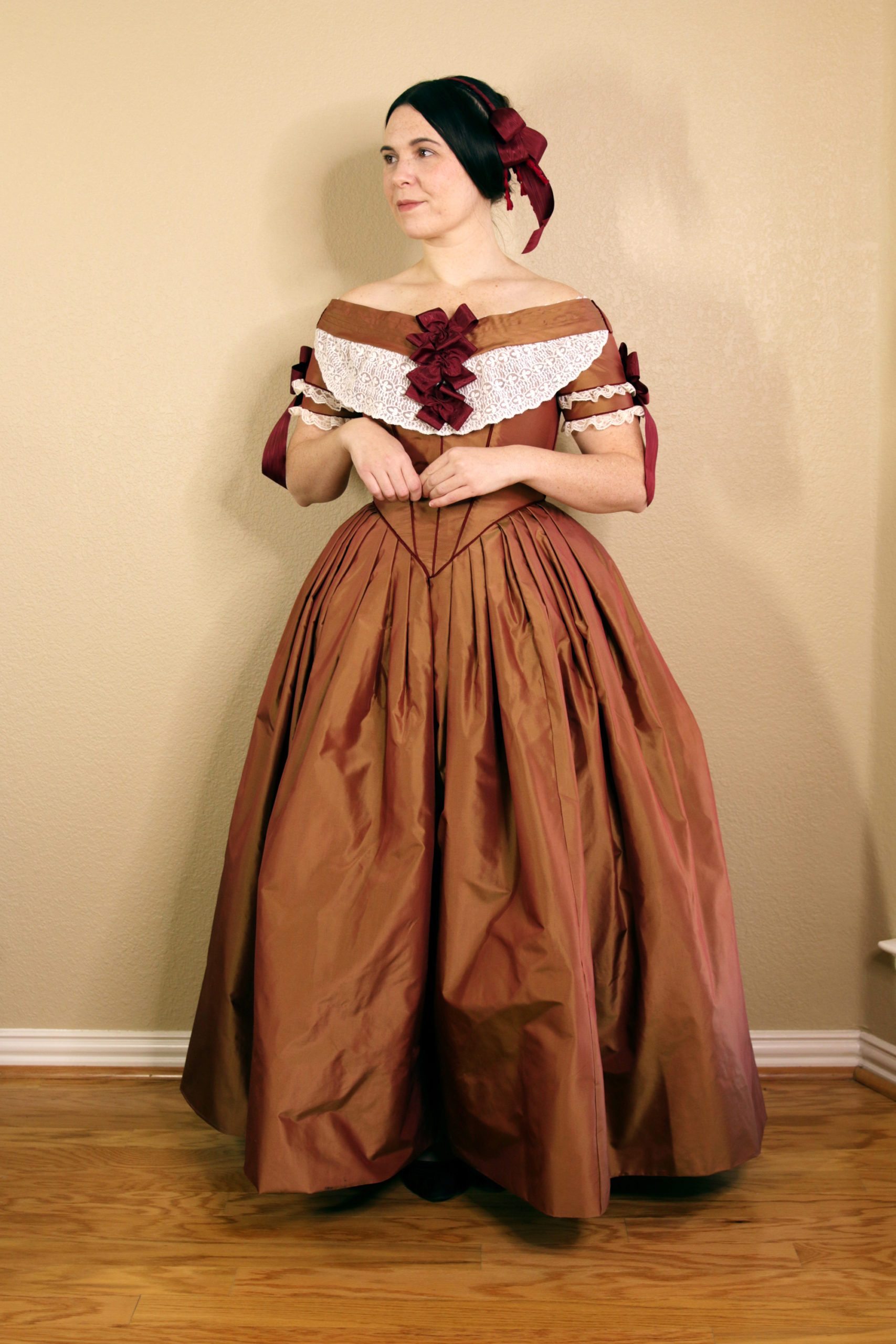 I made this dress on a pretty tight deadline intending to wear it to a small Victorian-themed, Covid-safe get-together this past winter but that got delayed multiple times and I still haven't been able to wear this gown out and about.
I choose the 1840s specifically because the era is pre-crinoline and pre-bustles. I didn't want to have to make any complicated underlayers when I was already short on time. But the more I dive into the 1840s the more I like it. I think the '40s are underrepresented in the costuming community which is sad. The 1830s have the big, over-the-top sleeves and hair that's so attention-grabbing while all the Civil-War reenactors make late 1850s-1860s fashions popular. The 1840s gets kind of forgotten in the middle but I think it's a very understated and elegant look.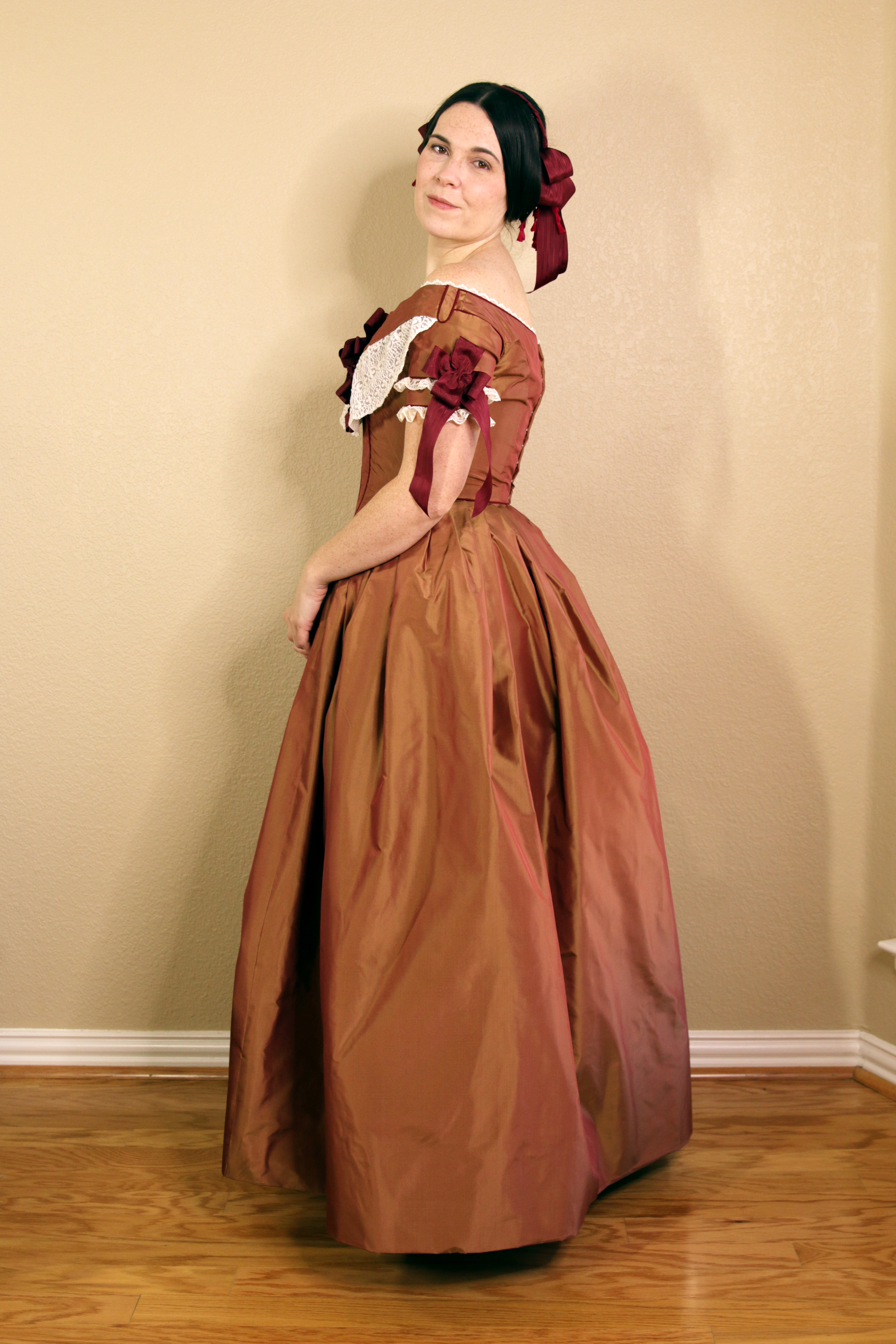 I used a Laughing Moon pattern but heavily altered the fit and the bertha design (the pleated part in front that goes across the shoulders with the bows in the middle).
The two-tone silk is from Silk Baron. The ribbons are vintage rayon moire I bought on Etsy. All the lace is vintage from my stash, given to me by a friend long a go.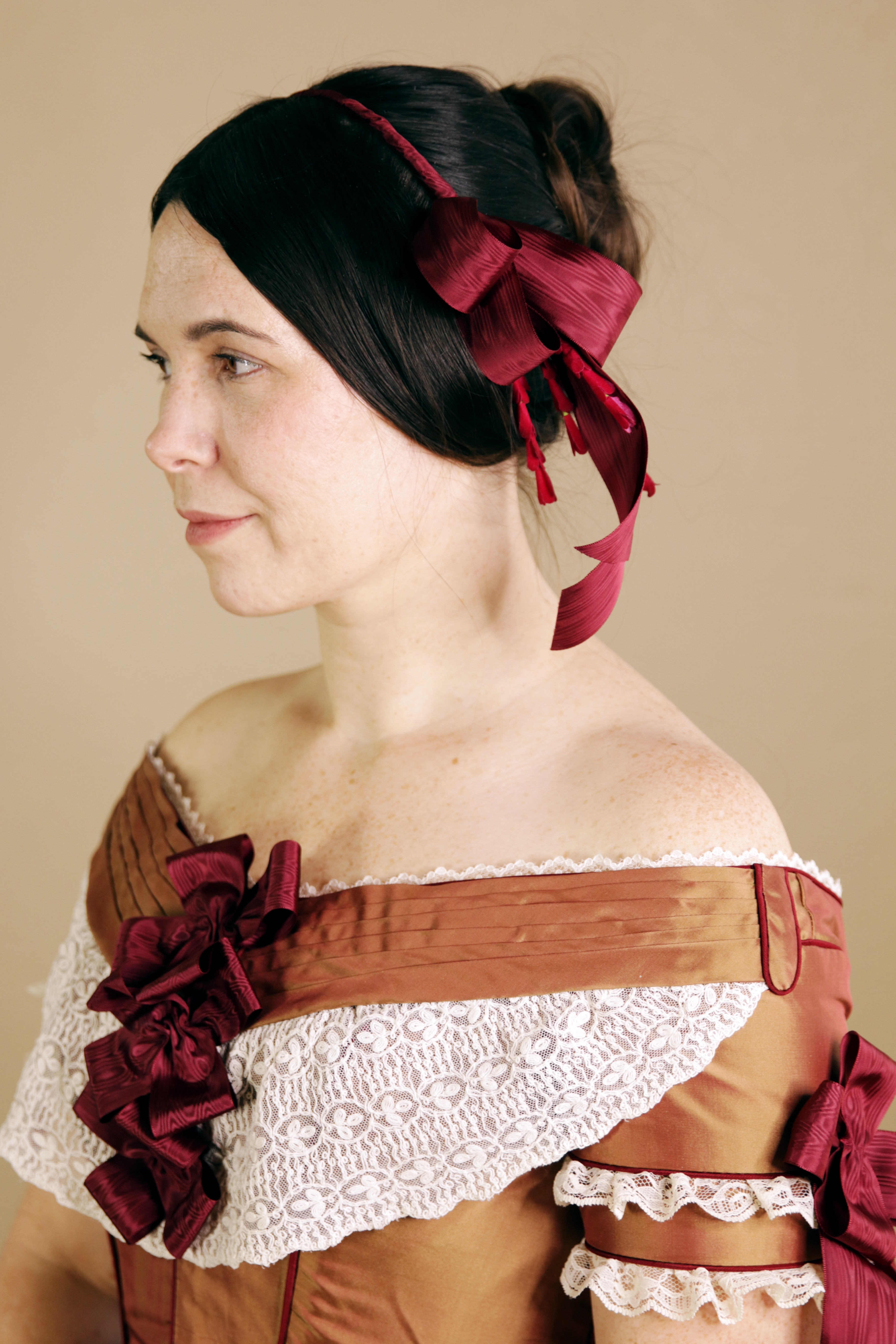 I had a lot of fun making this dress, well, once I got past the mock-up stage. I wanted to get creative with the trim and details. I piped the seams with contrast silk and found this dark red ribbon to make bows on the sleeves and front. The lace is the real stand-out feature on the dress, I think. I was inspired by several extant gowns and fashion plates.
The dress closes up the back with hooks and eyes. The only thing I don't love about the dress is some wrinkling in the upper back where the corset ends. The sleeves fit but they're bordering on too small. All the layers of piping, lace, and lining made for some chunky seams. But it fits great in the body!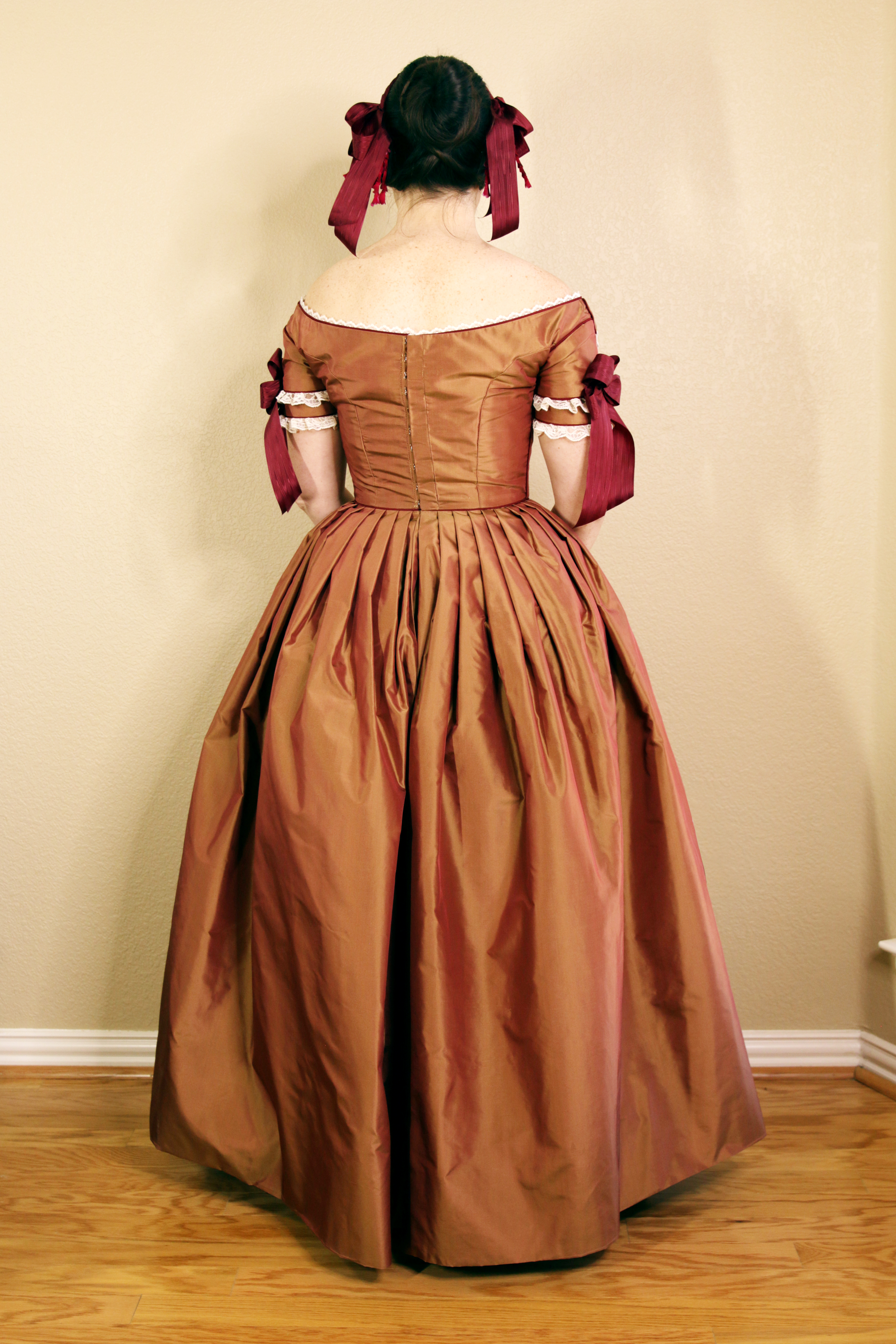 I lined the whole skirt in cotton organdy which gives a great POOF to the skirt. Without it, the skirt wouldn't be nearly as full even though I'm wearing a corded petticoat, a small bustle, and two other regular petticoats underneath.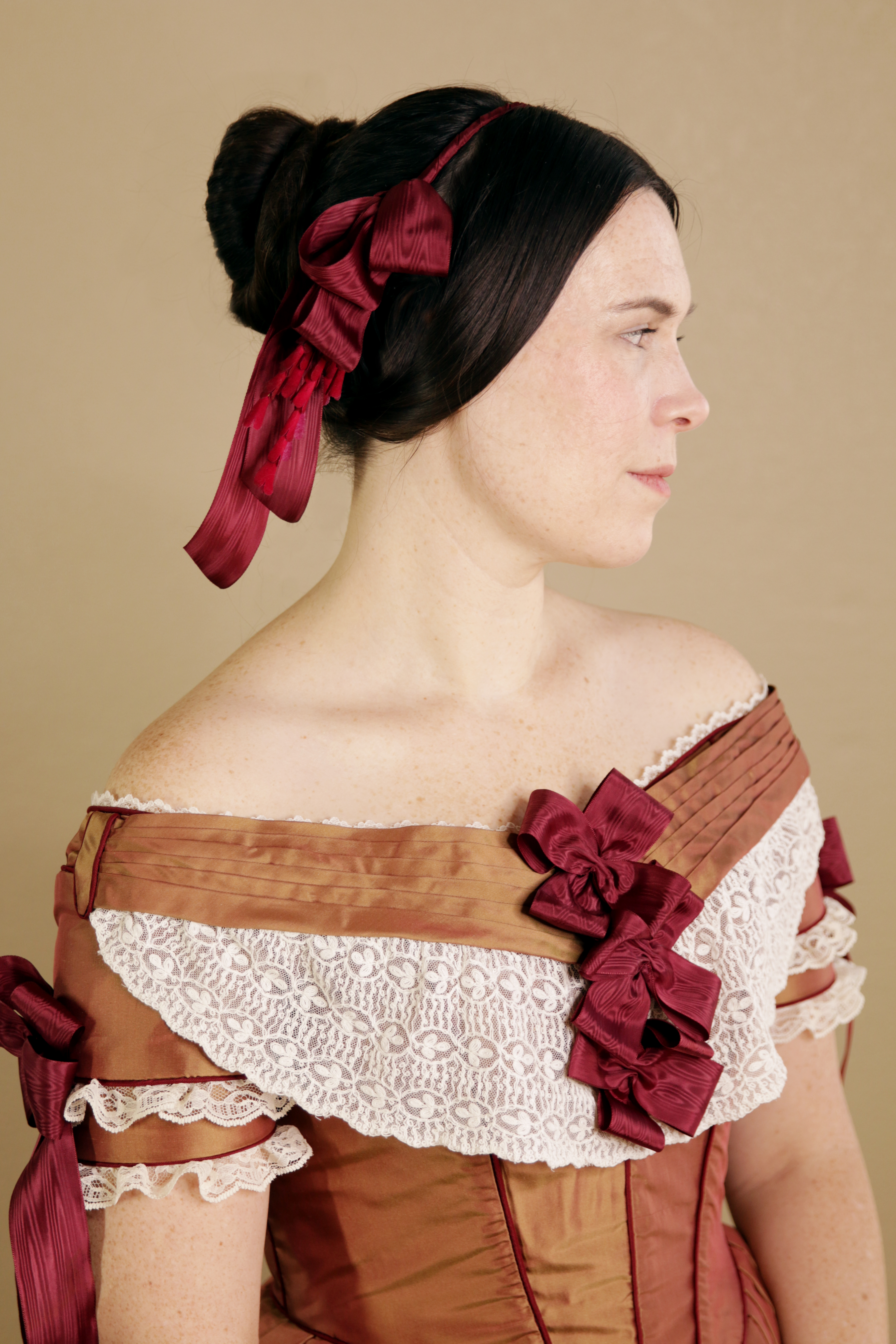 I also made a headpiece to go with it after examining several portraits and illustrations. It's a basic metal headband with faux flowers and wrapped with more matching ribbon. Another bonus about the 1840s – the hairstyles are super easy to do!
You can watch the making-of video for this gown here or the video for making the "falls" (plus some research on early Victorian headwear and hairstyles) here.