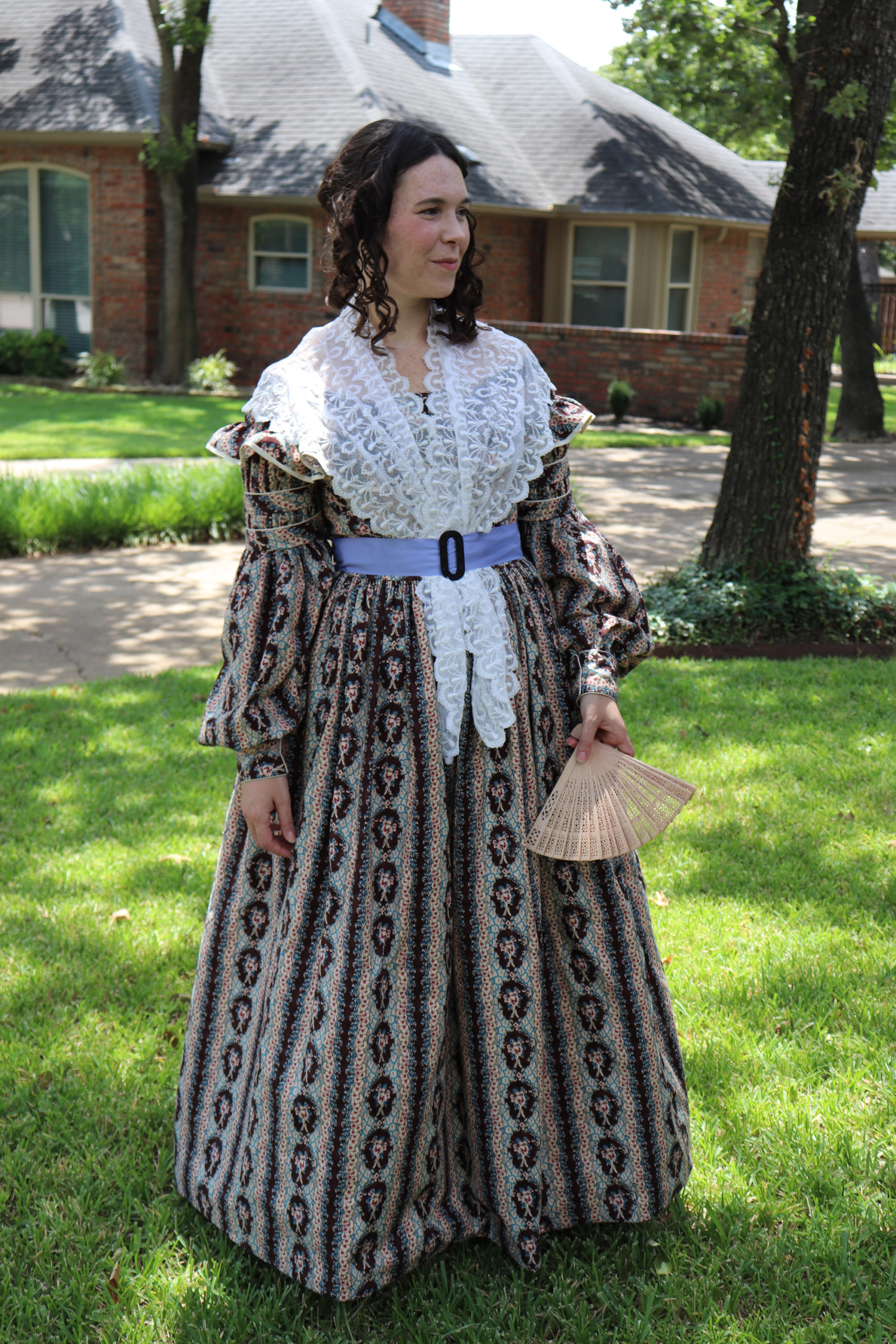 1838 Cotton Print Day Dress and Lacy Fichu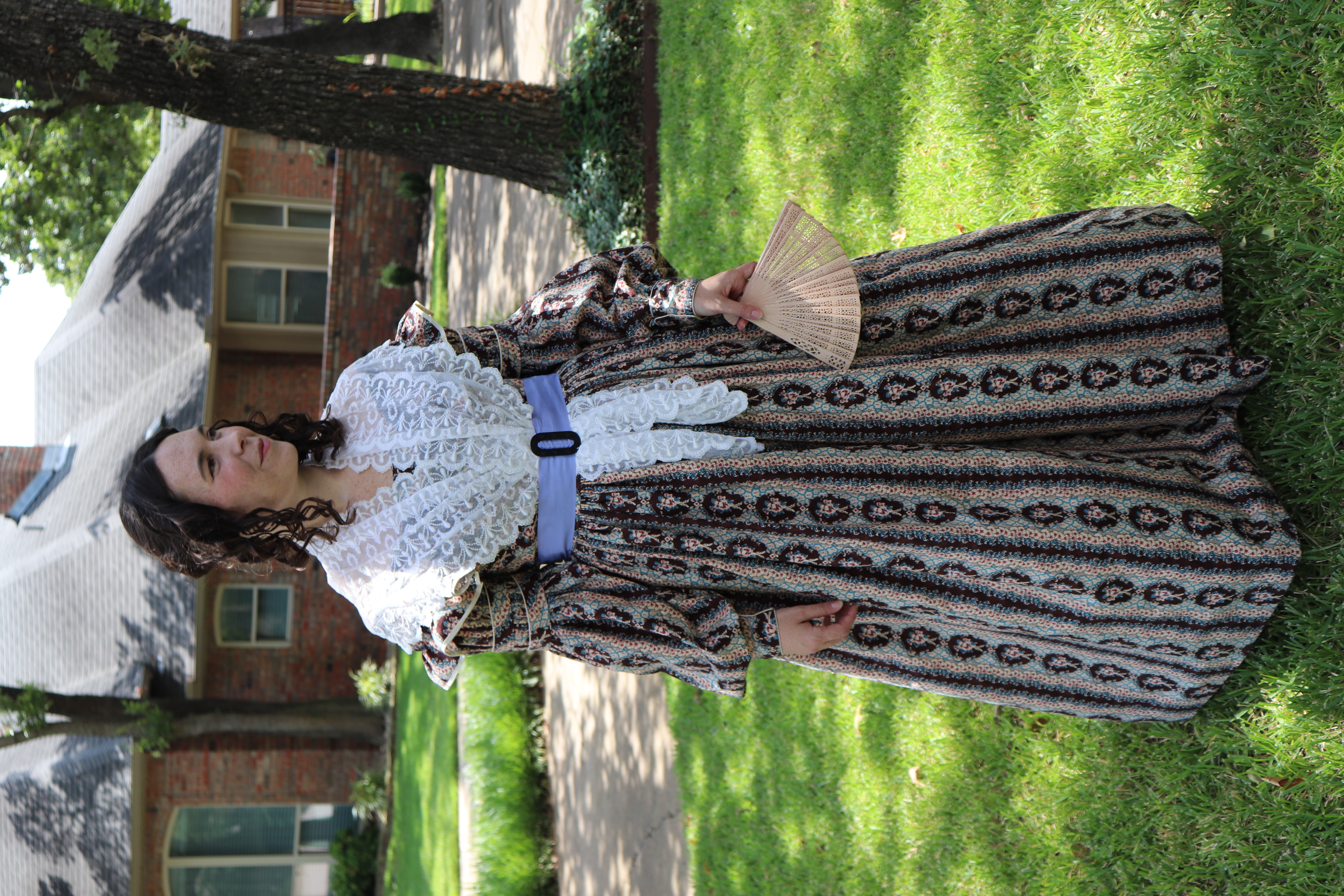 This new historical costume was made for a Costube (Costuming YouTubers) collaboration. Laura Ingalls Gunn invited me to a small 1840s themed tea party and even though I already had two 1840s costumes I had just seen Black Snail's new 1837-1840 pattern and knew I had to make it! I figure the pattern's date range was good enough for 1840s.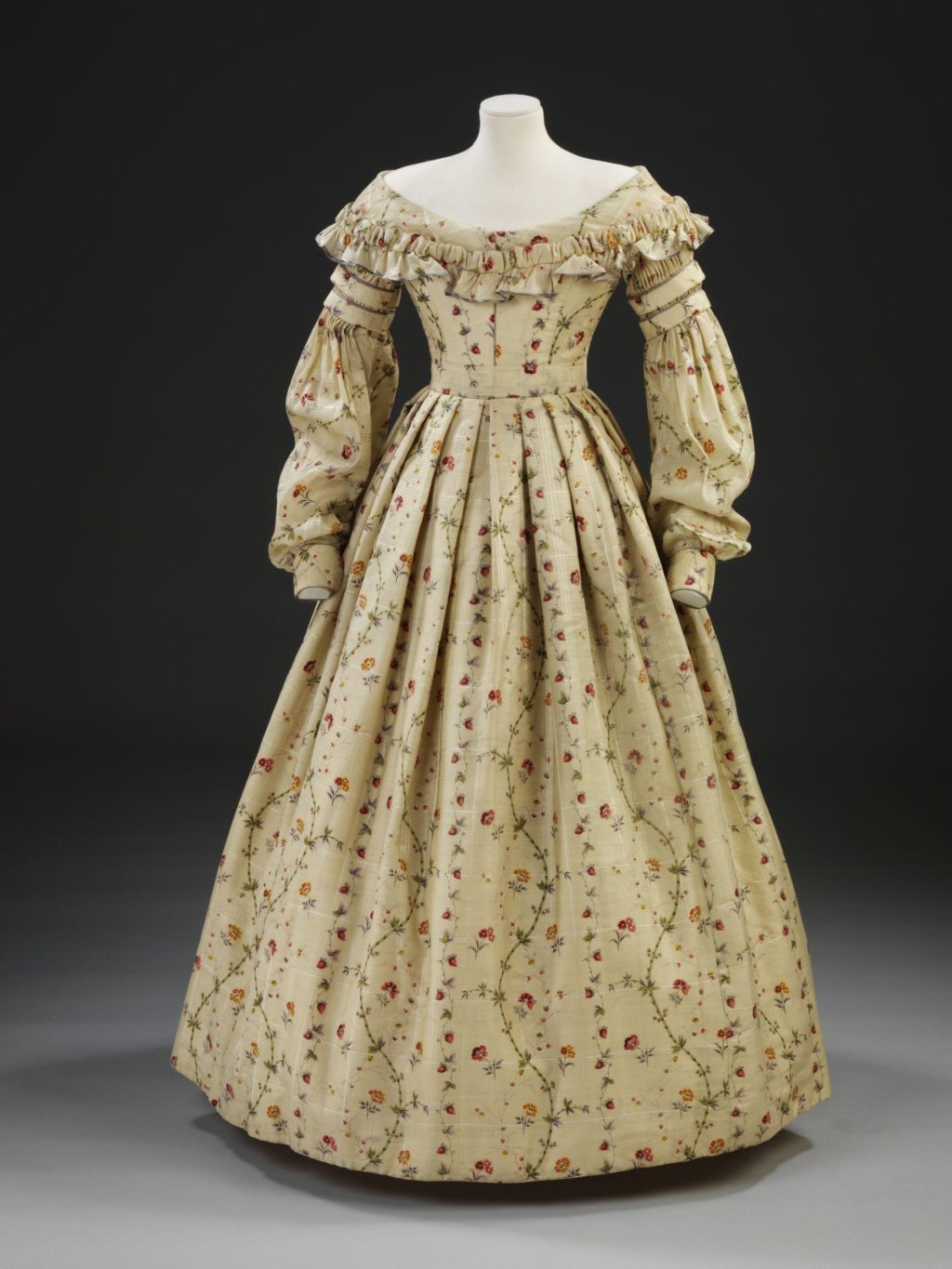 The dress is based on an extant from the V&A museum.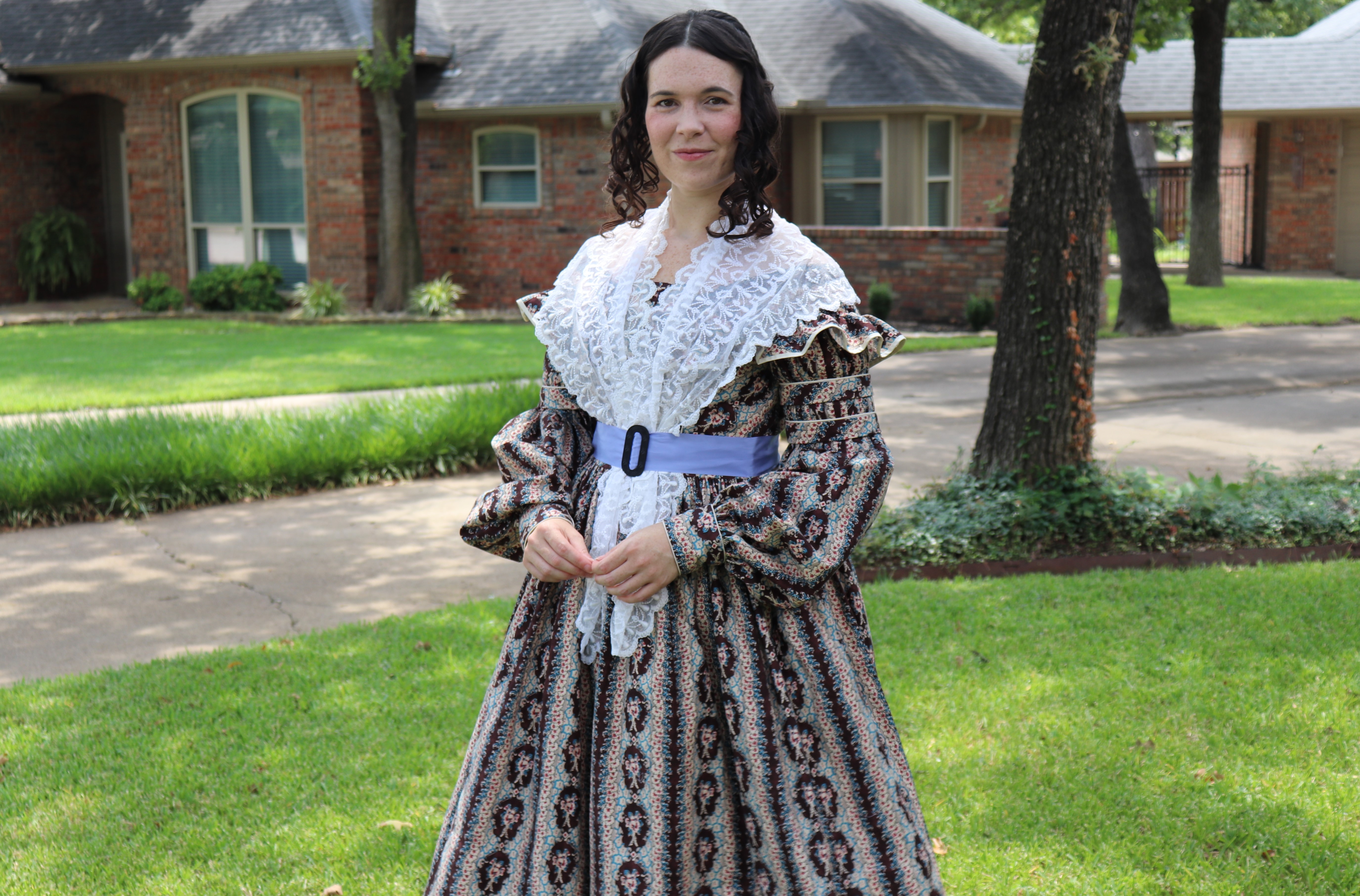 I'd highly recommend the pattern but I did make a couple fit changes. I shortened the bodice and sleeves by several inches and I cut the largest size sleeve and had to adjust the armholes.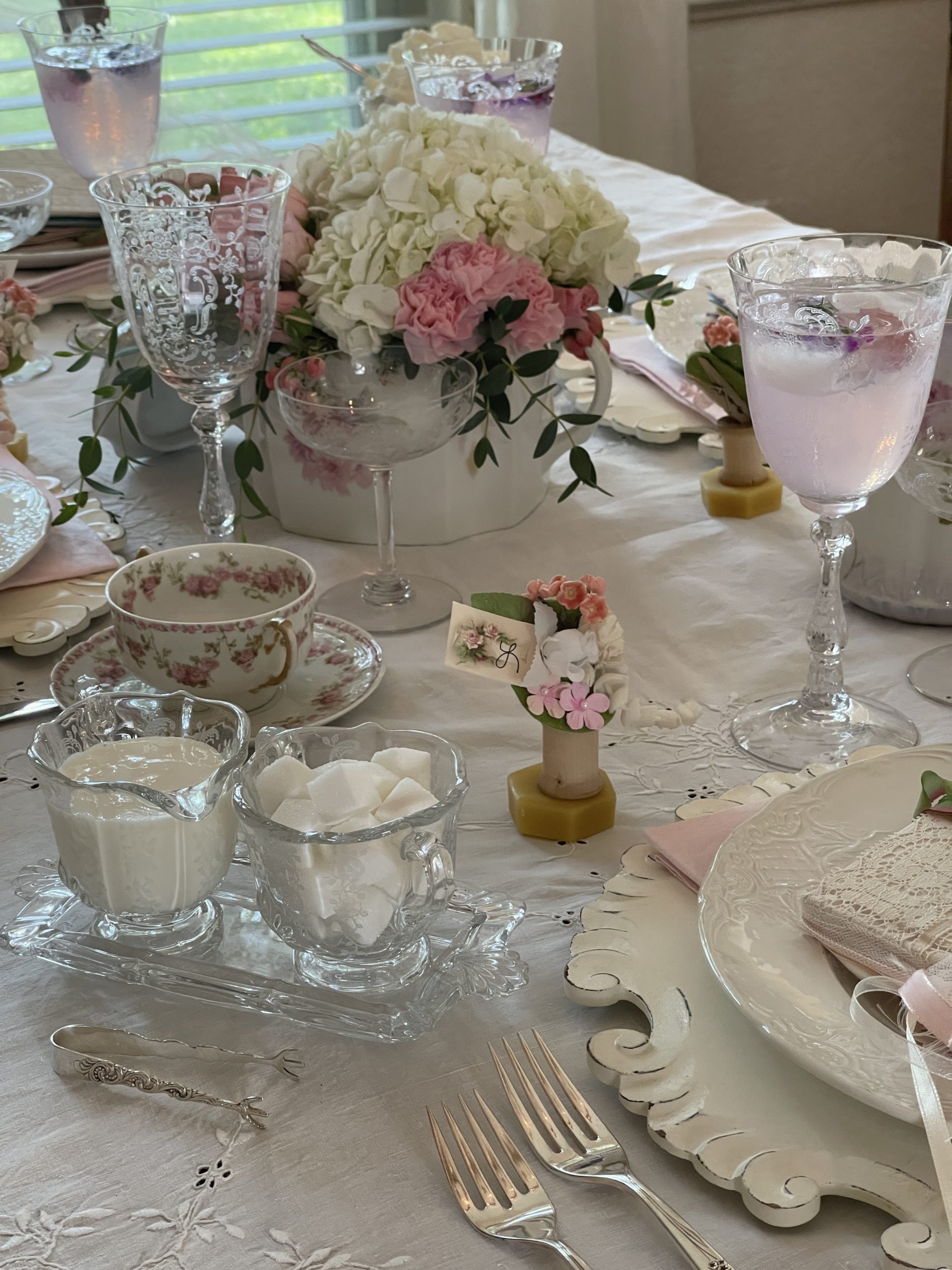 The tea party was so much fun. Laura is an interior designer so her table scapes and decor were absolutely beautiful. Her son took most of these photos. Tiffany from Stitchin' Addiction also attended. Her sister made these decorated "tea cup" cookies.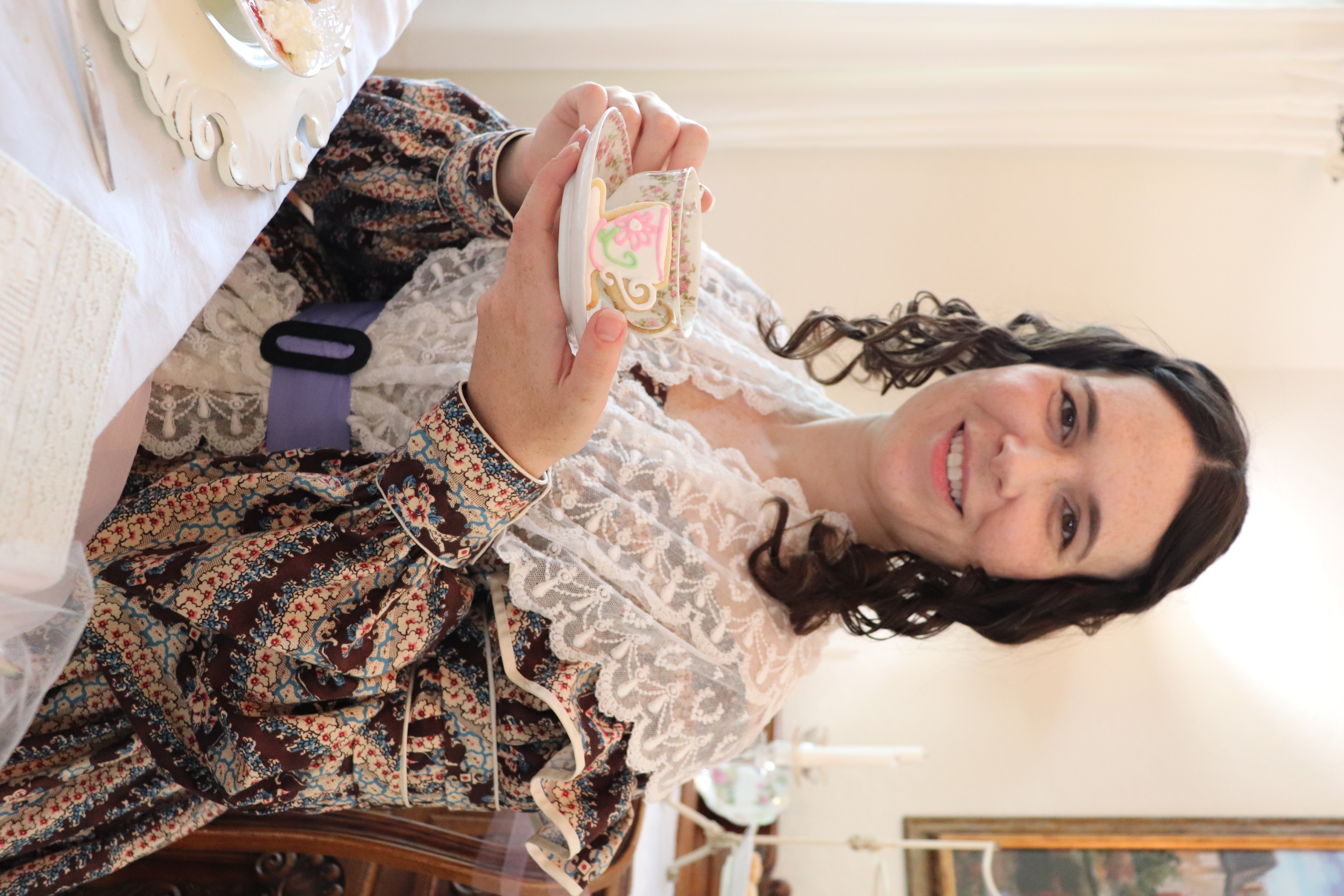 The 1830s and 40s were all about wild cotton prints. Mine is from Maggie May Fashions and I had to order extra yardage because I didn't account for all my stripe matching.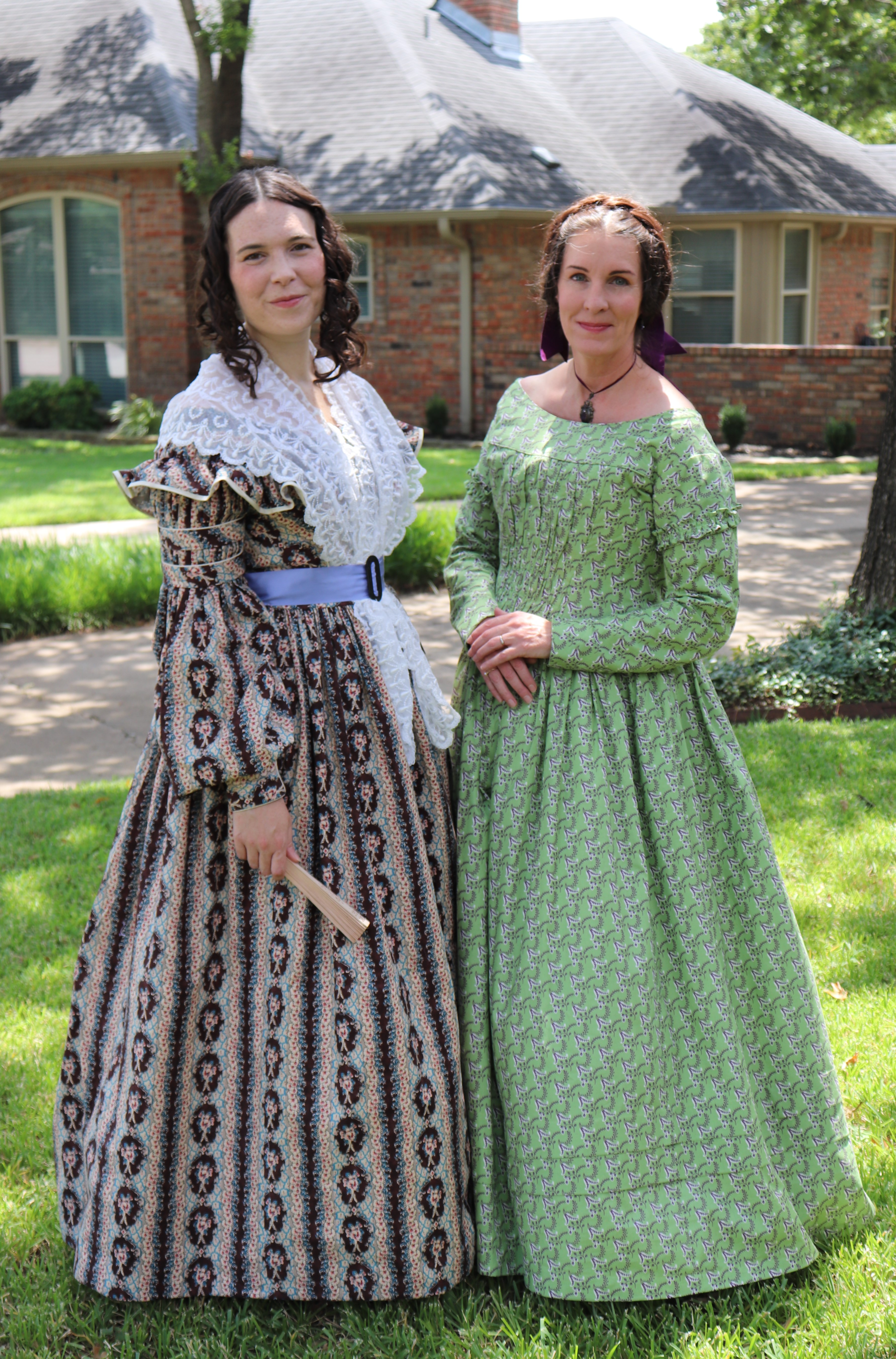 The original gown is piped with silk ao I did the same on my dress using cream taffeta leftover from an old project.
The sleeves are one of my favorite details. In the 1820s and early 1830s sleeves blew up into giant balloon arms. Once that fad ended, fashionable sleeves quickly deflated into this transitional style. The actual size of the sleeve pattern piece is HUGE. The volume at the top is wrangled into a series of small pleats and kept in place with two horizontal bands that wrap around the arm.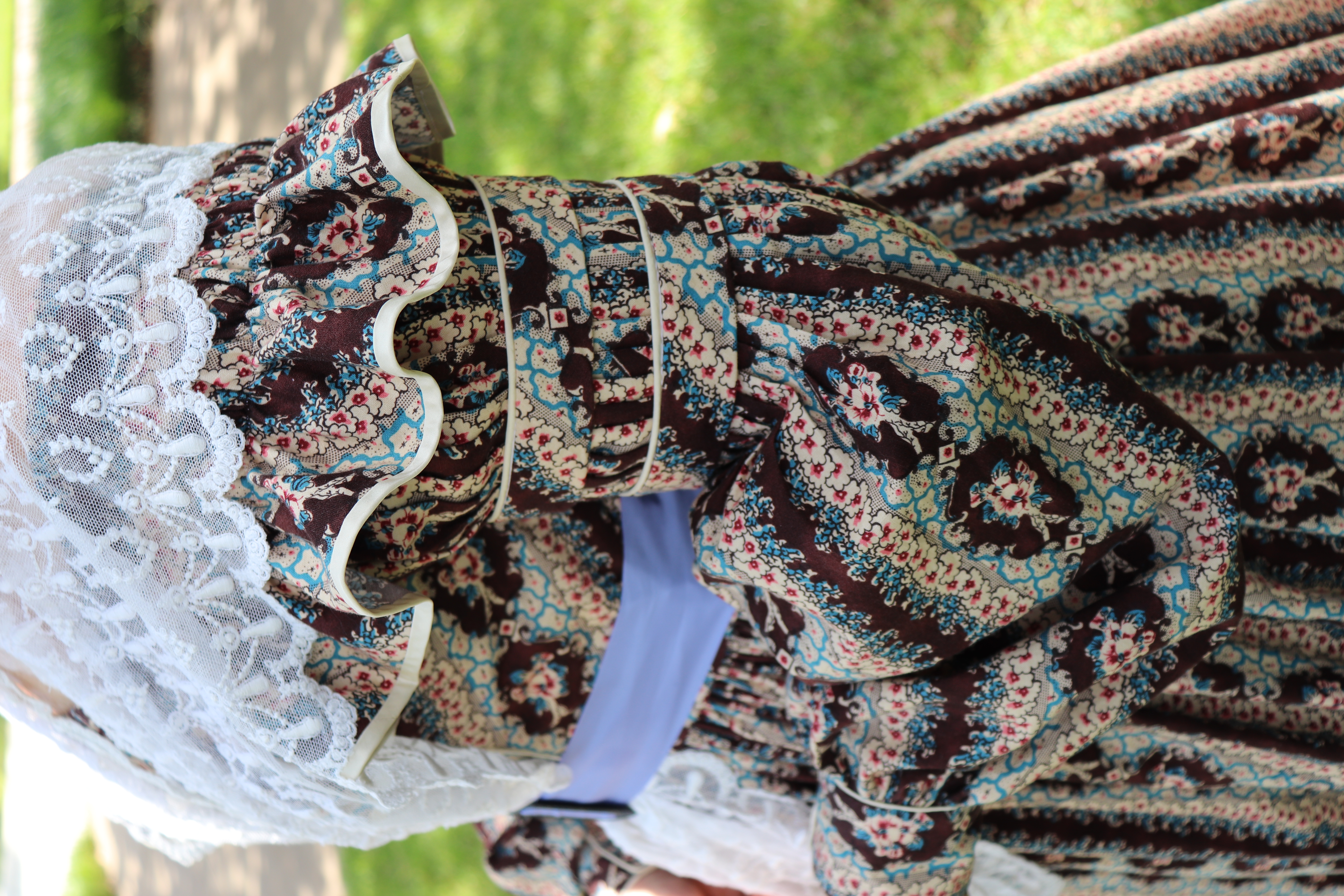 Since women wouldn't have usually gone outdoors in the day with exposed shoulders, they would have worn some kind of tucker or dickie underneath the gown or a shawl or "fichu" over the top.
My fichu is made from several strips of 6″-ish wide vintage lace trim that I found at an antique mall. It was pretty dingy but I was able to wash it (pretty sure it is cotton lace). I stitched the trim together by machine into some kind of shape that vaguely resembles a boomerang. The "tails" hanging below the belt were a pretty common feature in extant fichus and fashion plates.
I'm really proud of the fichu because trying to make a fichu these days that resembles originals is a struggle. Most lace fichus would have been designed in the fichu shape (some kind of triangle) and they just don't make lace fabric like that anymore. Another option would have been to find some kind of net fabric like organza or silk tulle and finish the edges with lace but it's hard to find lace and fabric that matches. And designing a style like the one I ended up making requires pretty wide lace trim.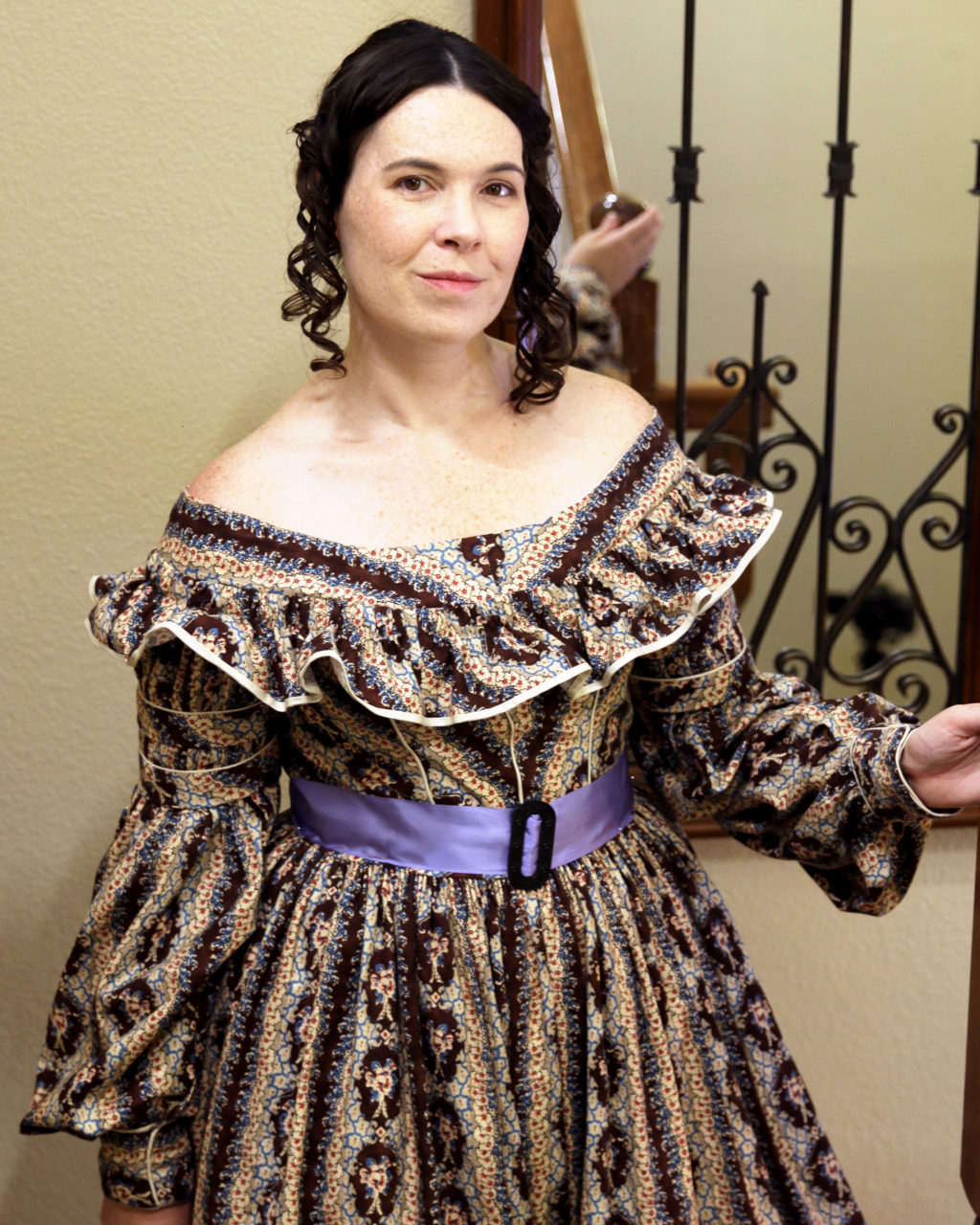 I didn't get many shots without the fichu but here's one. The ruffle is the real standout feature of this dress design so it seems a shame to cover it up but I like having different looks with and without the fichu.
The belt ribbon is from Les Bon Ribbon on Etsy and the buckle is from Ensembles of the Past. It's difficult to see in pictures but there are little bees on the buckle!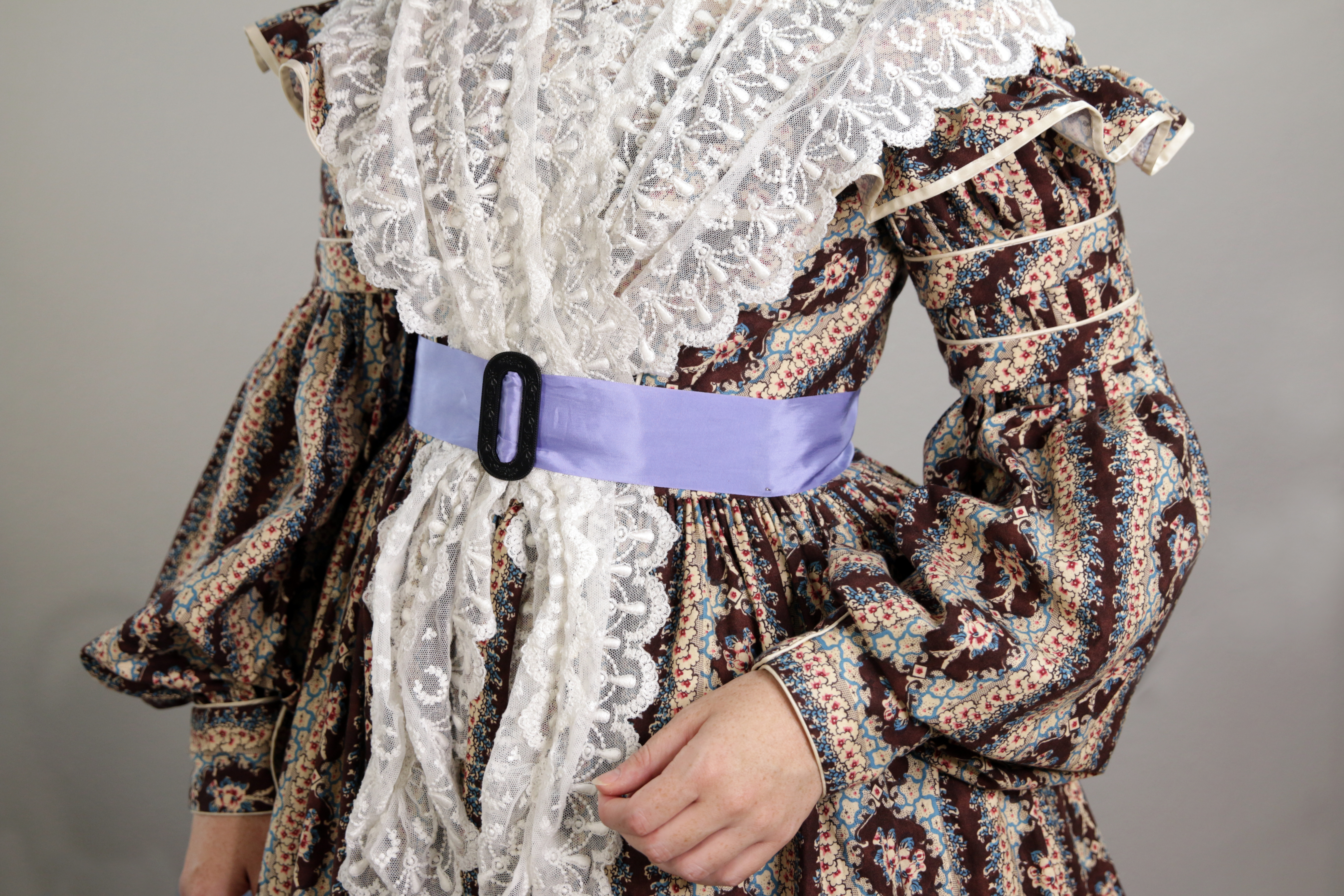 Overall I'm very pleased with how this outfit came out, especially the fit. I wanted to make a bonnet to go with it but I didn't have enough time. I do have the supplies for it so hopefully, I can get that done before the end of the year.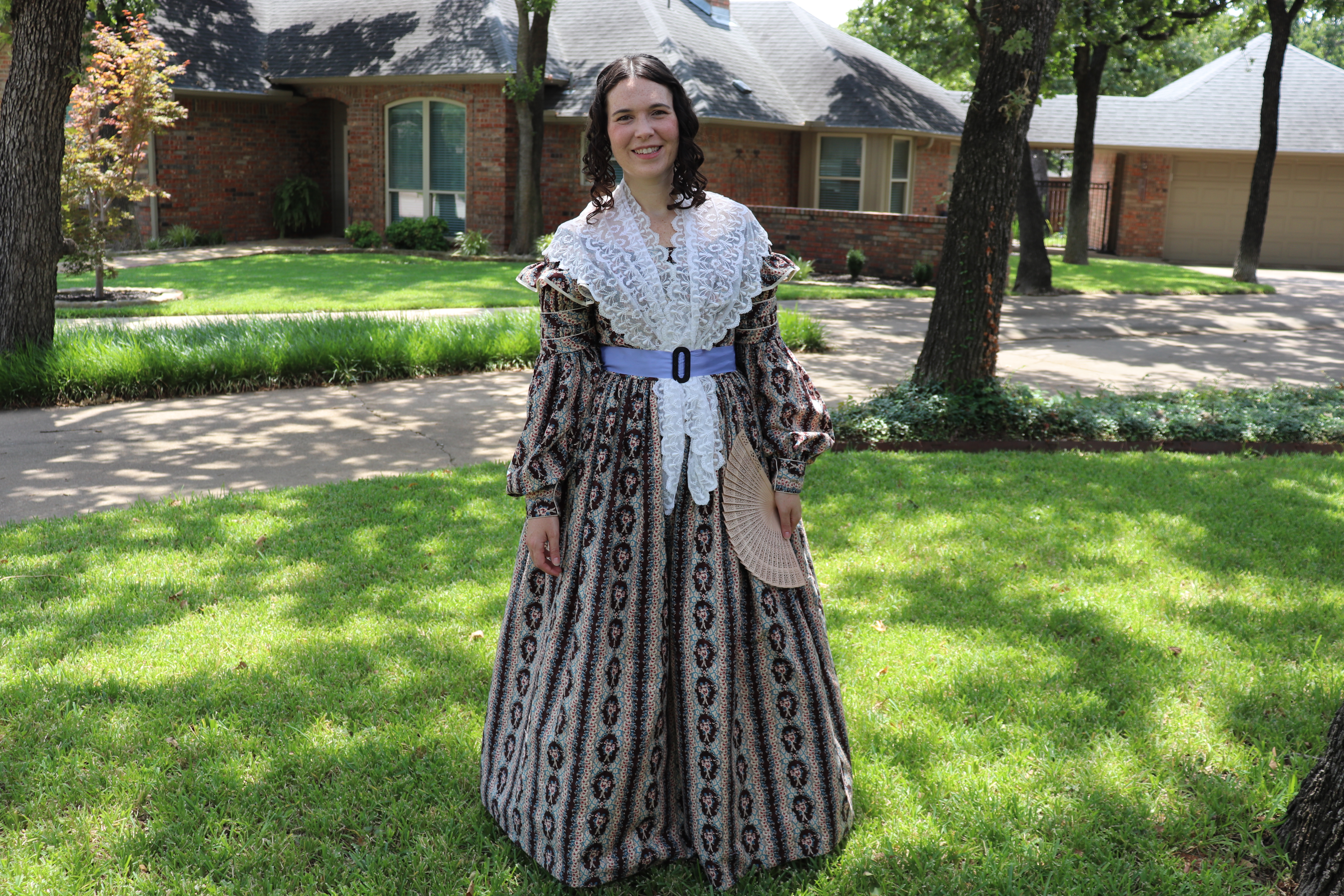 You can watch the video (along with all the drama that went into making the dress) on my YouTube channel!