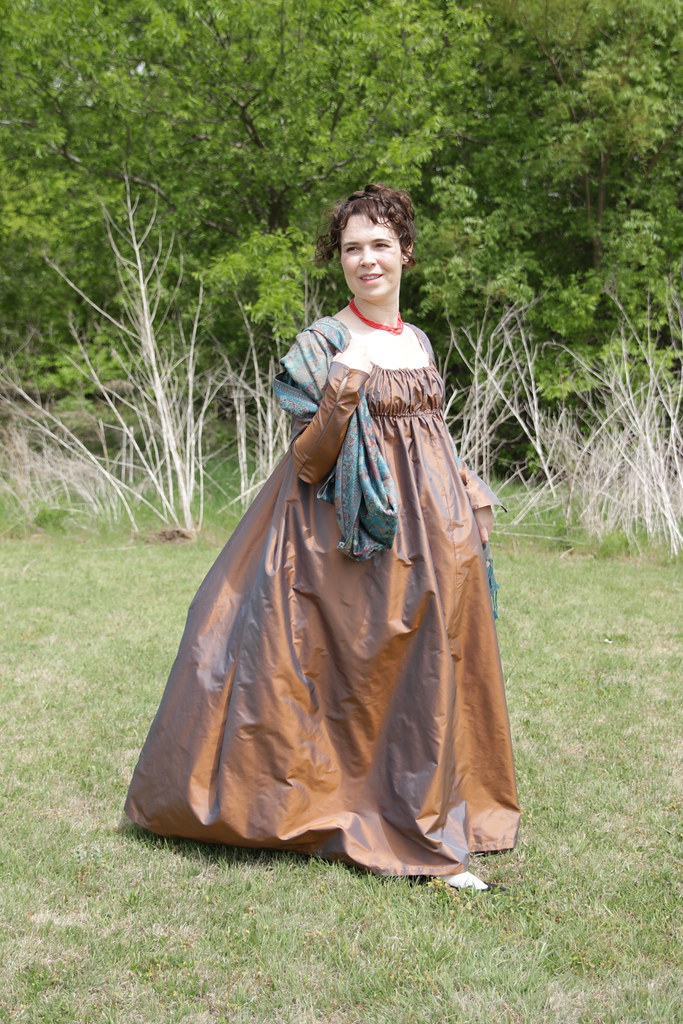 Recreation of an 1815 Norwegian Wedding Dress
This costume project was a big one I finished earlier in the year and made a video about it here.
The dress is a recreation of this gown from a Norwegian museum. Dated to 1815, the gown is part of a collection of "bridal attire" including a pair of green shoes and an orange shawl. But the reason I really wanted to make it was because it had a pattern! Sort of. The listing included a hand-drawn image of the bodice pieces with no sense of scale but it was enough to get me started.
Once I started playing with the pattern I noticed that it wasn't a perfect replica of the gown. The biggest issue was the straps – they weren't long enough, or the pattern was missing a back strap piece. I adapted by lengthening the front bodice strap around to the back.
My fabric is from PureSilks.us. It's a shot/two-tone silk and I chose it based on a zoomed-in view of the back neck of the original gown which shows two distinct thread colors – orange and bright blue. My dress photos were taken in sunlight and my fabric looks a lot lighter than the studio lighting on the original. Hard to tell if my fabric is a true match.
My favorite feature of this gown is the back bodice. Early Regency-era bodices are notable for their tiny backs made by high, up-ticked back waistlines, and far-back-set sleeve heads. This dress takes those details to the extreme. And, something unique to this dress, the back V-seamlines have inset ruffle trim made from the same fabric as the dress. That part was fun to figure out, I went through a couple of iterations of the ruffle design to get it right.
Since the pattern didn't have any scale markings and I don't think the pattern is an exact match for the original dress, some of the proportions are slightly off. I imagine the original bride was shorter and slimmer than me.
I've sewn a few Regency dresses by this point but much of the construction on this gown was trial and error. I had to figure out on my own how to do the intricate pleating on the back skirt, how wide to cut the front skirt, and how to assemble the lining in the bodice. I fiddled with the fit of the sleeves for ages to get that elbow dart to sit nicely.
The skirt seems massive at about 106." I have no measurements of the original skirt width or how wide the fabric panels would have been (probably under 20″).
In my video, I talk about my skepticism over the given date for this dress (1815) as almost every detail of this dress was more fashionable about 10 to 15 years earlier (the gathered front closure, extra-long split sleeves, sleeve heads that extend far to the back, the rise at the back waist). I'm grateful to a number of people in the comments of that video – some who are knowledgeable on Norwegian fashion history – who suggested that the date may be accurate, that Norway was a poor country and might be behind on the trends. I knew Scandinavian countries were not at the same economic level that they are today but I didn't know how fashion-conscious a bride would be in 1815.
Just from examining the photos, I don't think this gown was altered from a previous style, or if it was, it wasn't altered very much and I doubt this bride was wearing a gown from a generation prior (as we might sometimes do today) as the design of this dress couldn't be earlier than about 1795.
So maybe it is from 1815, maybe earlier, either way, it's a lovely gown and I feel like I learned so much about garment construction from this time period by making this dress.