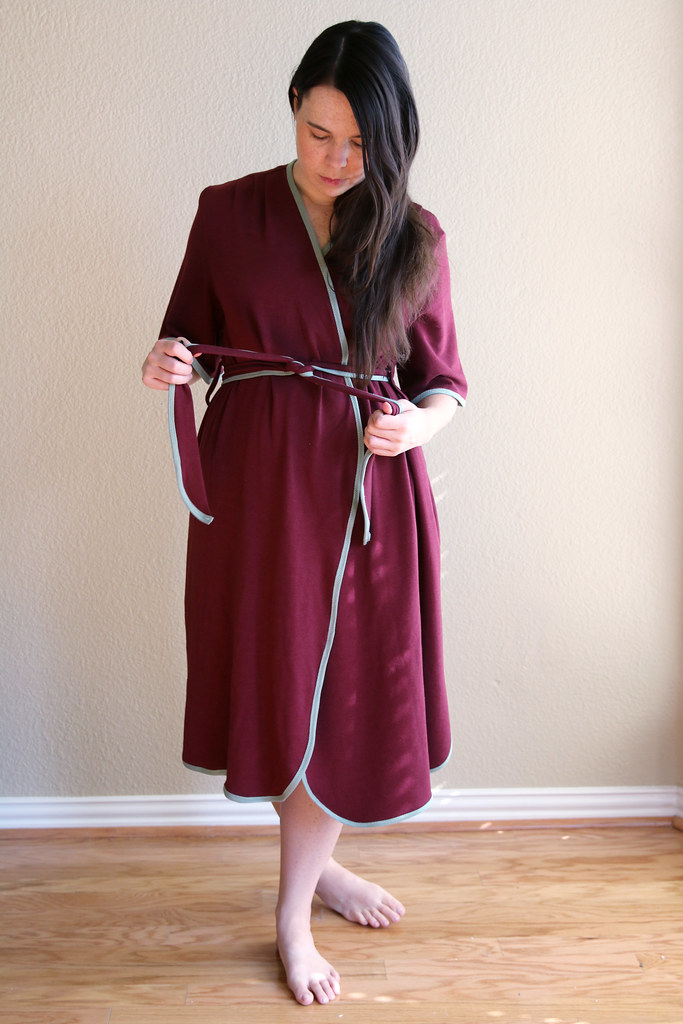 Opian Herens Bathrobe
I began this project while I was still pregnant with the grand idea of making a comfy robe for labor and delivery. I had assembled most of it, with only the bias trim remaining, and the night before I went into labor I thought "hmm, I should work on that robe." But then I thought, "nah, if I'm in early labor I can still sew in between contractions. But then this baby decided she had had enough cooking and wanted out NOW. So there was none of this "early labor" time to be had and we went to the hospital sans-robe.
It took me a few weeks since coming home to finish it – and a few more weeks to take pictures but it is complete! Although sadly, I'm not too happy with it…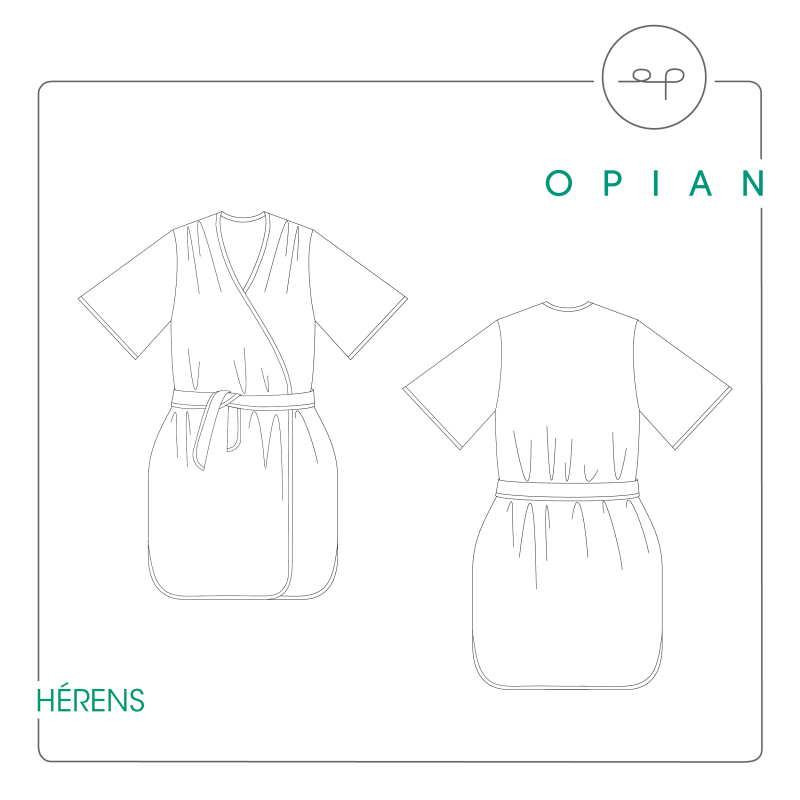 I liked the design of the Opian Herens bathrobe pattern and thought it would work well in a hospital setting with its wide bell sleeves (easy access for an IV if necessary) and pockets are always nice to have.
My apologies because this is not a very good review. Not that the pattern is bad but at this point, I don't remember much about sewing this bathrobe and I made some poor choices while sewing it.
My first poor choice – these two fabrics are the same rayon (blend?) French terry that I think came from La Mercerie (???). I don't know, and I can't find it on their website anymore which is a shame because it's great fabric – just not for this pattern.
The fabric is too thin and light, and too stretchy to stay in place even with the belt. But that's the problem with buying fabric online sight unseen and hoping it will work, right? This pattern would work well in a thicker, heavier knit or alternatively, a woven rayon.
The fabric also warped way too much when attaching the binding – even while using a walking foot and adjusting my presser foot pressure.
Second poor choice – my method of attaching the binding. I won't go into much detail but I envisioned a cool, raw edge finish with the binding but that idea didn't pan out.
The only problem I found with the pattern itself was some of the measurements seemed… off? This might be an issue with the translation from French to English, but the yardage requirements seemed way too short. Also, the instructions gave sizes for finished bias width, but not how wide to cut the actual bias strips. Including that detail would have been helpful.
Some of the translated language reads awkwardly for a native English speaker, but I could still understand what the instructions were trying to say.
I made two changes to accommodate my pregnancy bump: I cut the front pieces a couple of inches wider and I lengthened the entire robe by about 4 inches. Now that I'm no longer pregnant, the robe hangs slightly longer in the front than the back.
Even though this isn't my best work, it's a comfy robe and I still like the shape of the sleeves and the shoulder pleats. Will I make this pattern again? Not likely, but if I did I'd try it in a fine silk to make it extra luxurious.