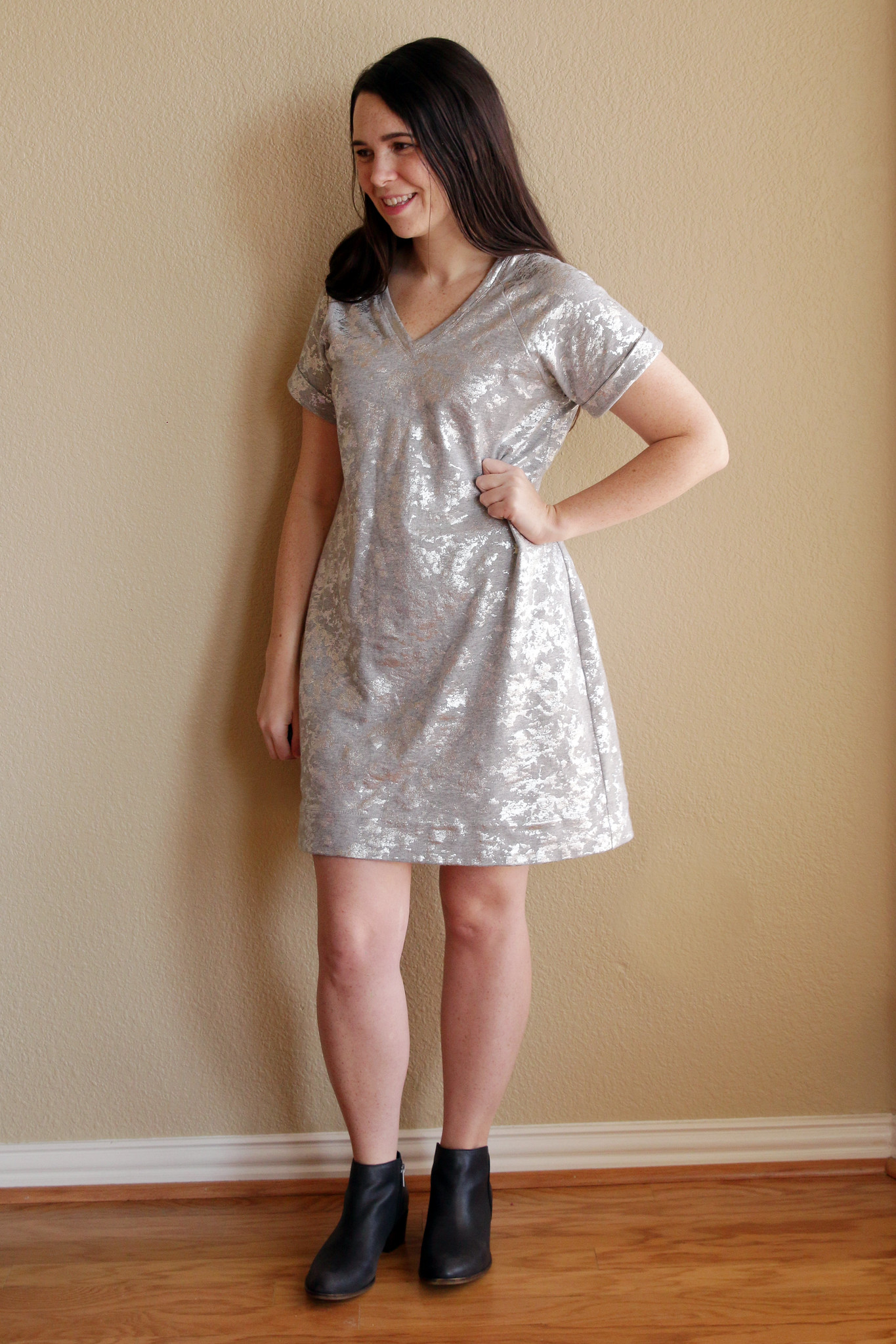 Megan Nielsen River Dress
I swear I haven't gone MIA since having a kid. I've been working on several projects lately – it's the documenting that's been lacking. See, my backyard's not that pretty and inside the house in winter, I only get really good light early in the morning, and I never feel like getting up and taking pictures early in the morning.
I'm in desperate need of more winter(-ish) dresses. Now, I live in Texas so cold temperatures are sporadic, mild, and only last a few months. So my version of a "winter dress" may not be the same as yours.
This sweatshirt fleece with metallic splotches is from Joann. I think the silver elevates an otherwise casual style.
Normally, I wear this dress with tights or leggings but if I can barely be bothered to get dressed up for pics in the morning, you can't blame me for ditching the leggings for this pic. And even though it's short-sleeved, I can wear it with a jacket or sweater.
This River Dress is the first Megan Nielsen pattern I've sewn in years. I've shied away from her stuff mostly because I never got my Darling Ranges dresses to fit correctly in the bust and I questioned the quality of her drafts but I think she's improved since then.
I did have a little fit issue with this dress, though. There seemed to be too much fabric in the sleeve seams in the front. I don't think I completely fixed the issue but I did deepen the seam allowance on those seams. However, this edit means the dress is no longer reversible like the pattern is designed.
I'm hoping my issue is just that I cut a size too big on top and next time I'll try one size down. I made an S in the bust and waist and M in the hips.
I also shortened the skirt by about 4 inches. I find that shift-shaped dresses tend to look heavy when they hit at the knee or below. The shorter skirt tends to balance the silhouette and besides, I always wear something under it anyway.
I did contemplate adding an elastic waist casing to it because I wasn't sure I liked the waist-less style but now looking at these pictures, I think I like it as-is.