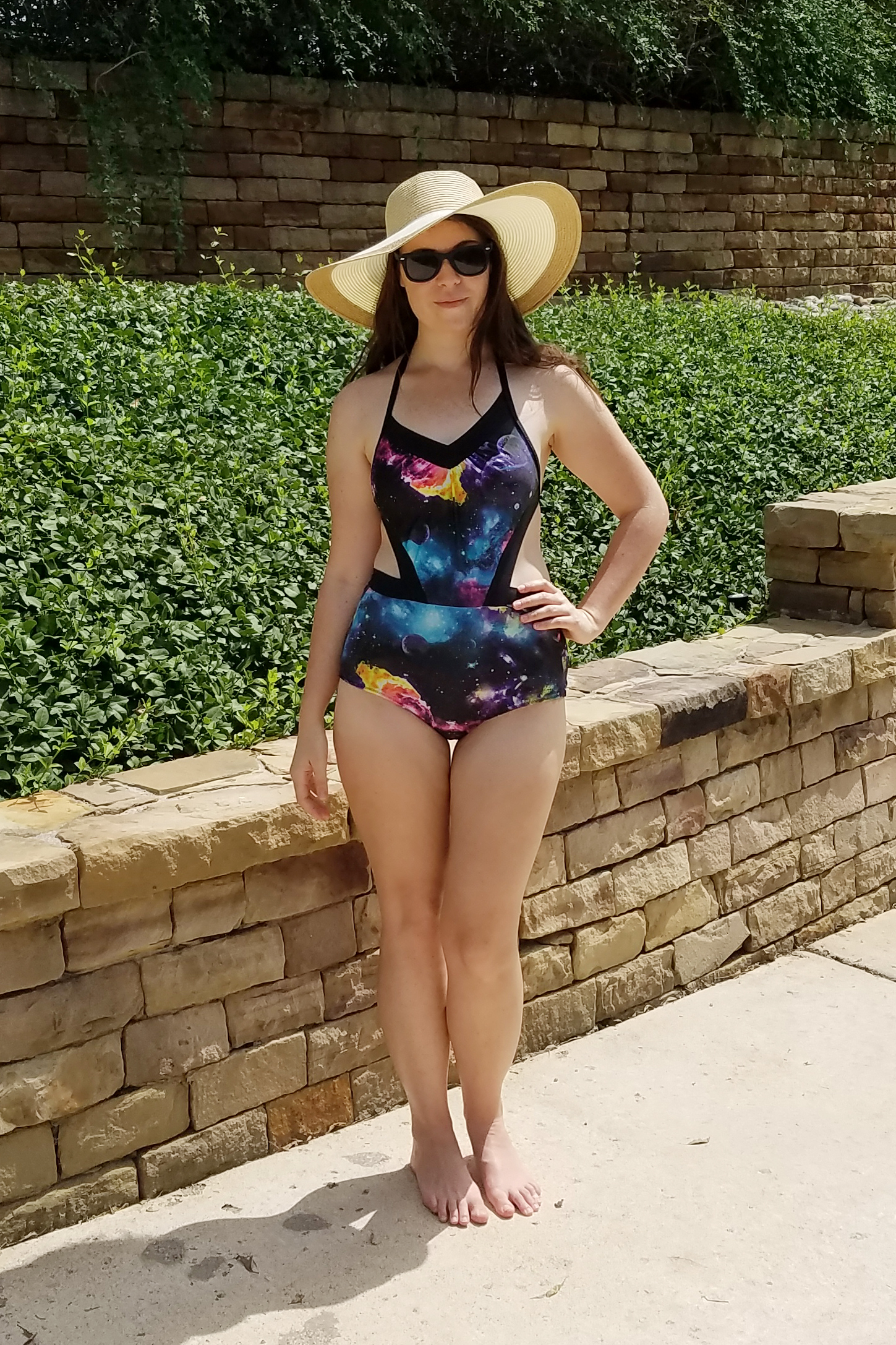 Lily Sage & Co Splash Swimsuit + some pillows!
It's summer! That means it's time for swimsuit sewing! This is the Splash Swimsuit by Lily Sage & Co.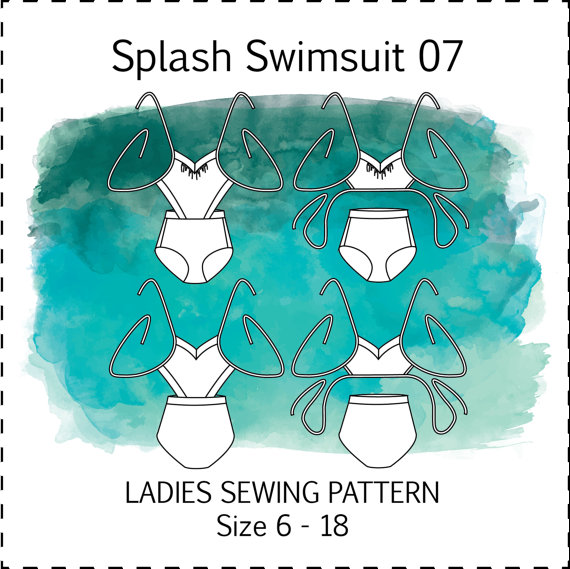 This pattern came out a couple years ago but I only found it last fall. Back then I had just enough leftover galaxy fabric from these leggings to squeeze out a swimsuit. I cut the pieces out months ago but it wasn't until the day before I was set to go visit family – and knowing we were going to go to the pool – that I sewed the suit.
Nothing like a deadline to give you motivation.
I added bust cups from Sew Sassy to the lining which gives the top some structure. To insert them you basically smoosh them down on top of the lining and stitch around the outer edge with zig-zag stitch to hold them in place. If you are a busty gal I highly recommend cutting a larger top size.
The only fit change I made was a pretty significant sway back adjustment. I sliced off about 1.75″ from the center back of the pants grading to nothing at the side seams. Only I did that after I had already sewn on the waistband. With a serger. So I had to take all that stitching out first.
My advice, if you think you'll need a sway back adjustment, be sure to try on the pants before adding the waistband…
The pants are high waisted but only go up to my belly button, which is lower than my natural waist, something to keep in mind depending on how high of a rise you like in your swimsuits.

If I were to make this again I'd probably add just a half inch in length of the front piece and maybe go up one size in the width of the top.
This is the first pattern I've sewn by this company and I liked it. The instructions were a mix of illustrations and pictures but they were thorough and easy enough to follow. I appreciated the highlighted tips throughout. This is certainly easier than some other indie patterns if you're a novice at swimsuit sewing.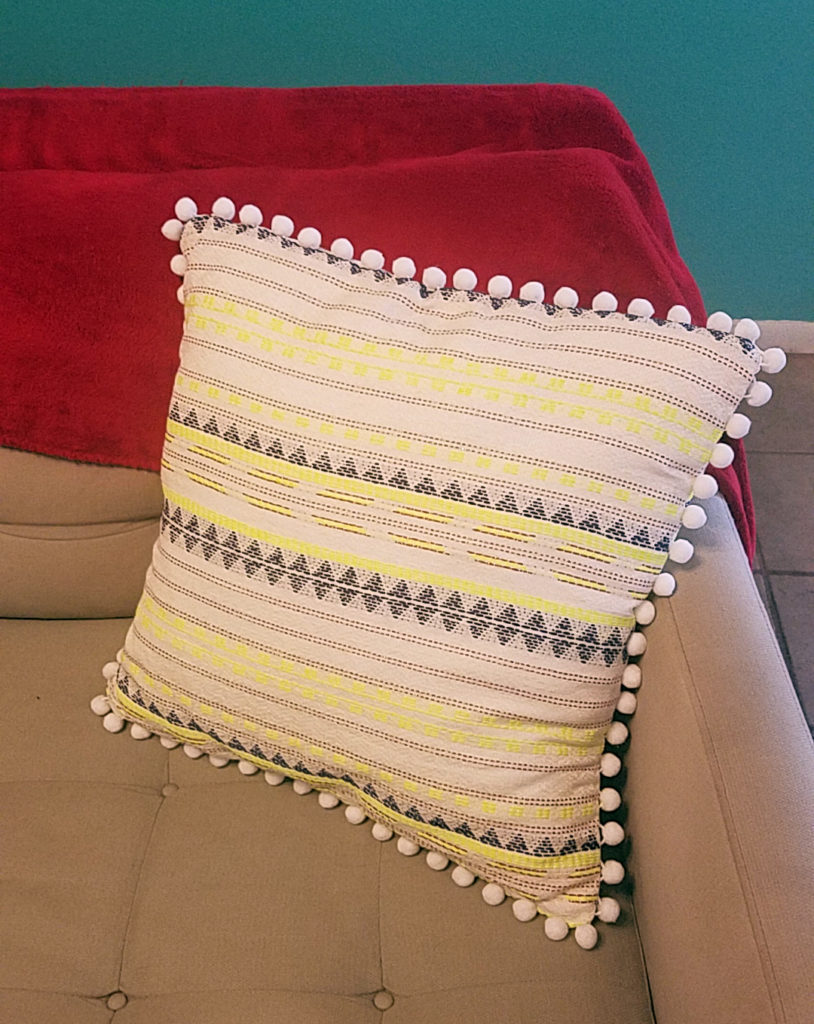 And lastly, one of my sewing buddies recently reminded me of the old adage, "Friends don't let friends sew home dec." Well, she wasn't around to stop me so I whipped up a new pair of couch pillows.
Have you ever had a fabric that just called to you? Demanded that you buy it? Something you love so much but had no idea what to do with? That was this fabric from The Cloth Pocket. I loved the neon yellow, plus navy, plus bronze metallic on ivory color scheme. I loved the texture of the weave. I had to have it. So I decided to make pillows. I bought new 20″ forms and several yards of pom-pom trim and got to work.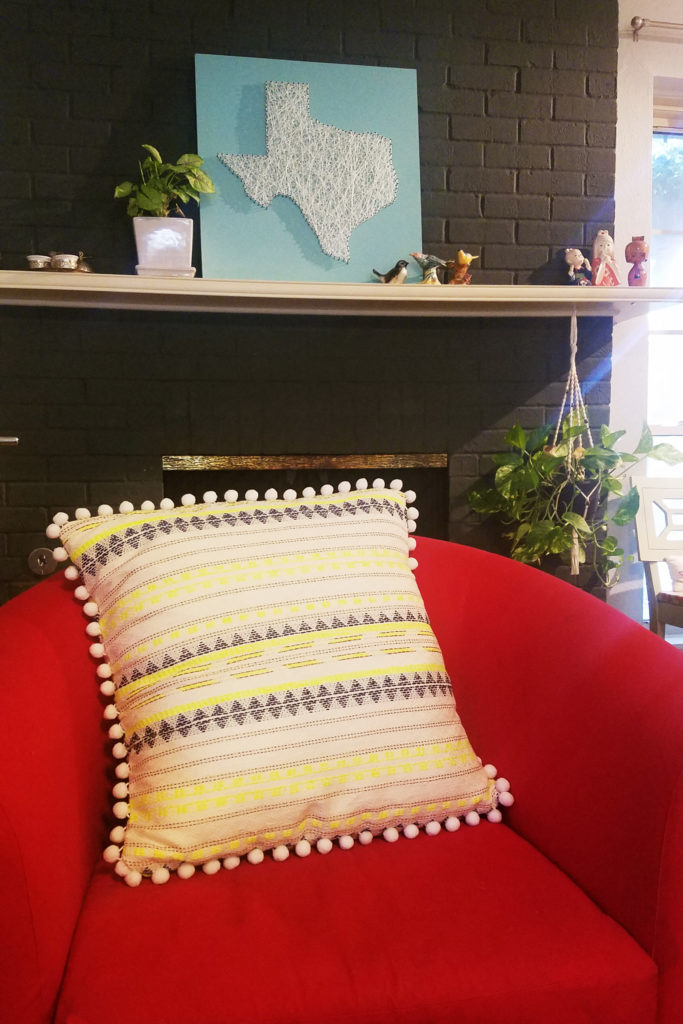 I made overlapping backs rather than zipper closures to make things easy. The trim makes the whole thing seem more "store bought." They're sunny and fun and I love them!