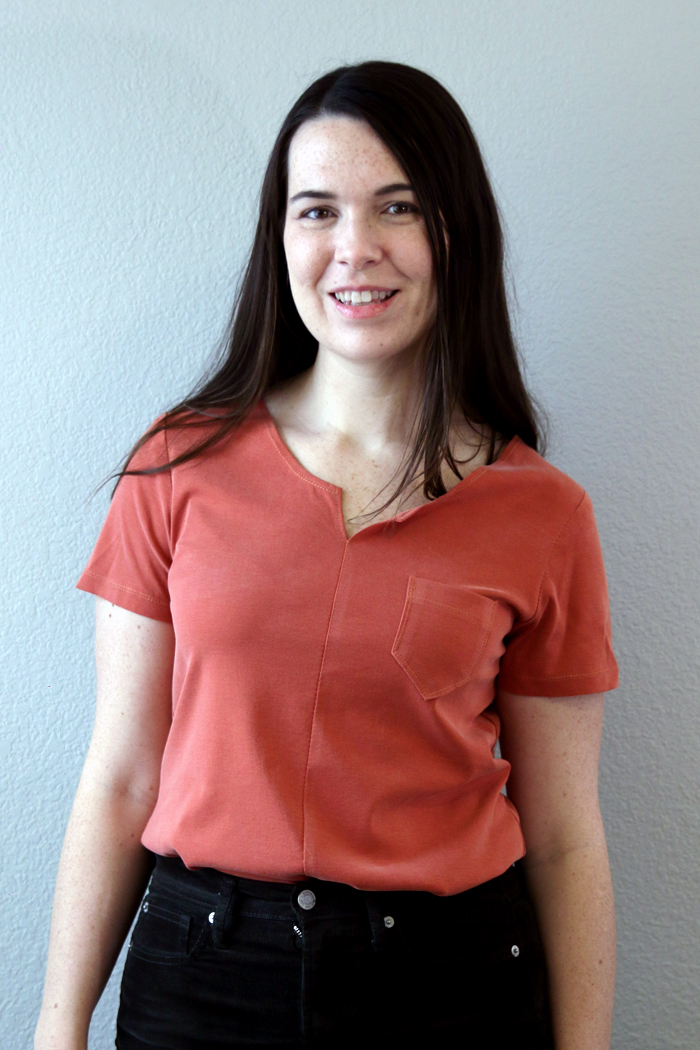 Blank Slate Austin Tee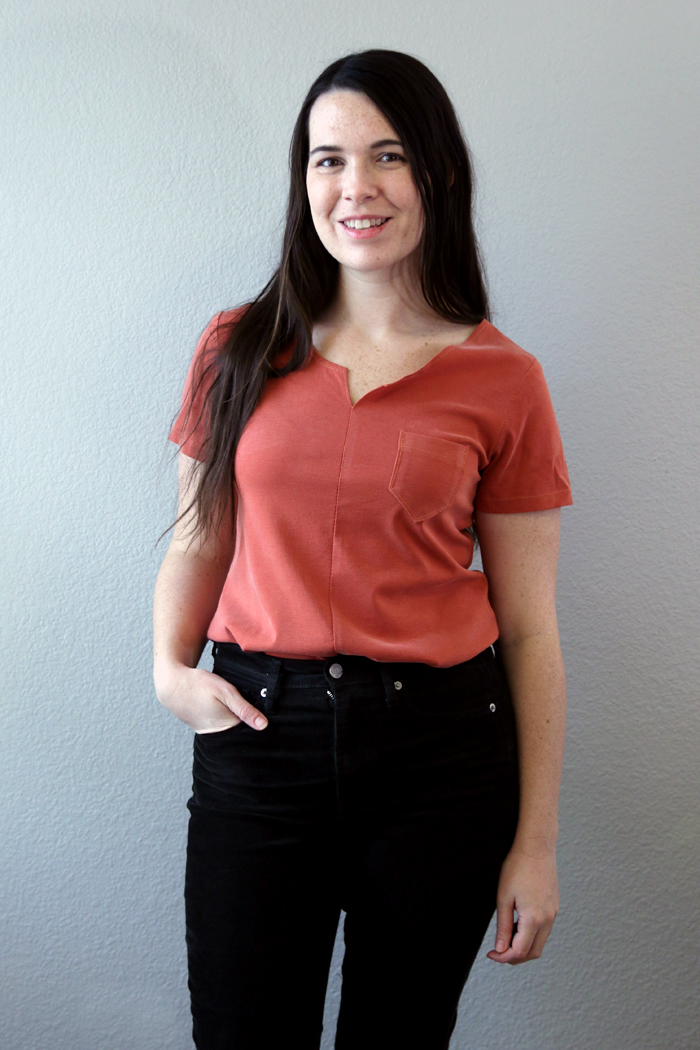 I've been working with Melissa and a couple other gals over at Blank Slate Patterns for almost a year now. We split the work in designing, testing, sampling, and marketing patterns. I like that workflow because when I used to run my own pattern company I did all of that myself and got pretty burnt out. Sharing responsibilities and bouncing ideas off each other keeps me motivated.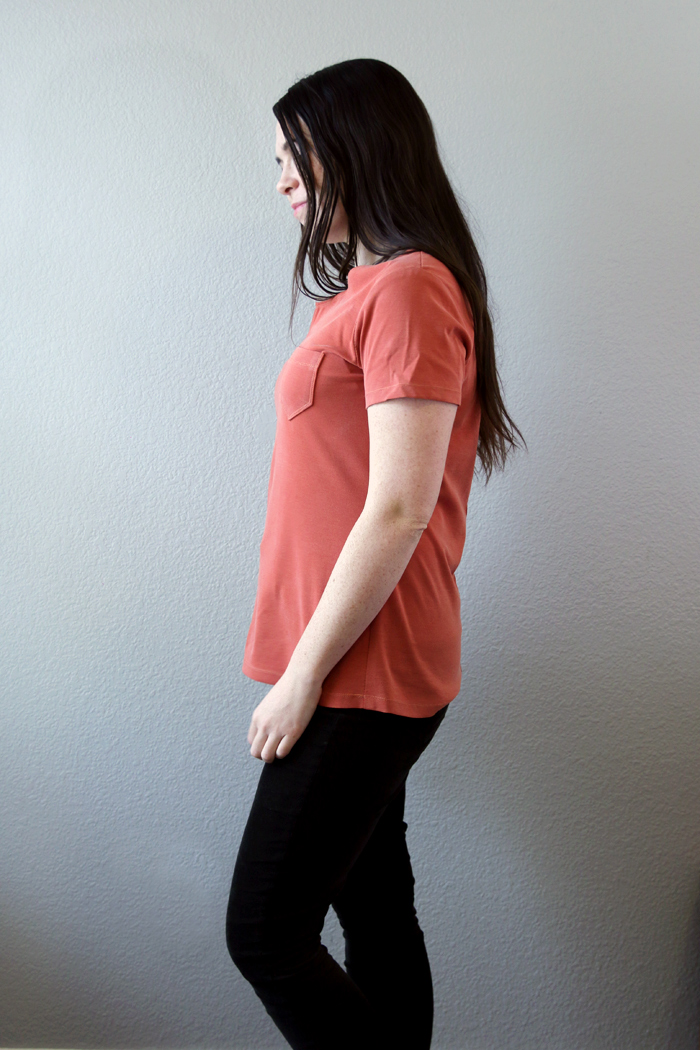 This is the Blank Slate Austin Tee and while I didn't help design this pattern, I decided to make it because I had just enough fabric to squeeze out a t-shirt and wanted to try this design.
This is actually the third garment I've made from this fabric (the others will be posted soon). This poly/rayon/spandex(?) doubleknit came from Joann and I bought about four yards that were left on the bolt. I love the deep terracotta color and how smooth it feels and the way the color looks subtly different depending on the light. It's got great recovery, a little bit of vertical stretch, and was a dream to sew. The only downside is how quickly it wrinkles.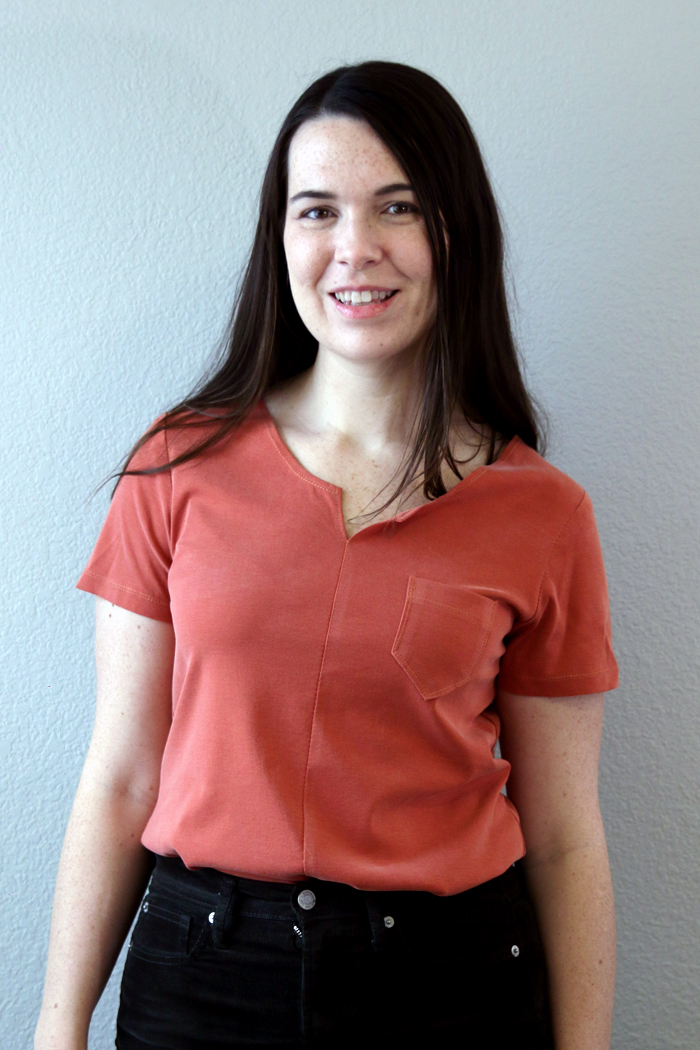 The stability of this fabric worked well for this style of neckline. Since there's no collar band pulling the neckline together and the shirt has that slit down the front, there's not really anything keeping the neckline from stretching out. The neck edge is simply folded under and I stitched it from the top with a twin needle.
This pattern has a number of variations so you could also just sew a plain tee without the center front seam and with a regular collar. There's also a version with ties at the hem.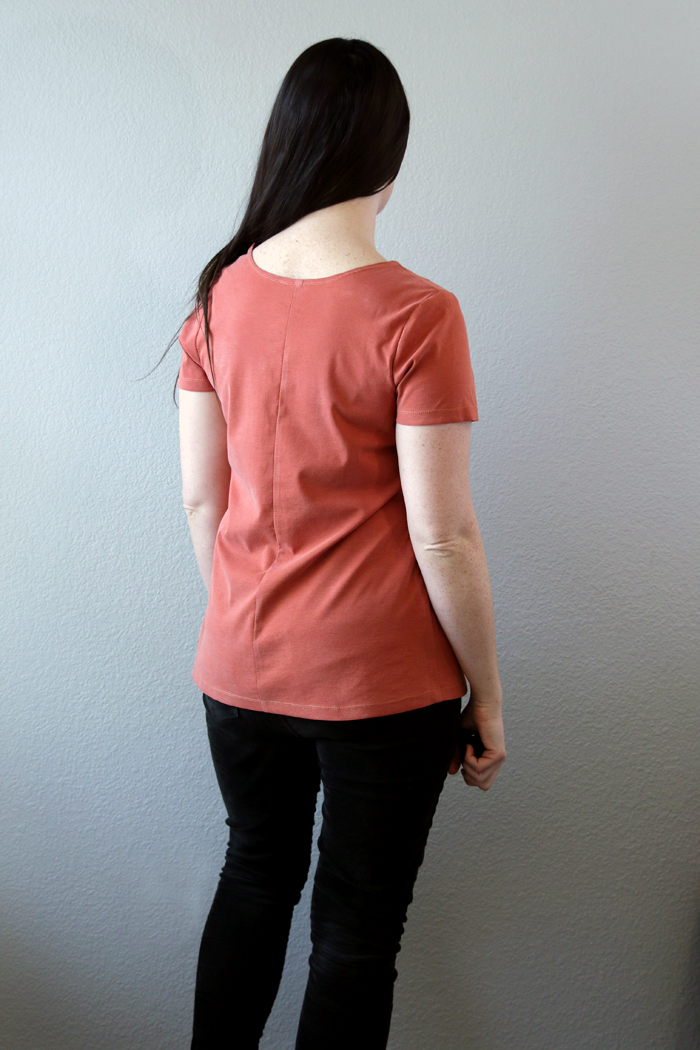 However, this pattern doesn't come with a center back seam option. This was just a mistake I made when I mixed up my front and back pieces, ooops! Oh, well, it wasn't a huge error and doesn't make much of a difference in the end.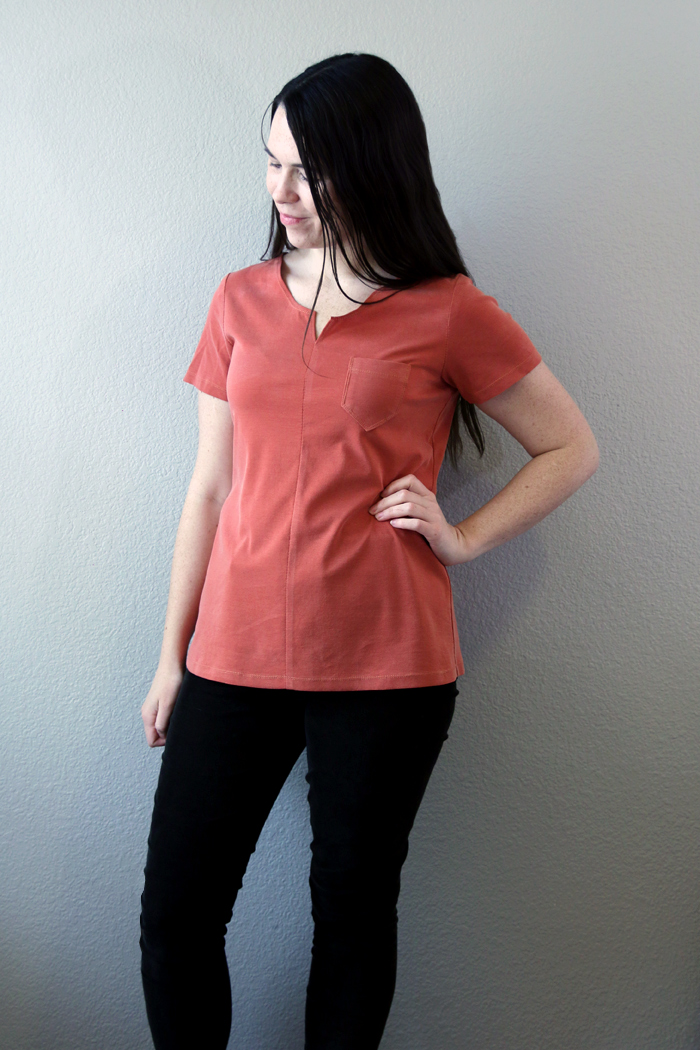 The pattern also comes with two length options and I cut the longer version but since taking these photos, I decided the tee was a little long for my taste so I lopped off 2 inches. Better too long than too short.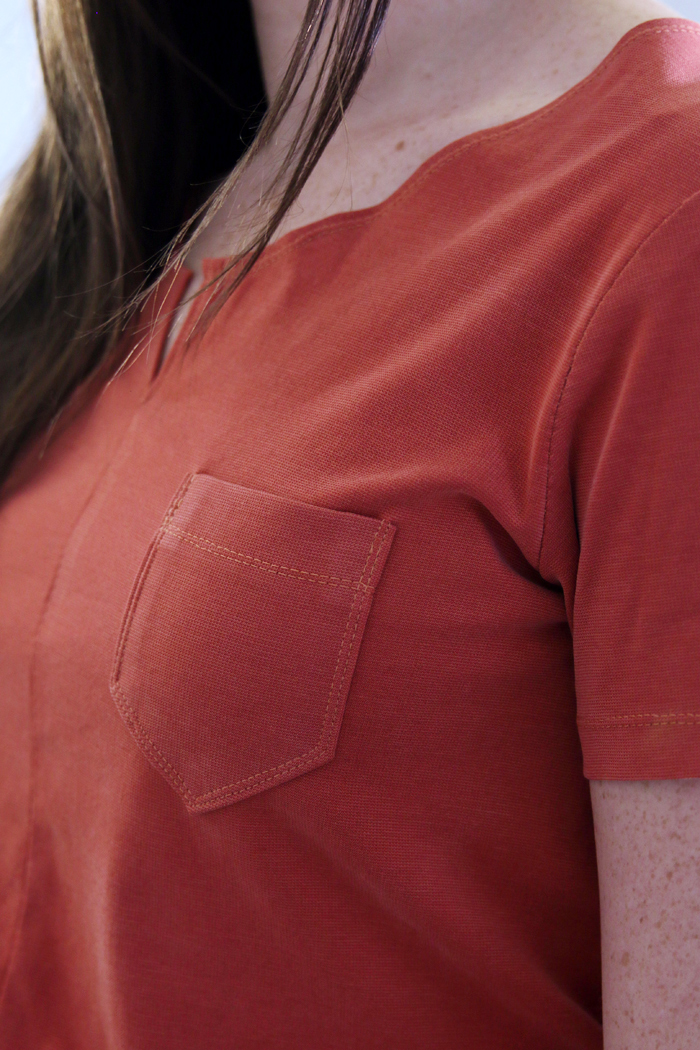 I really like the cute little pocket detail, too.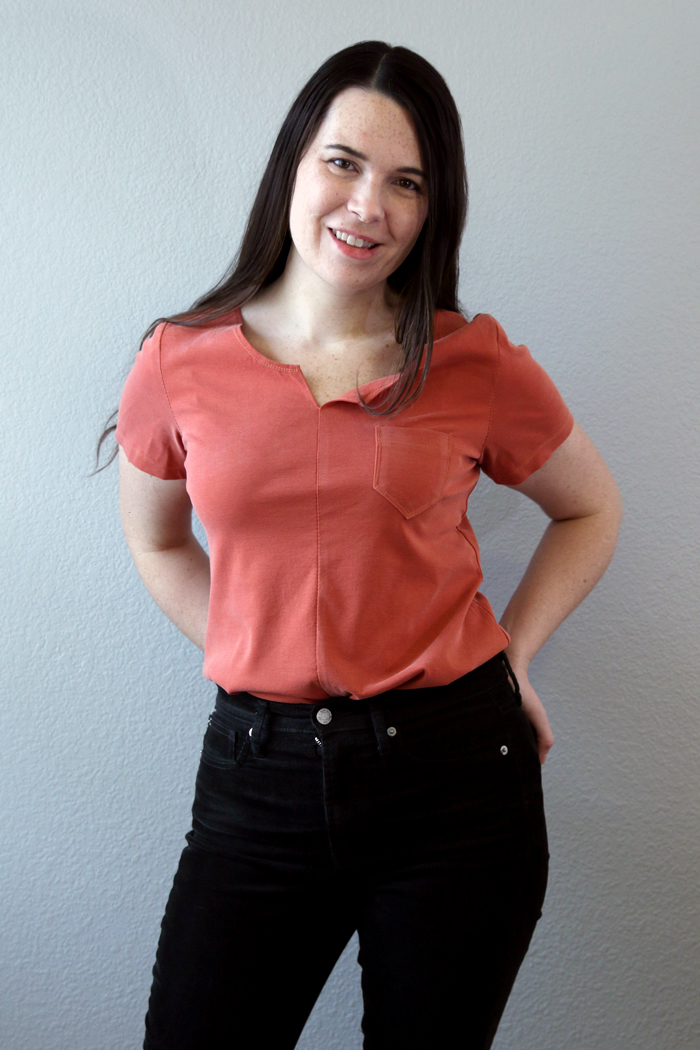 This shirt is an easy wardrobe staple and I'm glad I was able to use up the rest of that fabric. Quick makes like these make me feel productive while the baby naps!