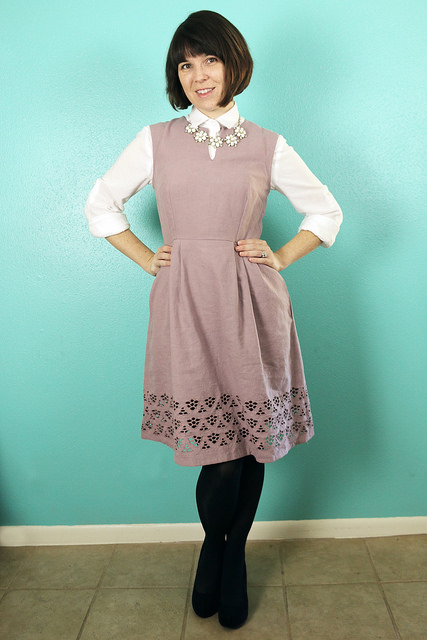 Simplicity 1419 with Smuggler's Daughter Fabric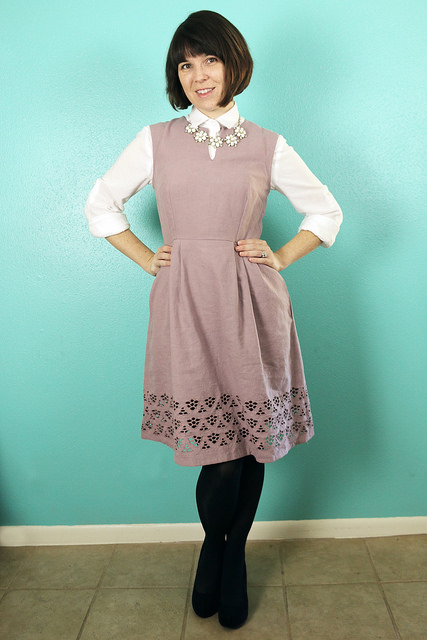 Amazingly, it's been kind of chilly the past couple days which made me think – how can I style a sleeveless dress for this frigid 60 degree weather we're having? So I paired it with some tights and a long sleeve shirt and a, uh, winter necklace, I guess? FASHION!
But then you might be asking: "Dixie, if you dressed up for cold weather why didn't you take these pictures outdoors?" and I would say, "Are you insane!? It's practically a new ice age outside! But no matter, it's now nap hibernation time."
Onward to the dress –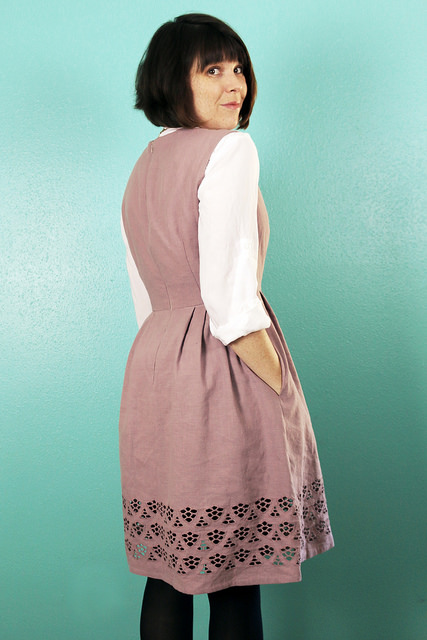 The Pattern: Simplicity 1419 is a Lisette pattern that is pretty much your standard fit-and-flare design with skirt pleats and a darted bodice. I thought the simple style would be a good way to show off this border fabric. Plus, I've never used this pattern before so I wanted to see how well it would turn out.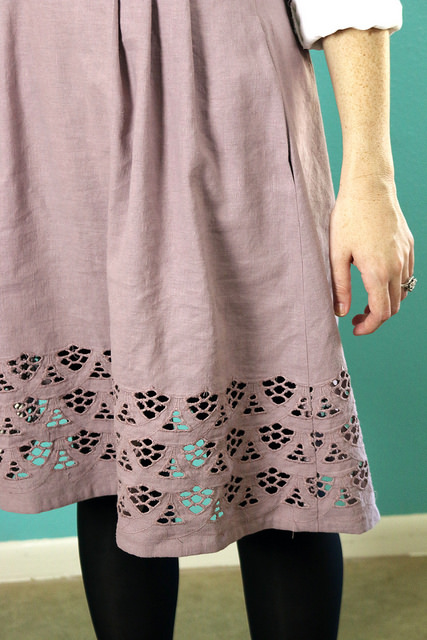 The Fabric: This lovely lavender linen from Smuggler's Daughter. It's a mid-weight which made it substantial enough for a dress. What I really loved was the wide, embroidered, cut-out border on one edge.
I did the pretty standard choice to place the border on the hem but you could add it to other places like a front or back yoke or even use it for lace-y short sleeves.
The fabric is wide so I was able to cut out the whole dress in two yards with quite a lot of fabric leftover (at one point I thought I was going to add sleeves but then decided not to, even with sleeves cut out I still had a ton of fabric remaining).
I didn't line the skirt because I like the open effect (I think it looks really good with the tights). But you could line it with a complimentary color for a little bit of pop at the hem.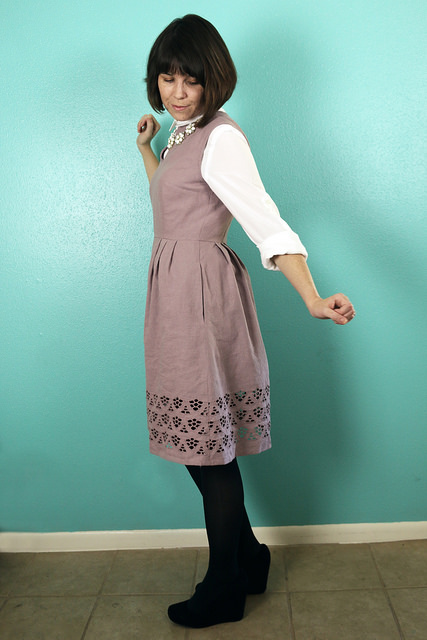 (I don't really know what I'm doing in this picture but here is a side view.)
I worried the embroidery would be difficult to sew over but it was fine. On the side seams I sewed a normal straight stitch then serged the seam allowances. If you don't have a serger, you could zig zag or bind your seam allowances with something like Seams Great.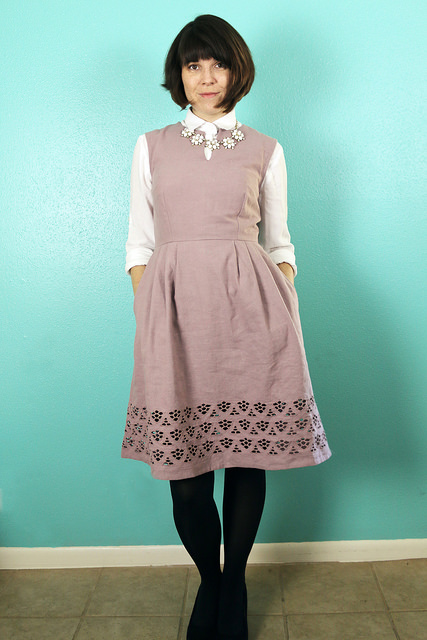 The Changes: Only a few. I shortened the bodice by an inch. Normally Simplicity patterns hit my waist at the right spot but lately I've been gravitating towards a slightly higher waist. Not sure why. It doesn't look like much of a difference in the pics but I can tell when I wear it.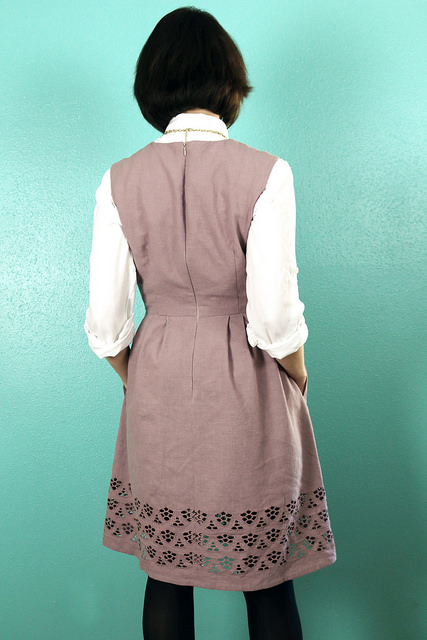 I also took a little bit of fullness out of the skirt at the curved hem to make the straight-ness of the border less noticeable on the finished dress.
The pattern has you add a tiny button and loop at the top of the front neckline, making the slit into a keyhole. I left it off. I like the open look. Plus, I hate trying to turn tiny tubes (there's a lot of alliteration going on in this post, sorry).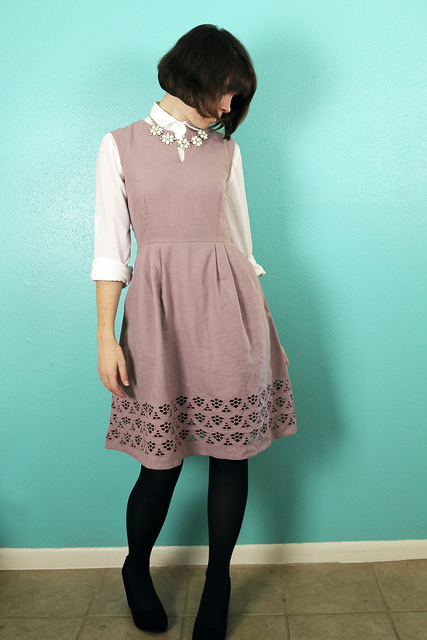 The Results: This is quite a cute dress and bonus points for taking it from summer to fall! I love love love the eyelet at the hem, especially from a distance where you can see the full pattern. It's a solid color so it goes with many other garments but the eyelet makes it stand out. A little cake with your frosting, if you will.