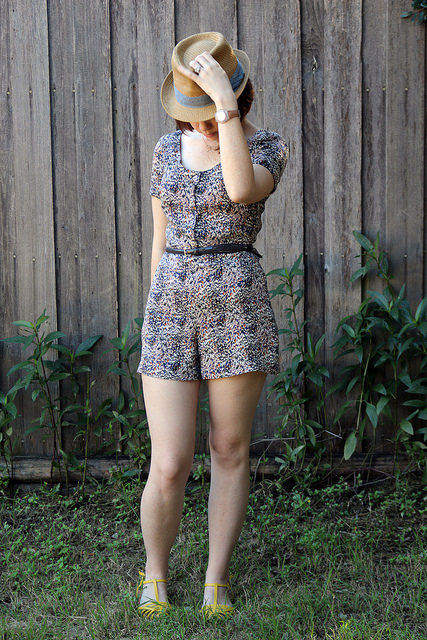 By Hand London's Holly Jumpsuit
This is quite possibly the most hipster thing I will ever sew. I mean, it's a rayon romper in a slightly 90s-esque print and color scheme. I don't think I'm quite Coachella enough for this outfit.
The Goal: I was pretty busy when BHL asked if I wanted to test the Holly so I passed. But after they released the pattern and I saw a bunch of finished versions I was intrigued. Could I pull off a playsuit? A romper? An adult onesie? Without looking like a five year old? We'll see…
The Pattern: The Holly Jumpsuit. I made the short version with the sleeve cuffs and button front.
The Fabric: A rayon from the Common Thread. I'm pretty sure it's by a designer but honestly I don't remember who. It's got a tiny chevron print with lots of brown and earth tones in it. I think the soft drape of rayon worked well for this pattern.
The silver buttons were some leftovers from another project that I had bought in Dallas last year. I think the slight southwestern look of them really adds to the overall super-hipster factor.
The Changes: I only had four of those buttons so mine has far fewer buttons than the pattern calls for.
Also, I kinda forgot to sew the back darts on the shorts. Oops. Which makes sense now 'cause I was like "why are these back pieces longer than the back bodice?" I ended up sewing a line of stay stitching and easing in the excess. Only after finishing the whole garment did I realize my mistake.
Possibly because of that dart mistake I stitched the back waist seam tighter to fix what I thought was a sway back issue. I usually need to make some kind of sway back adjustment anyway but had I paid attention the back waist might have been smoother. Oh, well.
The Results: I like it. I really do. But having never been a romper wearer it's an unfamiliar look for me that I have to get used to. Like, you really gotta ooze confidence to sport a more stylish version of toddler-clothes.
The first time I wore it was to a sewing meet up where I felt comfortable dressed in whatever I've made in front of my friends but afterwards some of us went to a restaurant and that's when I suddenly realized "I am wearing a romper. In public."
An yet the Earth did not implode. AND even Justin said it was "cute" (I'm going to print out that sentence and frame it). Maybe I can pull off this look?? Aww, look at me – branching out in my personal style. I should give myself a pat on the back for that, right after I figure out the easiest way to use the bathroom while wearing a onesie…