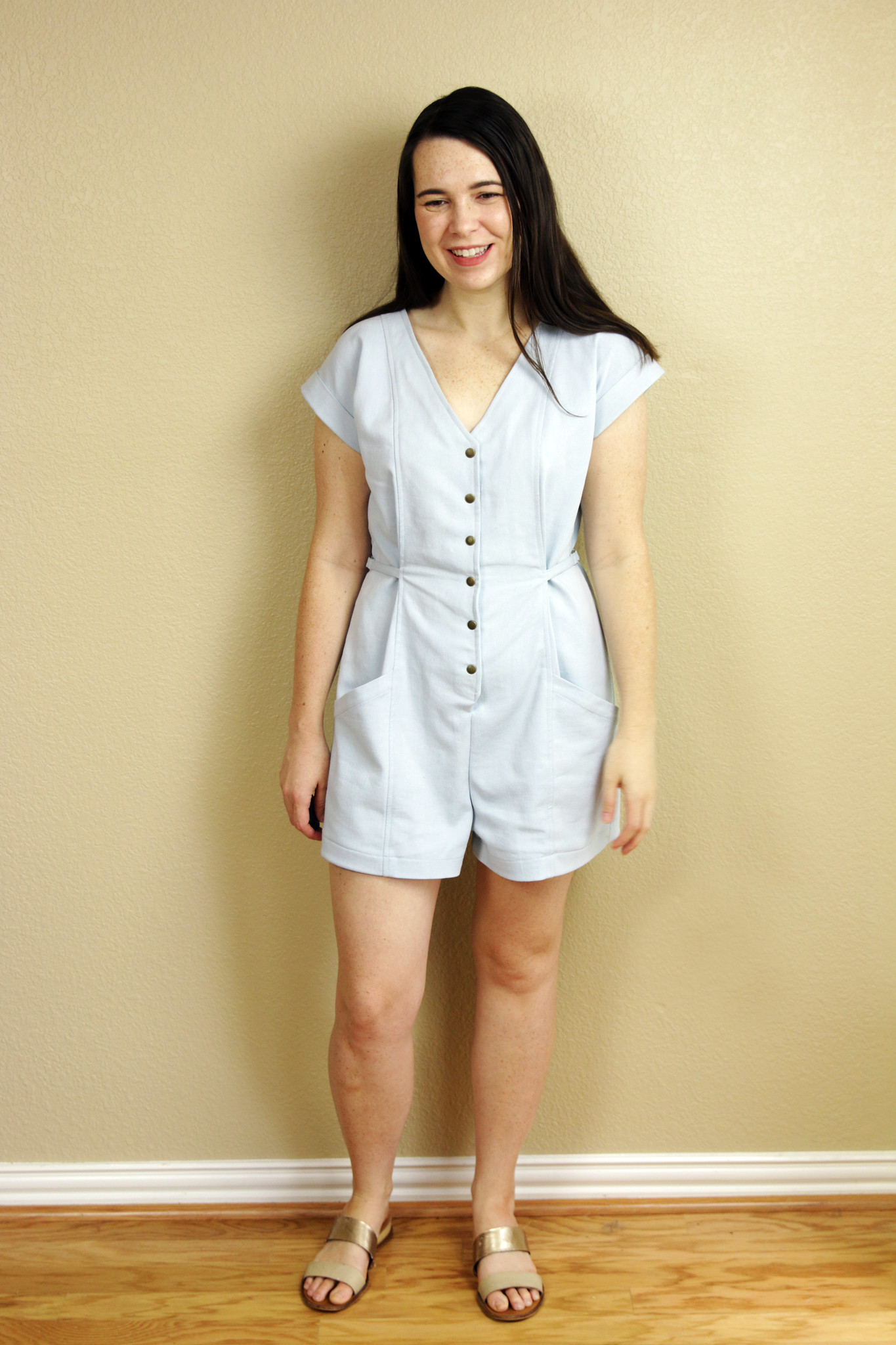 Tencel Denim True Bias Yari Jumpsuit
I feel like I missed the jumpsuit craze that swept the online sewing community about a year or so back. But I had a few patterns on my mind to make for a while and with my stash-busting endeavors in full-swing, I thought now might be the time.
This is the short version of the Yari Jumpsuit by True Bias. If it's short does that technically make it a romper instead of a jumpsuit?
I bought this pale, pale blue Tencel denim from Joann years ago and was about 75% finished with a Burda dress when I decided I didn't like the style of the dress on me so it languished in the UFO drawer of shame ever since.
Luckily the skirt of that unfinished dress was long and rectangular enough to cut some of the jumpsuit pieces from and I had enough leftover fabric to cut the remaining new pattern pieces. I still have scraps leftover, though. Maybe a matching mommy-and-me romper in the future?
This started out as a muslin but the more I worked on it the more I liked it so I decided to devote some extra fun details to the project.
I used little brass d-rings I salvaged from an old belt. Because I only had two rather than the 4 needed, I did something a little different for the waist tie than what the pattern called for.
I also had enough matching weathered brass snaps to use in place of buttons. Unfortunately, I didn't have one of the necessary tools to install the snaps! I must have had it at one point because I made two separate Kelly jackets that both used these kinds of snaps.
Luckily my 8 year-old nephew came to the rescue. He's quite the crafter and propmaster (and will likely be an amazing cosplayer one day). He has a ton of leather-working supplies and happened to have a tool that fit my snaps! So thank you to him.
I made a size 4 in the bust, 2 in the waist, and 8 in the hips. But I probably could have cut a straight 4 as there is not much curve in the seamlines at all and there is a lot of ease. This isn't a close-fitting garment.
One thing I'll change next time – the crotch depth is really low. At first I wasn't sure if this was intentional but my version looks like the samples and I don't think it's an issue with overall length because the waist tie points do hit at my waist. I think it's just a design feature but it's a little uncomfortable to wear. Not sure exactly how to describe the problem – it's like the legs are too loose and get twisted when I sit down. But there's no way to fix it now unless I cut the whole thing apart at the waist and raise up the bottom half.
Besides that one issue this is a pretty fun little romper/jumpsuit and should be a good addition to my summer wardrobe!