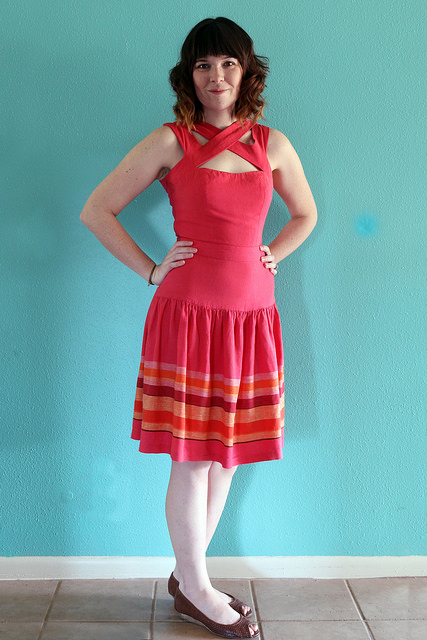 Simplicity 1607 – Cynthia Rowley Dress
I have this self imposed rule about not sewing sleeveless garments, mostly because I never remember to shave, I also really hate shoulder sunburns. But this dress pattern was just so awesome I couldn't resist. Unfortunately the Polar Vortex won't go away for longer than a day so it's been too cold for cute dresses. To compromise I took indoor pictures. Take that, weather!
The Goal: I wanted to make this pattern since it first debuted in the catalog but never found just the right fabric for it, until now!
The Pattern: Simplicity 1607, a Cynthia Rowley design (love that lady!). I chose version A with the cool straps. Those straps almost turned out to be my downfall. Looking at the dress now I don't even think I got the strap configuration correct, oh well, the effect is the same.
The Fabric: A border print cotton from Fabricker here in Austin. It's got orange thread running one way and pink the other. Close up it looks almost iridescent. Far away it looks coral. Just my color!
The Changes: I took a risk and sewed this dress sans muslin. I picked a size 10 since this is meant to be a close fitting dress and big 4 patterns notoriously have too much ease.. I accidentally sewed side seam with the zipper a little small so this dress is very fitted. Had I chosen the 12 it would have gaped a lot around the neckline, no bueno. I think this dress needs to fit closely in the waist to take some pressure off where the straps attach to the bodice, as well.
On problem, though. With such a fitted bodice the fabric around my invisible zipper pulls open, as you can see. It's a side zip so not a huge deal. I suppose I'd rather have a fitted bodice and exposed zip than a baggy bodice and hidden zip. A lapped zip would have been a good alternative, prettier than a regular zip and solves the not-so-invisible zip issue. Maybe for next time.
The only significant change: the bottom part of the skirt with the stripes. The original pattern piece is curved but that would have warped the stripe effect so I just cut rectangles. I don't think it alters the silhouette much.
The Results: Very cute dress! That is a "dang! look at that dress!" kind of dress.
Couple major tips – those pesky straps up top are really easy to get confused so be sure to carefully label all your pattern pieces. No, really LABEL THEM!!!!! Like, label the top, the left and right, front and back, every angle where it's supposed to attach to another piece. You will be so confused otherwise
Add extra interfacing to the straps (they only tell you to apply it to the outer strap layers). Interface all the strap pieces, then interface them some more. You don't want floppy straps.
Don't be lazy like me, if you know you normally have to make a lot of pattern changes like lengthening or shortening bodices, make a muslin. Those straps would be very difficult to alter after the fact. The straps also come up pretty high on my neck. Not that uncomfortable but it's definitely noticeable while I'm wearing it. Might be something else to consider.
I'm digging my new camera and remote. Now that I have a working autofocus I get to play around with poses and close ups and what not. AND… I just got a little light kit as well! Stepping it up a notch.