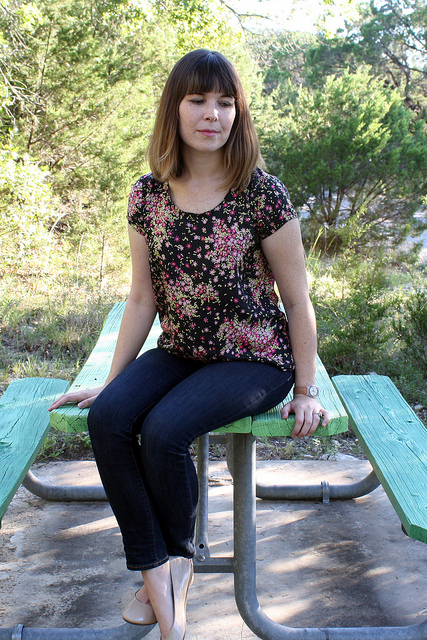 Another Scout Tee
This will be a quick post. It's common knowledge that everyone and their dog love Grainline Studio's Scout Woven Tee pattern. I've made it up as-is twice before and used it as a base to make a cool tulip back top so I won't go through all the regular in-depth details.
Normally it's an easy pattern to whip up. Only three main pattern pieces and some bias at the neck.
But I decided that it would be a great idea to do this top in silk charmeuse.
Miss Lulu found this remnant, about 2.5 yds in the sale room at a fancy fabric store in Dallas the last time we went up and we decided to split it. But you can't make much with barely more than a yard of fabric so…. Scout Tee!!
This fabric is pretty soft and thin. I didn't want to use my serger on the seam allowances so I decided to go with French seams.
Hmm, French seams on shifty charmeuse with only 1/2″ seam allowances (and no spray starch to help, I'm out!) – not my best idea. But I did it anyway. The curvy armholes were the most difficult but somehow I got it done!
I did tiny baby hems on the sleeves and bottom of the shirt. The only minor problem is that I really should have stay stitched the neckline before adding the bias facing. It kind of sticks out a bit because the very edge of the neckline was stretched slightly when sewing the bias. Oh well, because who cares? Not this girl!
So I'm pretty satisfied with this top and impressed at my ability to make something much more difficult than it ought to be. It's a simple but pretty shirt that dresses up jeans or pairs well with my new Ginger skirt. Now I'll just wait and see if Miss Lulu gets the same idea and makes a Scout Tee with her share of the same fabric. Then we'd be twinsies again!