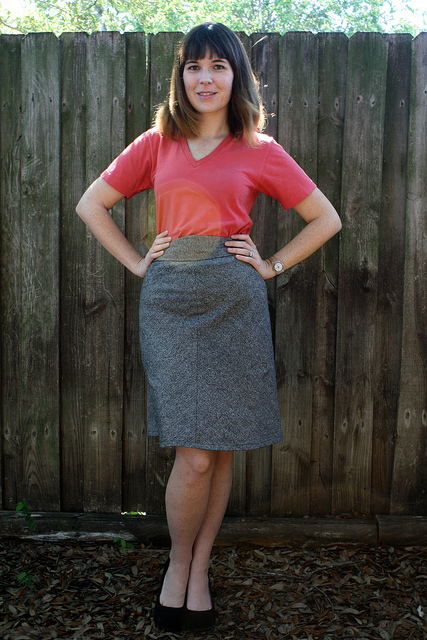 Do Ginger (skirts) Have Souls?
Sorry, I just think of that line every time I hear the word "ginger" now. Couldn't resist.
But for real, tho. This is a pretty cool skirt. Maybe it's something about the bias cut panels but I really like this skirt more than any other a-line skirt I've worn or made. Normally I avoid a-line skirts because I feel like they make me look like a big triangle. I'm already slightly pear shaped and a-line skirts don't do much for my shape. I always think I need more fullness in the skirt to exaggerate my curves or a pencil shape to hug the curves I have. A-lines usually make me look bottom-heavy.
Buuuuuuutt…. with the Ginger that might not be the case. Not bad, Colette!
The Goal: I've been teaching my Circle Skirt Drafting Class for a few months now and I wanted to move on to another topic. I liked this skirt because it's relatively easy (three paper pattern pieces, no lining) but can be more advanced if you want it to be (invisible zip, bias option). And skirts are pretty easy to fit. I think we have a winner!
The Pattern: Colette's Ginger Skirt. I made Version 3 with the bias cut sections but with the pointy waistband. I made a 4 which fits nice at the hips but is ever so slightly too loose in the waist. Next time I'd grade down a size at the waist and use the smaller waistband.
The Fabric: A silk (!!!) herringbone suiting, medium weight which I got from Susan, actually, at a fabric swap. I have no idea why she would give this stuff up, it's gorgeous! Close up you can see the chevron effect but far enough away and it just looks like a heather-y gray skirt. I think it's enough to consider this skirt a "solid color" which will make it easier to pair multiple tops.
The Changes: The fabric, while silk, is pretty rough and itchy so I added a lining out of a black cotton voile. I also used a regular zip rather than invisible. Mostly 'cause I didn't want to take the time to prep and sew an invisible when regulars are really fast. Lazy Dixie…
The Results: Overall the fit is pretty good. The waistband is a bit too big but still acceptable.
The only other tiny issues are ones I've noticed when making other Colette patterns – the fabric right below the waistband likes to fold up whenever I bend over or sit down.
And sometimes about 5" down from the waist band at the center front seam I get some wrinkling which I think is from the same problem. Miss Lulu suggested that my abdomen area isn't as full as the pattern is drafted for so I have excess fabric there. A simple fix for next time – scoop the front waist area of the skirt pattern piece lower at center front and maybe smooth out the curve at center front a few inches down from the top.
I might make a second version of this skirt to work out the kinks and start prepping materials to make it into a class, yay, sewing!