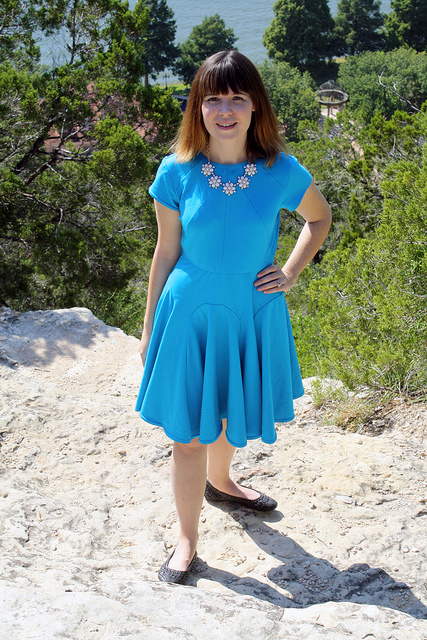 Cynthia Rowley Dress – Simplicity 1802
I've been sewing constantly it seems as of late – working on costumes (the Civil War one and another which I'll tell you about soon, promise) and some other projects. This is one I just finished.
The Goal: This dress was an attempt at stash busting. I had this pattern that I bought months ago but never used. I really liked the design tho. And I have a bunch of random knits in my stash. This pattern wasn't designed for knits but I thought I might be able to get away with it, I mean, my Anna dress turned out great? Why not go in for a second try?
The Pattern: Simplicity's 1802, part of the Cynthia Rowley collection. I love most of her designs from Simplicity and I loved the curved insets and the angles in the bodice. I made the version with short sleeves.
The Fabric: A lovely vibrant blue jersey which I think is cotton with a little spandex. I thought this would be a decent weight to use with this pattern. It has great recovery and is pretty stable for a single knit but it's dense enough that skin won't show through and heavy enough to give a good drape in the skirt. I got it locally at Stitched Fabric Boutique (which has now merged spaces with Fabricker to form the Austin Fabric Co-op, yay!)
The Changes: With a Big 4 pattern it's generally a good idea to cut a size smaller than you normally would. Sometimes two depending on the shape of the design. This dress is supposed to be pretty fitted in the bodice, the skirt doesn't matter much. I went down one size and cut a 10 to compensate a little for the knit stretch and I think it fits perfectly.
Other than that I didn't make many changes except for I didn't line the bodice. I made a neck binding rather than a collar like I usually do for knits. It looks like bias binding but I topstitched it with a twin needle.
I twin needled the hem and sleeves, too.
Actually I sewed the entire dress with my sewing machine and a zig zag stitch rather than trying to trim off the excess seam allowance with my serger (it gets messy and clogs up my serger with fiber dust, annoying).
I added elastic to the waist, like I did with the Anna dress. It was pretty obvious that the skirt was so heavy that it needed re-enforcement in the waist.
Oh, and I left off the waistband piece, because, well, I forgot about it. Oh well. The dress fits and it's long enough without a waistband.
The Results: This dress came together surprisingly fast but I did have quite a few hicups.
I bought this fabric long before I knew what I wanted to make with it so I only bought 2 yds. This pattern called for almost 3. I did everything I possibly could to conserve fabric but I made a major mistake. I cut four of the big skirt pieces rather than two meaning I didn't have enough for the godet inserts. If I hadn't made that dumb mess up I could have gotten away with it. Alas, I had to go to the store and luckily they had enough of the fabric left for me to finish the dress.
Also, I accidentally sewed one of the sleeves on wrong side out. It's not immediately apparent but when I looked up close I could tell. The wrong side of the fabric is slightly darker. So I ripped it out and re-inserted it but right when I went to hem the sleeve I snapped my twin needle in half. Ugh! So I faked that sleeve hem with two carefully placed rows of single stitches.
But it was all worth is because I absolutely LOVE this dress! I love everything about it – the color, the fit, the twirl-factor. It's comfy and totally cute. I'm digging the jewel neckline – perfect for collars and statement necklaces. Might be one of my most favorite makes ever!
Justin likes it, too, although when I showed it to him in progress he said it looked like a flight-attendant uniform. Ugh. There should be a meme or a twitter hashtag about "things boyfriends shouldn't say to their seamstress girlfriends." I love the man, but sometimes he is just dense. Anyone else have some funny boyfriend-sewing-comments to share? I'd love to hear 'em.