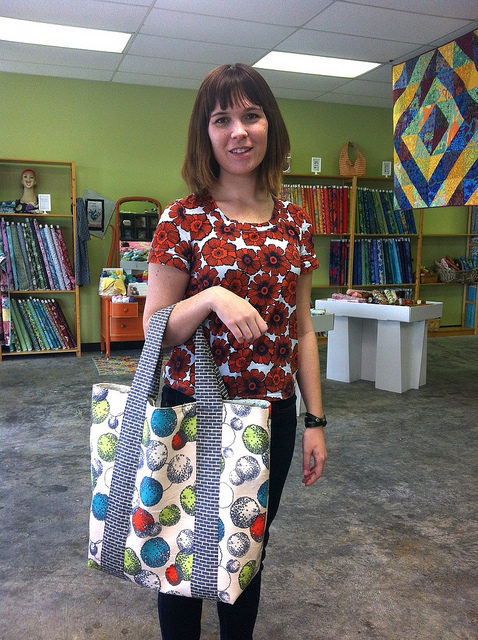 An Amy Butler Bag and Teaching
Some unexpected news for me – I got a job offer to teach a sewing class over at Remnants:fiber[culture], a quilting/fabric store not far away from my house.
My first class will start on June 8th and I'll be teaching how to sew this monster size tote bag, Amy Butler's Spice Market Tote pattern.
I've never taught a real class before so I'm going to try my best to be prepared. I recently talked about teaching my friend how to sew and what a new experience that was for me. Any advice for teaching a group?
Anyway, as for the bag itself – it's huge! And I was in for a big surprise when I started working with this pattern. I've never used an Amy Butler pattern before so I couldn't believe when it called for two layers of interfacing on each exterior and interior panel! That's four layers on each side of the bag!
There's an interior pocket (the pattern calls for two but I only made one) that's also pretty roomy. The bag even has a cool false bottom that stiffens up the base of the bag but you could take it out if you want to throw the bag in the wash.
***Ok, I also need to mention this: I know I announced that I was going to NYC in May and wanted to meet up with some people. Well, now it looks like that plan is scrapped. No NYC for Dixie. 🙁 Sorry all! I really wanted to meet a bunch of you and I've already emailed some to say the bad news. I'm hoping I'll get another opportunity to go soon but if so I'll make sure my tickets are already bought before I get too excited. Thanks!