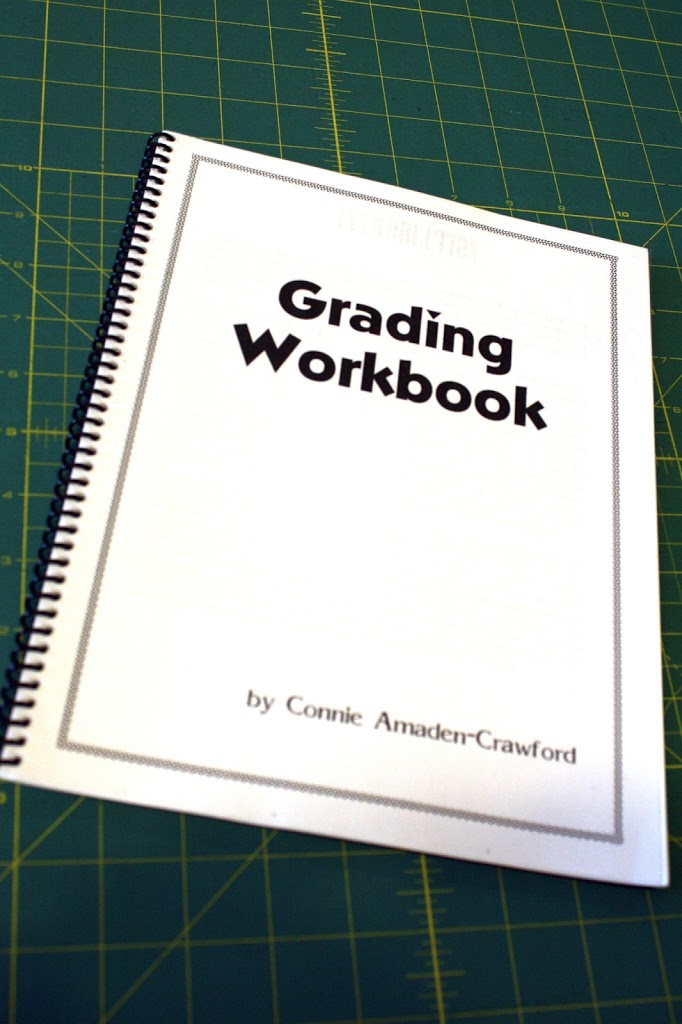 An affordable guide for pattern grading…?
I mentioned that I bought this book on Twitter a few days ago (yeah, I'm back on Twitter, go follow me and I'll follow you back!).
I don't exactly remember how I stumbled upon this little booklet, maybe it was through a review of this authors pattern design books. Anyhow I was intrigued when I found the "Grading Workbook" on FashionPatterns.com.
The author, Connie Amaden-Crawford has some legit pattern and sewing related books published but this "workbook" is nothing more than than printer paper photocopied and spiral bound… kinda sketch… but at less than $20 it was worth a shot especially since I've had no luck finding so much as a textbook on pattern grading online, and if any existed they were out of print and very expensive.
I was hoping this would be a good reference book for the kind of at home grading I want to do – luckily it seems to fill that need just fine!
I know there are a lot of you out there interested in this sort of thing be it for releasing your own patterns or just sizing up vintage patterns for your own use.
This book teaches you the shift method of grading while showing you pictures of slash and spread for reference (to show where space needs to be added in a particular pattern piece).
It covers the basic bodice, skirt, pant, sleeve, yoke, collar, waistband, facing and cuff pieces. If you understand the concepts of pattern drafting you can apply all these grading methods to more advanced pattern pieces (because in essence, every pattern piece is just a variation on a basic design).
Learning on these basic pieces are important because they show you where the pattern pieces "grow" and where they don't (like how darts can often grow longer but not wider when grading).
The shifting concept is relatively easy but what you have to figure out about your grade are the "breakdowns," the length and width increase between each grade. In the worksheet examples they give you precise measurements to shift each portion of the pattern piece up, down, out, or in. However when working on your own you need to figure out how much width and length to add and where based on your own measurement charts.
The book gives you some blank pattern pieces to practice with and a little 'fill in the blank' quiz in each section.
What's nice about the shift method is that it's easy to use in Adobe Illustrator but the pictures for the slash and spread method are helpful if you have a hard time visualizing the grade (like me). The book offers decimal conversions in addition to fractions for each shift point, nice when the computer only takes decimals.
Unfortunately this book is only printed in imperial, not metric measurements.
The book mostly covers women's wear patterns but it discusses some of the changes you'll need to apply to men's and children's patterns.
Overall the workbook is brief – less than 90 pages and it's pretty uncomplicated. If you're just starting with grading and want a good guide without paying an arm and a leg I'd definitely recommend it. For the price you can't go wrong. There's lots of space to add in your own notes and it's spiral bound so it lays flat. I think this book's going to get a lot of use in my sewing room…