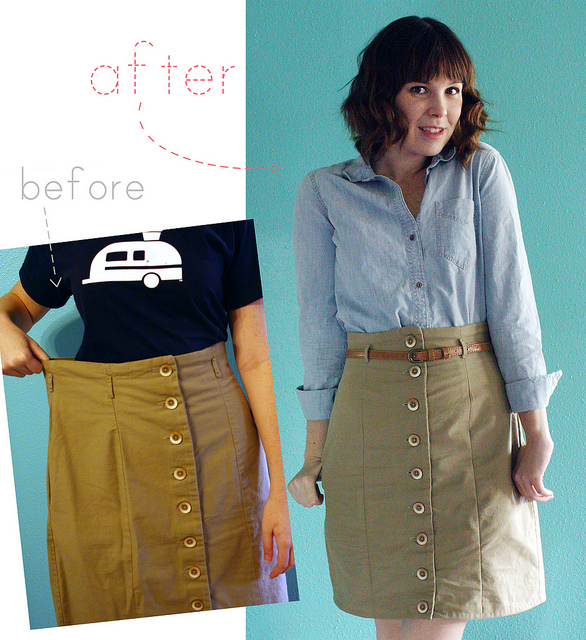 Welcome back, Beignet!
This is just a quick post about a skirt I made over two years ago. After I lost some weight hardly any of my old skirts fit anymore. Finally I took the time to cut this Colette Beignet apart, shave off the side of each individual piece and stitch it back up.
No more baggy waist! Yay!
I cut off the whole hem 'cause I was too lazy to unpick it but then I blind stitched the new hem by hand! Too lazy to seam rip but not too lazy for carpel tunnel… *eye roll at myself*
Since this skirt is in panels it was easier to alter than trying to re-make darts or take off an entire waistband and re-gather a skirt. Plus the way the the pattern is designed I didn't have to mess with re-doing the pockets, easy peasy.
Last year I had made a resolution to not make any more skirts – I had, like, ten of them, but I hardly wore any of them because I didn't have enough solid colored tops to go with all my patterned skirts. This beignet is the only solid skirt I have. So then I tried to acquire or make more solid tops but now none of my skirts fit. Well, some really don't fit, others are just annoyingly baggy.
In any case it's made me want to go back and alter some of my skirts (I'm pretty tired of a few of them and will probably just send them to Goodwill) and re-introduce them into my wardrobe.
If I get enough skirts back into a wearable state I thought I'd make a little challenge – the Week of Skirts – to force myself to find creative ways of wearing my makes and get all those lonely skirts out of the closet.

Do you have clothes you've made that you never wear? If so is it because you not have a place to wear them or nothing to wear them with, like me?