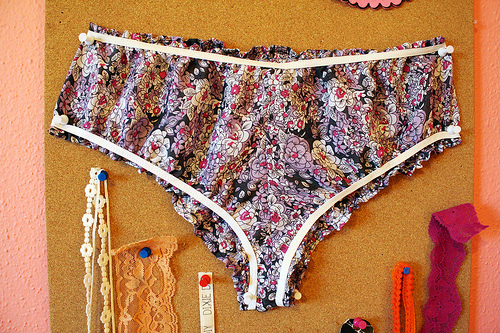 The Unmentionable(s) Post
Ok, I cleaned up my sewing space for the most part. It's at least usable now but I think I'm overdue for a supply overhaul. And with that I was able to do a little sewing work!
Thanks again to all the kind responses on the last post, I probably can't get around to replying to every comment but know that I appreciate the advice which all seemed to come from personal experience. 😉 I even had a friend offer to come over and help me clean and another friend set up a sewing "play date" in hopes of getting my mojo back. 😉 You all made me feel a little less grumpy about my sewing funk.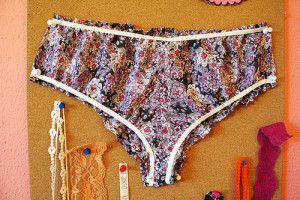 So here is what I finished – first up the Amerson Undies by Madalynne.
Once I finished them I really liked them (you know, after I got new elastic…). The elastic makes a cute ruffle effect that you can't fully see from this busy print.
I've heard comments that ruffled woven undies might not work under a lot of clothes but actually these undies aren't that ruffled. It's more of a cute ruffle edge effect at the waist and leg openings but other than that these undies really aren't very bulky at all. I'd totally wear these with shorts or jeans or dresses, maybe not with a clingy knit dress but these aren't just "lounge" undies!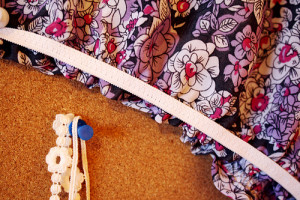 I made these with leftover rayon challis (stash busting!) which I should have starched. It was slippery when cutting out and shifty when trying to attach the elastic. Next time I'll use a cotton voile for a nice lightweight summer pair (easier to work with) and can you imagine some cozy flannel undies??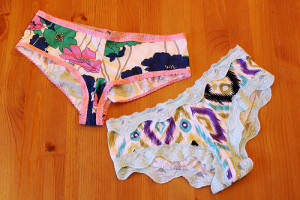 The next undies I made were Cloth Habit's Rosy Ladyshorts (both these patterns are free, ya!).
Both used leftover jersey (even more stash busting!) and some elastic and stretch lace I bought locally. Unfortunately only one of my stretch laces was long enough to accommodate at least two leg openings (I wouldn't mind mixing and matching lace but two different colored legs would be too much) so my second pair used some more narrow lace-style lingerie elastic.
On the first pair with the blue lace I thought the scallops would look too weird at the waist so I stitched the lace upside down – bad idea, it just flips up when I wear it (I realise I could just stitch it down but I'm too lazy to go back and do it). It's ok 'cause it looks fine, not that anyone would see to notice…
If I were to make these again using the more narrow elastic (these shorts are designed to be all lace or knit with lace edging) I'd add a little more coverage in the back, ahem… but that's only if I didn't have any stretch lace trim.
In either case they both turned out great! Fit really well, very comfy, easy to whip together and how cute is using lace trim?
I hope that finishing these small projects will help me get back into a creative mood. 😉