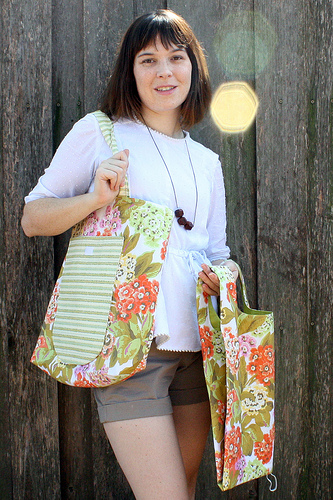 Shopping bags – for the environment!!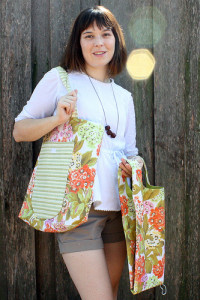 Austin recently enacted a ban on all disposable plastic shopping bags at grocery and retail stores.
Now, I know that in Europe and other progressively minded places elsewhere in the world this is the norm. You can't just go buy your granola and yogurt and expect them to give you a bag for free in Prague or wherever. You either gotta buy a bag or carry that crap home on the metro while people give you weird looks (not that that's happened to me…).
Well, it's a new thing here, and while I do have some re-usable bags I always forget to bring them in the car/store.
No more available litter box cat poo bags plastic shopping bags are a good excuse to make some fun new bags, amiright!?
I took a class at Stitch Lab to sew these bags which I really think was great for helping to get my sewing mojo back. It was nice being in the company of other sewists and with no home distractions and I could totally focus on my sewing project.
And, randomly, someone there recognized me from my blog. It was pretty awkward 'cause that hasn't ever really happened and I didn't know how to respond, really, but it was nice. (Hi Becky!)
I texted Justin about that and his response was to send me the Kristen-Stewart-Lazy-Clapping-at-the-Oscars-gif. Thanks, babe…
Another woman in my class asked for my blog address but after I gave it to her I realized my most recent post had been about undies and felt the need to warn her and explain myself lest she thinks she landed on some strange webpage… more awkward! ("I'm not wearing them, they're like, on a table…")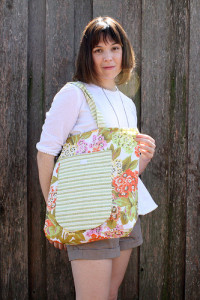 But back to the important bits – I bought both patterned fabrics from Remnants, another store in town (who also finished my quilt).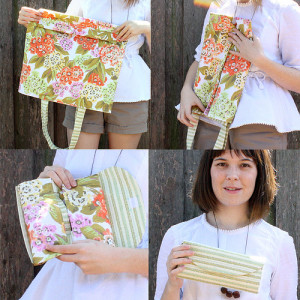 The class offered two patterns to use: one tote bag style that folds into a cute clutch, and a second bag that is modeled after the classic plastic bag shape so it can fit nicely on the bag holder stands at the self checkout line.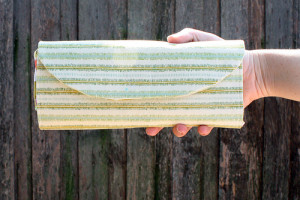 The clutch/tote is very similar to this Heather Bailey design with a couple minor differences (thanks Susan, for finding that one for me!)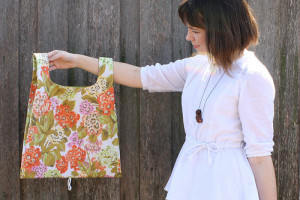 As for the other bag, I've yet to find a pre-made pattern like it but this tutorial is similar. I don't know if someone at Stitch Lab designed this pattern or if they got it from a book or something. If you know a pattern like this tell me about it so I can put up a link in case others want to make one. 😉
The teacher suggested we add a loop of elastic at the center bottom so we can roll up the bags and use the elastic to hold it all together when the bag isn't being used.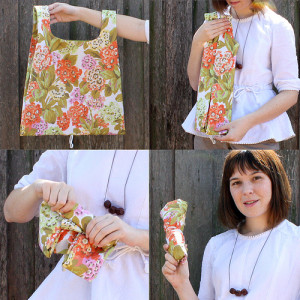 Both were pretty quick to make and now they're going into the back seat of my car. Maybe next time I'll remember to get them out before I walk into the store…
***On a side note, I also made my necklace! It's just three wooden beads connected by some wire and strung on a chain, simple but cute!