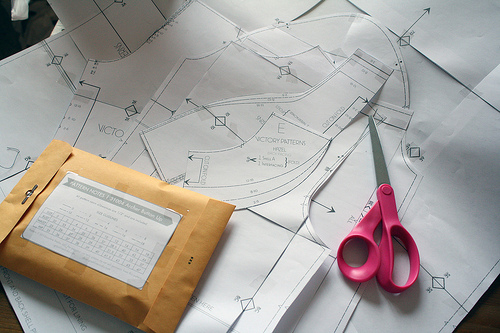 Lost My Sewing Mojo??
Update: Wow, thanks everyone for the genuine and empathetic advice, seems we've all "been there." I've cleaned up most of my room and it's definitely helped already!
Every once in awhile I have to take a break from sewing because all my creative juices have been squeezed out of me. I need time to get inspired again. I'm sure most of you can relate. Usually those breaks only last about a week for me but lately I've been struggling to get back into my creative pursuits.
Oonaballoona made a good assement of her missing mojo last year and I think some of her points are applying to me. I also think that this pattern development process is wearing me out and I'm still no where close to being finished with any of my patterns I'm working on. I like the gratification of wearing clothes I make and computer pattern work doesn't give me that satisfaction.
So I've kind of been stepping away from my sewing table for a bit in the hopes of riding out this sewing-funk I've been in and just absorbing others' creative energies and/or playing video games.
But I haven't just been sitting around moping…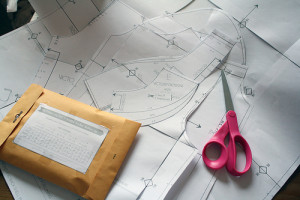 I've printed out or traced a bunch of patterns, Victory's Hazel Dress, Grainline's Archer shirt, the Sewaholic Cordova jacket. And I've prepped fabric for a lot of projects.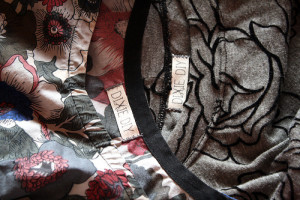 I've hemmed some of Justin's pants and shorts and I've added tags to already sewn clothes (I always forget to stitch them on during assembly).
I've also made some candle and scent cube things, you know, for those electric candle wax warmer contraptions.

But what could be the cause of the prolonged missing mojo?
Could it be annoying set backs like this: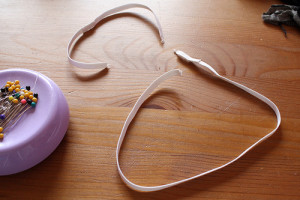 These were elastic loops I made for the legs of my Amerson undies. I took a break from sewing them and when I came back I found them half eaten. By my cat. Yes, my cat, Peanut, likes to eat elastic… and yarn… and computer wires… and xbox controller cables… and shoe laces…
Gosh, cat, you could at least try to look guilty!
Now I'm out of elastic and have to buy more to finish the undies. I also sewed some Rosy Ladyshorts and as soon as I finish the amerson's I'll blog about both…
Or perhaps my mojo ran away in fear of the sinkhole mess in my sewing room.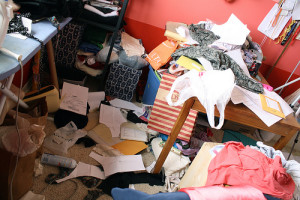 Ugh, I can't believe I'm even posting that picture! You'd think a meth addict lived in this room. Unfortunately my sewing room has become a dumping ground – unfinished crafts, shopping bags, laundry in need of ironing, silk drying, orphaned pattern pieces and all those fabric scraps that I have no idea what to do with. Also it seems that lots of stuff on my tables and ironing boards likes to fall off onto the floor… I just need to get off my bum and clean it up but cleaning's no fun, right!?
I have a couple UFOs I could work on but mostly I think I just need to dive in and finish something and get myself back in the game.
I'm looking for your advice – what do you do when you're feeling uncreative and uninspired? And bonus points if you admit your sewing space has ever been as messy as mine. 😉