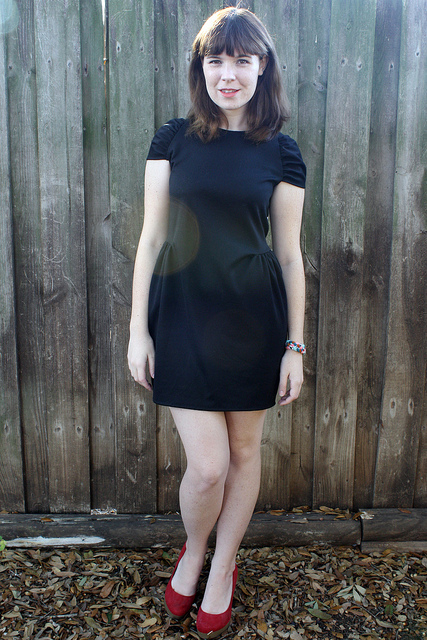 Drape Drape book drop waist gathered dress

Laurence King Publishing was kind enough to send me a copy of Drape Drape by Hisako Sato to try out. It's my first experience using a Japanese pattern book so I wasn't sure how hard it would be or if the sizing would match me (Japanese ladies always seem to be a little shorter and lot thinner than Americans).
Hisako teaches you not how to drape on a dress form but rather the techniques that go into draping: gather drape, tuck drape, slack drape, and by combining them, drape drape. It's a great intro into the concepts behind draping.
If you've never worked with Japanese sewing books and are considering buying one read this post and I'll tell you all my opinions. 😉
I'll talk about the dress I made first then discuss what I thought of the book.
The Goal: I wanted an easy first project from this book but I also wanted to make something that would be really wearable. Some of the designs in Drape Drape are pretty impracticable for me or aren't my style but they're all challenging creatively in someway.
The Pattern: I chose no. 3, the drop-waist gather drape dress. It's got cute gathered sleeves in front and a partially gathered skirt. What's cool is that it is all one big piece cut on the fold. The neckline piece wraps all the way around to the center back and the sleeves come forward over the shoulders to make a cap sleeve effect. The only real seam is the center back. For the neckline and armholes you just fold back the edge rather than needing facings or collars.
The Fabric: I used a black rayon/poly/lycra ponte knit from The Common Thread in Austin. It's a little stretchy when it needs to be but it is also very stable and has good recovery and is easy to sew. The book doesn't offer much in the way of recommended fabrics other than the fabric they use for the sample. Hisako used a wool jersey for the book version. I think the ponte worked perfectly for this project..
The Changes: The only big difference is that I didn't put in a center back zip. I can easily pull the dress on. I did add a slit in the back with a button and elastic hook but after wearing the dress I don't think I even needed to do that. Other than that I made a very small hem (I don't think I even referenced what the hem was supposed to be) because it was already pretty short on me.
The Results: I am really surprised how much I like this dress. Not that I expected not to like it, I thought it was cute in the picture but I like it even more in real life! Since it's black it's versatile and the solid color brings the focus to the cool seaming. And since it's a knit it is so comfy and wearable! Don't you love a dress that is both cute and comfortable?!
By referencing the sizing chart (in centimeters) I decided that I was a L in the bust and waist and an XL in hips and height. I'm 5'6″ and this dress was supposed to be drop-waisted. I cut a straight L, figuring that with the gathers my larger hips could still fit easily but because of my height the waist line sits almost at my natural waist instead and the skirt is a wee bit short. Something to make note of. Slashing and spreading the pattern piece would make it easy to lengthen it.
The sizing ranges from prepubescent girl to Parisian runway model S to XL. For a reference the XL bust is only 35.5″.
Now, I know that gathering isn't the most difficult of the Drape Drape draping techniques but it was a great starter project for the book and now I'm looking through and finding ideas for what I want to try next.
So let's talk about the book itself.
The Layout: The images, like a lot of other Japanese books, are minimalist and editorial. Each project has a picture of the final product front and back on a dress form and there is also a detailed line drawing (really helpful for clothes photographed in dark colors).
In the front is a short section on the different types of techniques as well as stitches and seam finishes Hisako recommends. It's useful enough to read through but not too packed with information that it would bore a more advanced seamstress.
This might be nitpicky but one thing I didn't like was that every project name had the word "drape in it." This might not seem bad but when you're flipping through trying to find a specific project or looking for your pattern pieces and every project has a similar name, it is easy to get confused.
The Designs: These designs may not be for everyone. They're not exactly "safe" styles, if you know what I mean. You'd need to be sans-bra most of the time if you were to wear these designs on their own. However after making this dress I've been thinking outside the box. The cape jacket would make a great layering piece.
The loose flare drape dress or the loose drape tank top could easily be a fun beach cover up. The v-neck drape drape dress would be gorgeous any way you style it.
Making the loose drape frilled tunic or the gather drape blouse with some tap pants in a nice silk would make an adorable lounging pajama set.
Not every design uses knit and many knit designs could be made with wovens if you're not that comfortable sewing knits just yet.
The Instructions: This book was translated from the original Japanese and at times can read a little awkward. There are a few terms here and there that I'd never heard used in sewing before but nothing that I couldn't figure out. Sometimes the instructions are just an order of work and aren't very detailed but the text is made up for by the great illustrations. That's seriously the best part of the book. Some of the pattern pieces look CA-RAY-ZAY but the drawings help bring everything together in a logical fashion with lots of arrows and notes.
The Patterns: All the pattern pieces are printed on both sides of two big sheets of paper. Each sheet can fit easily on a table, unlike Burda Magazine pages which are the length of a football field. However like some other books/magazines with layered pattern pieces they expect you to trace there is no real differentiation between pattern pieces or sizes by color changes or dashed cutting lines. But, on the other hand there are seam allowances included (praise Jesus!!) and lots of notches and notations.
Overall Drape Drape is a really cool little book. If you're an advanced beginner who has worked with patterns before you'll no doubt find at least one design that you'll like and can make fairly easily. If you're a more advanced seamstress some of the complex designs will really peak your interest.
But, if you normally need to do several fit adjustments on patterns and/or you are bigger than Twiggy you may find it difficult to re-size some of these pattern pieces.
I'm really glad I got to test out this book 'cause now I have an awesome new dress!