Starting an Indie Pattern Company Pt 1

A few months ago I mentioned that I was going to write one big post on how I started my own, albeit tiny, pattern company from scratch. Yeah, that turned out to be a bigger idea than I thought. So I'm breaking it down and I'll add more parts over the next few weeks.
First we'll talk basics, design process, resources, paper drafting. Later we'll talk digitizing and sizing patterns, writing instructions, graphics, distribution and the rest.

How I started a Pattern Company with no money.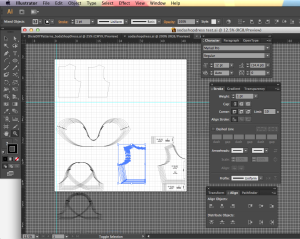 (my "scratch page" in Adobe Illustrator where I draw and experiment with my pattern pieces)
Ok, that's not entirely true. I already owned Illustrator, the program I use to draft, and Photoshop, another program I use. And I don't count fabric, tools and supplies for samples, because I would probably buy that stuff anyway. And I make PDF patterns, not pre-printed patterns which would have a big up front cost. But it did take time. A lot of time. So I'll give you the short version of how I started making patterns and how I do it now.

In the beginning there was a pattern – The Pattern Making Process
I think some people (or maybe just me) think that pattern drafting is something foreign and confusing and too difficult to learn. But then I bought some simple pattern alteration books which teach you how to manipulate simple patterns into new looks. I used the same techniques on other patterns I already owned. I took a basic pattern making class locally that helped as well.
Eventually I got good enough and developed basic blocks that I used to alter to make my own patterns. I have a t-shirt block, an a-line skirt block, a two-dart bodice block and a shorts block (a simpler version of these shorts).
A block is a very simple pattern that you copy to make into other patterns. A sloper is similar to a block but contains no ease. A block already has ease built in. Pattern drafting is really is nothing more than manipulating blocks. Rarely will I draft a major piece completely from scratch (I don't count collars, cuffs, waistbands, etc as major pieces). It's all about using base patterns and making changes.
From there I experimented with Adobe Illustrator with making print-at-home patterns that I gave away for free. If you look at some of those old patterns compared to the most recent one you'll notice a huge difference in labeling and instructions. The pieces still work fine but all the details are much better now.
How can I learn, too?
Ok, so let's assume you know little about drafting. Where to start?
If you can't take a class, read a book.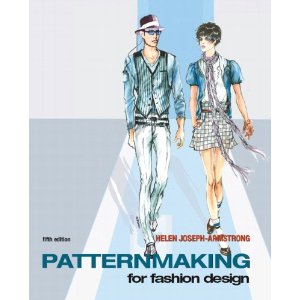 There is no book better than Patternmaking for Fashion Design when it comes to drafting. It's a college level textbook and it is expensive, even used, but it is worth it. Try to get the newest edition that you can, it has more info on knits, children's and specialty drafting. The book covers three basic concepts: dart manipulation, fullness and contours which are all fancy words for making 2D paper shape around a 3D figure. Grading doesn't come in to play much.
I like the Built by Wendy books. They're best for people who are fast learners and don't need a ton of direction but want a fun way to alter patterns to make their own designs.
Some others are Design-it-Yourself Clothes which teaches you very basic drafting techniques based on your own set of measurements.
How to Use, Adapt and Design Sewing Patterns is more manipulation than drafting from scratch but it's more detailed than the BbW books.
Here are a couple links for manual grading. It's good to understand how this works compared to grading on the computer.
This is just pattern drafting and adapting, not fitting. Fitting is a whole other concept that I won't go into here.
Inspiration
I come up with ideas all the time but only a few make it to the drafting stage (because drafting takes a long time and I'm lazy). Mostly I try to focus on one standout element of a garment and try to keep everything else simple, like a bow neckline for this top, tulip sleeves for this dress, buttons and a curved hem for these shorts.
Also, don't get discouraged if you find another garment that looks exactly like your design. Nothing is original. We all have two arms and two legs (unless, of course, you don't…) and there are only so many kinds of sleeves in the world. If you thought up a cool idea for a dress, odds are someone else has, and Forever 21 probably copied it, too. Make what you'd like to wear.
Paper drafting and Samples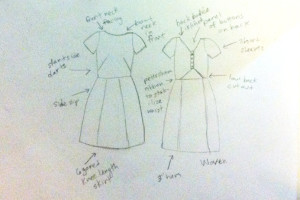 (This is a sketch for a dress I'm designing with a gored skirt, boat neck, angled darts in front and a cut out at the back with a button placket at the center back. My sketches are really bad so I add a lot of notes so I don't come back later and think "what the heck is this?")
Once I get an idea I start drafting. Remember those blocks I talked about before? I start from there. I never draft from scratch unless I don't have a block that would work. Then I alter and manipulate block pieces as needed.
Here's how I made the back bodice piece for the back-cut-out dress sketch shown above. I started with a one dart back bodice piece (I drew over the dart so you could see it easier) without seam allowances. Then I moved that dart around a dozen times 'cause I didn't really know what I wanted to do with it. I drew my new lines at the shoulder (I'm making a boat neckline), the waist and to the center back. After that I retraced the pattern piece and cut it out.
Once I make all my pieces I'll make muslins if needed and do necessary changes to the paper pattern. By the time I'm done I have a pattern which includes all pieces and has seam allowance.
Then I'll make my first finished sample.
Once I have a sample along with a finished paper pattern I can then digitize it. That's the fun part that you're all looking forward to, right?
Well, we had to get through of all this to get to the computer part. Next time I'll talk about transferring the pattern pieces to the computer, making a size chart, grading the patterns and dealing with troubleshooting, oh, and a lot of math!