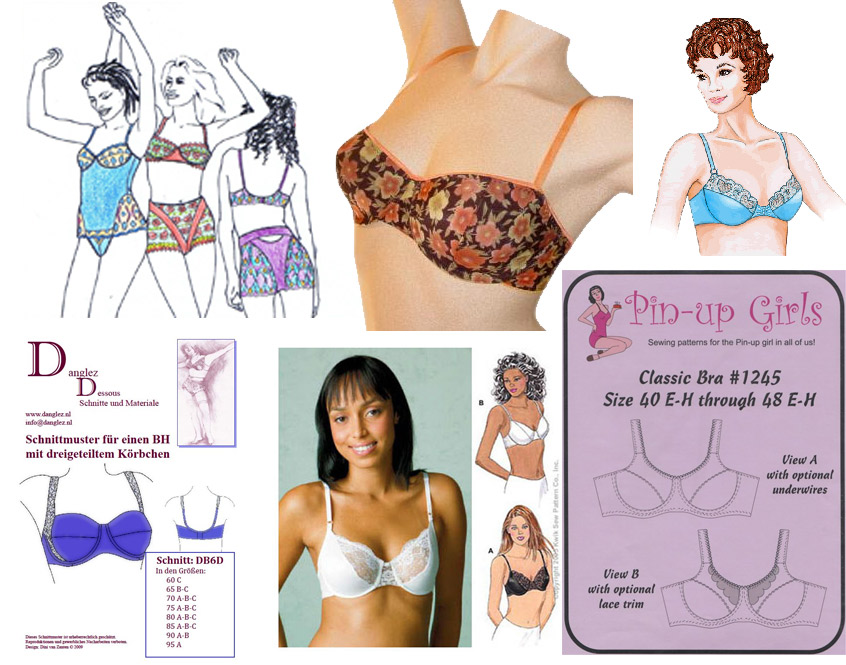 Dixie's Big Fat List of Bra Suppliers and FAQ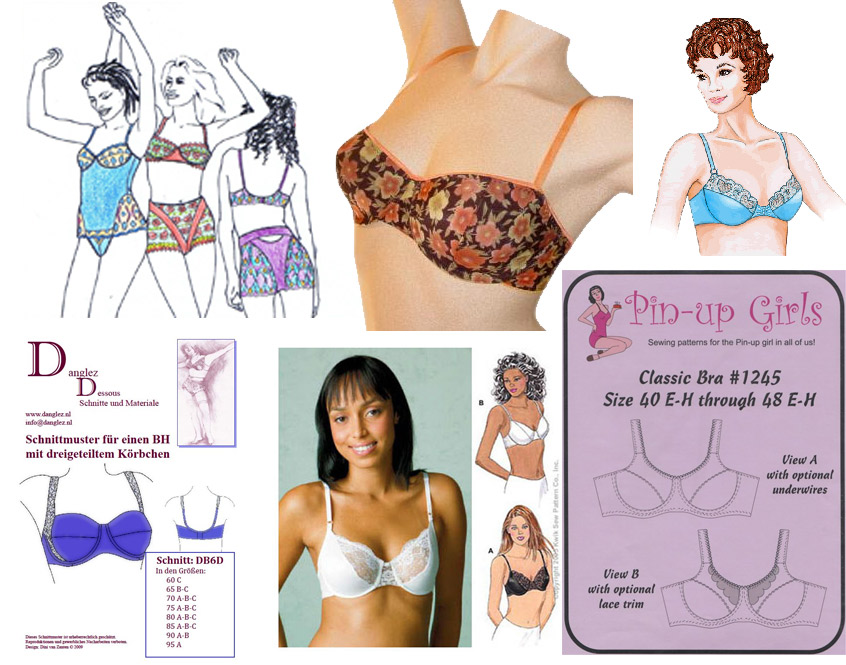 (Don't you just love my photoshop montage skills??? From top left: Merckwaerdign Mix4, Sewy Amelie, Elan 511, Danglez DB5, Kwik Sew 3300, Pin Up Girls Classic Bra)
****Note: In the years since I first compiled this list, lingerie sewing has exploded over the blogosphere/social media. It's now much easier to buy kits, patterns, and supplies. Since then I've moved on from lingerie and haven't kept this list as up to date as I'd like.
Please leave a comment to share sources/patterns or notify me of non-functional links!
Where to buy supplies:
North America
Blackbird Fabrics
Vancouver, Canada
Has a lingerie supply section with elastic, strapping, findings, fabric, etc – plus kits!
Bra Makers Supply
Ontario, Canada
Sells full kits, fabric kits, notion kits, patterns, fabric, underwires, foam cups, and more.
I think they are a little more expensive than some other places (a single bra kit is $30US) but they have a good selection and a lot of detailed information for products.
Bravo Bella
Fresno, CA
A one bra kit includes fabric and notions. You have to buy underwires separate. One basic kit plus underwires costs $18.50 for US residents outside of California. CA people have sales tax. Fancy fabric kits cost more. They also sell panty kits and patterns.
* NEW The Emerald Studio
Belleville, Canada
Bra kits, fabrics and notions as well as swimwear fabrics and supplies.
Fabric Depot Co
Garwood, TX
They offer lots of fabric including cotton lycra, simplex, tricot, powernet, all over lace and more. They also sell kits specifically for Elan patterns in black, white and nude that include underwires for $12 plus about $13 shipping. Fabric Depot has books, patterns, notions, elastic, foam cups, lace trim, etc but unfortunately no online shopping. You either have to call or mail in an order form. Maybe you can email the form? I'm not sure.
Logan's Kits
Double Springs, AL
This small company does mail order kits to make various Kwik Sew lingerie patterns.
Needle Nook Fabrics
Witchita, KS
Sells kits in basic colors like nude and white plus notions (that are pretty cheaps!) and some pattern but you have to call to order. Their single bra kits range from $12-16 and they also sell a three-bra kit for $35.
Hooks and Wires
New Hampshire
Sells hand dyed bra making kits so everything matches. Includes fabric, lace and findings. She even includes underwires in the cost but you have to tell her what size. She has different width strap elastic and you can request a specific color if she doesn't have it in stock. Colors range from all sorts of pink, yellow, blue, green, purple, anything color you can think of! One kit with US shipping comes to $20.
Porcelynne
Los Angeles, CA
Sells bra making notions in bulk like elastic in 10yd quantities. So if you want to make matching bras for you and you 9 sisters, well, here ya go.
Sew Sassy
Huntsville, AL
Sells nearly everything you need. Tricot and powernet by the yard. Not many powernet color options but about a dozen tricot colors are available. They have lace, trim, notions, patterns, foam cups, and underwires by the pair or by dozen pairs. Also sells some swimwear supplies and the elusive demi underwires! Website is a little hard to navigate. They are discontinuing their kits, though.
*NEW TailorMade
Fabrics, kits, patterns, lace, findings, etc. Their blog also features plenty of tutorials.
Europe
Lijfgoed
Netherlands
A newer shop that offers fabric, notions, lace, etc.
Danglez Closing soon
Netherlands
Fabric, patterns, lace, notions, etc.
deisylopezrosalopez
Netherlands
This Etsy shop sells notion kits and kits with fabric which range from $24-$65US. So, not a good buy for North Americans but maybe worth it for Europeans.
English Couture Company
UK
Sells Elan patterns, kits, and a variety of supplies
Make Bra
Finland
Patterns and supplies sold individually (no kits). Their patterns use polylaminate foam lining as an alternative to pre-formed foam cup.
Merckwaerdigh – Etsy
Netherlands
Sells patterns, underwires, fabric, notion kits, full kits and more. Kits usually are for one bra and one brief.
Sewing Chest
UK
Great site for all the necessary supplies from hooks to wire casing and lace. Like the website URL implies they have plenty of corset supplies as well. Full kits (in lots of colors) range from about 9-12 Pounds and they also sell "refill kits," smaller kits that only have about 4 or 5 supplies for cheaper. They sell Kwik Sew lingerie patterns along with costume and corset patterns
Sewy
Germany
Sewy has their own brand of bra patterns but unfortunately for English speakers the site is only in German and the Google Translater version is pretty difficult to understand.
Spitzen Paradies
Germany
From what I can gather from pictures (the site is only in German) they sell patterns and supplies for bras, undies and corsets.
Everywhere Else
Booby Traps
Australia
Quite possibly the best or worst bra company name ever. They sell patterns, supplies, and kits.

Patterns
Bra Elite – Bra Elite (30AA-44DD) and Queen Bra Elite (sizes 34D-48H). Found at Bravo Bella and Needle Nook Fabrics.
Bravo Bella – Bravo Bra #2 for sizes 34D-48I. Found at Bravo Bella.
Cloth Habit – the Watson Bra and Bikini set.

Elan – front and back closures, padded and non padded, seamed bras, some patterns go up to size 48FF. Found at Bra Makers Supplies, Fabric Depot Co, Sew Sassy.
Ezi Sew – makes crossover (nonwired), underwired, nursing and push-up bras. Found at Fabric Depot Co.
Jalie – has a non-wired bra and nursing bra pattern. Found at Jalie, Fabric Depot Co.
Kwik Sew – they have a few bra patterns out ther along with other lingerie. Found at Sewing Chest, Bra Makers Supplies, Sew Sassy and Kwik Sew.
Modern Sewing Patterns – offers two bra patterns along with several other lingerie patterns. Found at M-Sewing.com.
Make Bra – has four patterns, a push-up, balconette, full coverage and a pattern good for larger sizes. They are seamed bras meant to be used with foam lining rather than pre-formed cups. They also have a free hipster underwear pattern. Found at Make Bra.
Marinique – I've only found one pattern but it includes four bra and four panty designs in one pattern. Found at Elingeria (shop now closed). Update: So it looks like Marinique is from South Africa and has a website. Unfortunately I don't think you can buy patterns from their site, which is a shame because they have many patterns.
Merckwaerdigh – seamed bras, swim suits, panties, garters, all sorts of lingerie patterns. Found at Merck's Etsy and Ebay shop.
Orange Lingerie – well-drafted bra and undies patterns.
Pin Up Girls – Seamed bras in full and partial band, front and back closures, padded and non padded, foam cup bras. Found at Bra Makers Supplies.
Ralph Pink – has a pattern for a balconette bra (download and print at home!) but only in limited sizes. He also has some undies and corset patterns. Found at Ralph Pink Patterns (in the couture section).
Sewy – They have quite a few bra pattern variations. Unfortunately they only have German instructions and the Sewy.de website is hard for English speakers to navigate. Maybe you can find some of these on eBay? Found at Sewy.de.
Online Tutorials
*NEW TailorMade's Complete Guide to Bra Making
Cloth Habit's Bra-making Sew-along
Elan 654 (Hooks and Wires)
Elan 511 (Hooks and Wires)
How to Install Bathing Suit Bra Cups (Threads)
The Bra Dilemma Solved (Threads)
The Construction of Bras (Threads)
Inserting cups in a full band bra (So-So Sewist)
Sigrid has a couple tutorials on making bras (and panties) that are divided up into different posts.
Bra Band Tutorial (Li'l Miss Muffett's World of Sewing and Other Adventures)
Make Bra has several tutorials for their patterns including general instructions and design specific tips (look under the Sewing Instructions tab).
Abigail's Crafts How To has a bra drafting series.
Foundations Revealed has a boat load of info on making, fitting and grading bra patterns.
Books
Demystifying Bra Fitting and Construction by Norma Loehr of Orange Lingerie. She also has an informative blog.
Kwik Sew's Beautiful Lingerie – Found at Fabric Depot Co, Bravo Bella, Sew Sassy, Bra Maker Supply.
Intimately Yours: Bras That Fit from Needle Nook Fabrics
Making Beautiful Bras by Lee-Ann Burgess at Bra Maker Supplies. You can also find it here.
Beverly Johnson has written a number of manuals on bra-making which you can find at her site, Bra Maker Supply.
Lingerie Secrets by Jan Bones
Websites
Pattern School– lots of detailed information for all kinds of stretch patterns. Some free patterns, info on supplies, and inspiration.

FAQ
What kind of fabric can I use?
Patterns will tell you what type of fabric you need. The back band is usually powernet, a strong but stretchy fabric that looks like netting, hence the name. The cups can be tricot (a somewhat stretchy knit), simplex or even duoplex (which are less stretchy than tricot). Some patterns use stretch lace.
What notions do I need?
Lingerie elastic (one side is nice and soft), underwires (optional), underwire casing (a soft fabric tube), straps and metal loops (to adjust strap length), hook and eyes (usually on a tape), thread, foam cups (if you're using a pattern with foam cups), extras like tiny bows or other decorations.

What if I can't find matching fabrics?
Because you usually use two different fabrics on bras – one for cups and one for back bands – it can sometimes be hard to find matching colors. What you can do is layer a piece of your cup fabric over the powernet and sort of use the powernet as a lining. You can use this same trick if you found an awesome fabric but it is too stretchy for bra cups. Make the whole bra with your cool fabric and line the cups with plain simplex or tricot and line the back with powernet. You can also buy plain white powernet and tricot and dye it yourself. Some companies sell dyed matching kits.
How can I find my size in US/European sizes?
This nifty chart might help.
What patterns can I use if I have a large size (bigger than D cup)?
Bravo Bella Bra #2 goes from 34D to 48I and the Queen Bra Elite pattern ranges from size 34D-48H. Elan's B520 bra includes sizes 42C to 48FF. Pin-Up Girls Classic Full Band Bra and Linda Bra have size ranges up to 48H.
Pin Up Girls makes several foam cup bra styles that can fit cup sizes up to F and E..
How can I save money on supplies?
If you know you're going to make a bunch of bras you can buy basic supplies like elastic and straps in bulk and dye them different colors if you choose. If you buy several supplies from one website you can save on shipping. Merk sometimes sells "extra" bits and remnants at auction on ebay and you can get a good deal. Fabric Depot Co has assorted grab bags of fabrics, sometimes up to 10 yards for less than half price but you don't know what colors you'll get. You can always buy a few yards of neutral colored tricot and powernet and buy smaller pieces of fun fabric or lace to layer over.

What pattern should I use if I'm a beginner?
Pin-Up Girl Bras have good instructions and include seam allowances (some European patterns like Merck don't have them so be careful!) Also the German and Dutch bra patterns might not have the best English translations. I know Kwik sew includes seam allowances. I've read reviews saying that some European pattern brands run a little big compared to the American sizing so if you're from North America try one of the US or Canada pattern makers to start (Bravo Bella, Pin Up Girls, Bra Elite, Kwik Sew).
***I know I've forgotten a couple resources here and there so if you think of any please let me know!
Updated May 8, 2012. Thanks Heather for the Make Bra link (which I found on her Pinterest) 
Updated Sept 8, 2012. Thanks Pora Park for lots of info. She's a custom bra maker in Cupertino, California, how awesome is that!?
Updated June 10, 2013. Looks like a couple suppliers went out of business but I added a new one for Europe. 
Updated June 14, 2013. Added a new book.
Updated Feb 27, 2015. Added Cloth Habit and Orange Lingerie to patterns list.
Updated Aug 1, 2015. Added Cloth Habit's Bra Making Sew-along and Blackbird Fabrics. Deleted some out of business websites.
Updated Oct 7, 2016. Added Tailor Made Shoppe and The Emerald Studio.