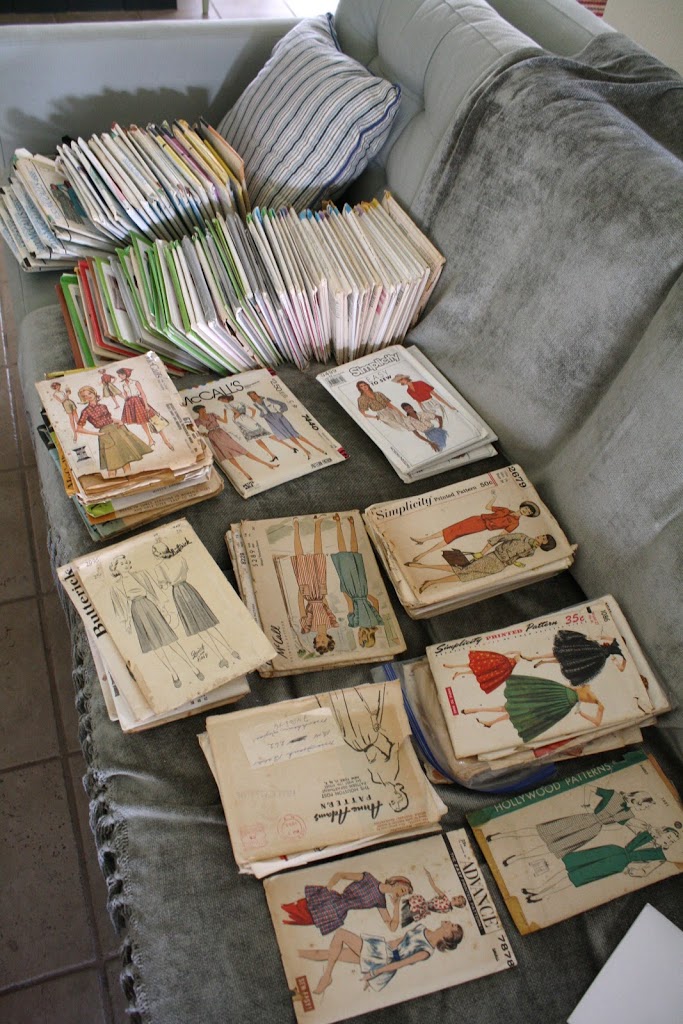 Pattern Organization, or, why I am banned from Ebay
Hello, my name is Dixie and I am an addict – a buying-vintage-pattern-lots-on-ebay addict and I need to stop. Two boxes totaling about 130 patterns showed up on my door step at the same time. I was quite pleased as you can see above.
The good thing about all these patterns? I really can't buy any more lots because inevitably half of the patterns will just be repeats of what I already have. I seriously think I have nearly the entire misses catalogue of Simplicity patterns from the 1970s.
The bad thing is where do I put them all? And how to I organize them so I know what I have??
Since I do everything on the computer anyway I decided to make a digital catalogue of all my vintage patterns and keep the physical patterns in boxes. My modern pattern collection is small enough that I can usually remember what I have and they sit on an easy access shelf.
Like my modern patterns I organized my vintages first by company (alphabetical), then by date, then by number within each year. If I just went by number I'd have a problem as Simplicity for example begins the 1970s in the 8 and 9000s and also ends the decade in those high numbers but 1971 and 1979 had very different styles!
I'm not a preservationist but if a pattern is looking pretty worse for the wear I will put it in a ziplock baggy. They all go in boxes so at least the envelopes won't fade from sunlight.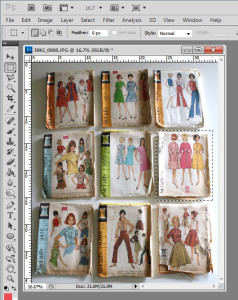 (click on pics for a bigger version)
For the digital archiving I took photos of every envelope cover (in groups of nine, so no, I didn't take 130 individual pictures!) and over a couple weeks in my spare time I cropped each individual envelope pic, sized them smaller (400 pixels wide) and saved them at a reasonable file size (preferably under 55kb). I did this in Photoshop but you could use any ol' photo editor.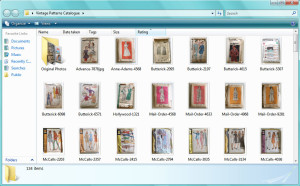 I put all these pics in a folder and tagged each photo. I have Windows Vista (aka the Devil's OS) so this is what my set up looks like. I tagged them by company, decade (and when I have more time I'll probably add specific year), garment type and special collections of patterns (like Mario's Corner from the 70s). You could also tag by size, designate if it is for misses or juniors or kids, whether or not you have more than one copy (I have a couple doubles), knits or wovens, or any designation you want!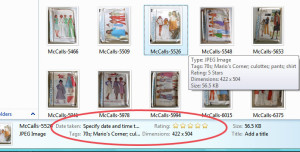 I can even add star ratings for patterns that I really want to make sooner than others.
You can then organize the pics by one or more tags. So if I'm looking specifically for a pants pattern I can check that tag and only those that meet the requirements show up in my folder. Very convenient!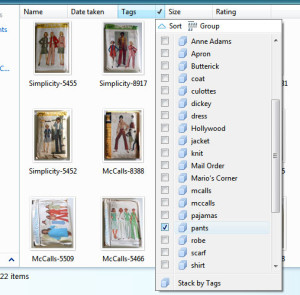 Because I usually start a project by picking a pattern first then fabric this system works for me. But I know of another woman who keeps all her pattern envelopes in categories in a big binder and all of the pieces and instructions are filed by number in ziplock bags in boxes. Sort of like a visual dewey decimal system. She can take the binder with her to the store if she's looking for inspiration.
If you like having your pattern collection catalogue on hand all the time Sophia Sews has a great list of sewing apps for smartphones. A number of them are pattern (and/or fabric stash) organizers. A woman from my sewing group suggested Pattern-File.com which costs about $45 a year. They don't have an app yet but you can always log on from any computer or on your phone.
***How do you organize your patterns? I'd love any tips! Also, are you an Ebay addict as well??? I know there are more out there!!