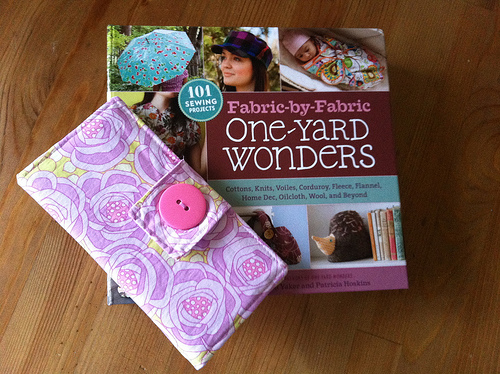 One Yard Wonders – Orangizer Wallet
I've already made something from this awesome book!
I like making wallets. Even though I already have a bunch of handmade ones I just love sewing all the little pockets and feeling organized when I finish.
I wanted to make this wallet because my old oilcloth wallet I was using was getting torn up and the magnetic snap wallet had ripped through the oilcloth. I intended to re-use the magnetic snap on this new wallet but the darn snap was so strong that it practically ripped this fabric, too! So I ditched the snap and used a big button instead.
Maybe the magnetic snap will worth with super thick heavy duty fabrics but for now I'm sticking that thing far back in my notions box.
I followed all the directions except for the zipper instalation. I didn't want the raw edges of the zipper exposed even inside the zip pocket so I stitched the zipper in between the front and lining piece, rather than behind both pieces.
Otherwise the wallet went together pretty smoothly. I love quick little projects like this!
The fabric is leftover from this little girl's dress. I'm on a roll with stash busting lately!!
***Oh, and guess what?? At my monthly sewing meet up last week one of the lovely ladies (who also loves this book) suggested that we form a new kind of book club –  a sewing book club. Basically it means that each month or so the group picks a sewing/craft project book. We then later all meet together and show off and review projects made from that book. We're starting with One Yard Wonders: Fabric by Fabric. If that one goes well I'm thinking the new Colette Sewing Handbook would be fun to do next. But I need help! I need to come up with a nifty name for our book club – something that incorporates sewing and books. I'm not good at name picking. So give me your ideas and let me blatantly plagiarize you!! Many thanks in advance!