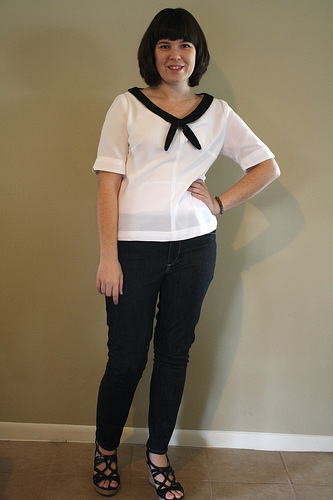 The Jeans from Hell Return
Did you recognize the top of these jeans from yesterday's Jasmine post? Yep – those are the Jeans from Hell!! I feel like I need some sound effects right here – like thunder and chainsaws and someone screaming.
I believe I may have salvaged them.
After getting the fit somewhat decent I trimmed and hemmed the legs, serged all the insides and top stitched the crotch line and partially down the sides, mimicking RTW jeans. I even added button loops.
I copied the back yoke and back pockets from my old busted up jeans and used those for my new jeans. Because the yoke runs cross grain I had to take the back in a little more as well.
Luckily my original waistband pieces still fit but just barely – which is odd because the pieces cut from my original pattern were way too big so why would the original waistband be too small? I'm way too confused at this point to care.
I used the front pocket pieces from the original pattern but replaces the inner pocket piece with a scrap of leftover yellow and while cotton for less bulk.
I didn't completely follow the directions for the original pattern's lapped zip but I got the same basic result. And I used a flat hook and eye for the waist band closure instead of a button.
They're not too bad if I do say so myself. They are mighty comfy and it's nice to have a pair of jeans that are black and not blue (which I already have). The only problem is that they've stretched out a bit after wearing them around all day and sitting and stretching. They're not gigantic but if they stretch out any more they might get that way.
I'll try washing them in hot water and drying them on high and then wearing them around while they're still slightly damp and hope that they'll conform more to my shape that way.
I'm proud of myself for sticking it out! I'd like to say that I'll use these pants to trace a standard pants pattern for myself but I'd honestly rather start over from scratch. With all the chopping and hacking the two legs aren't mirror images of themselves and there are still things that I'd like to change but at least they're not a super fail!
Is there a garment that you've beat yourself up about trying to fit? At what point do you throw in the towel? Or do you just keep trying no matter what??