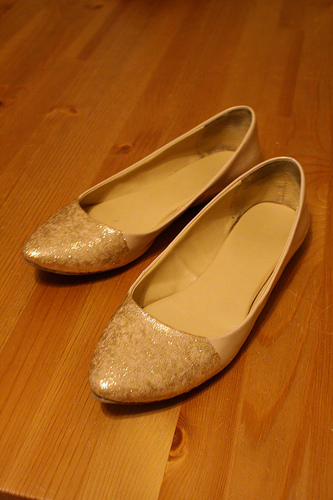 Gold Tip Shoe Restyle
I have a funny story for you – About three weeks ago I visited my extended family. One night we went to meet my cousins who rent an RV space at a lake in the area to camp. Not expecting to go to a camp ground, the only shoes I had were some patent nude flats. It was cold that night so I sat by the camp fire to keep warm.
It wasn't until later that I realized that tiny bits of ash and embers in the smoke had floated onto my shoes and burned them! They went from nice and shiny to having tons of tiny pock marks where the shiny surface had melted!
I tried in vain to find another pair just like these – my favorite flats. I thought I'd have to finally say good by and toss these puppies in the trash but then I got an idea – paint them!
Here's what I did and what you will need –
Painters tape
Small paintbrush
Glitter paint
Sand paper (optional)
Now, I've seen some people online use glitter spray paint but the craft store was all out of gold, which is what I really wanted. Instead I went with a bottle of Martha Stewart glitter craft paint in Smokey Quartz (which is really more like watery glitter glue. It's just clear paint with tons of glitter in it).
I didn't want to paint the entire shoe because I really like the nude color and the pock marks were only on the top front of the shoes. I marked a line with painters tape on either side of both shoes.
Next I scrubbed the shoes with 320 grit sand paper just in case the paint wouldn't stick to the shiny patent surface.
Then I painted one layer of glitter paint, let it dry then covered it with a second layer. Two layers were all I needed but I easily could have added a couple more for a super glittery surface. With this paint you really can't put too much on at a time. The clear paint itself is a little watery and it starts getting tiny bubbles but those disappear as it dries.
I took off the tape and voila – partially gold shoes that have now been saved from the trash heap!
The paint has held up so far with no problems which is good because I plan on putting these shoes back into heavy rotation.
Have you ever painted shoes before? What did you use?