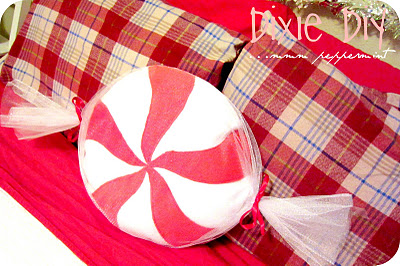 Peppermint Candy Pillow DIY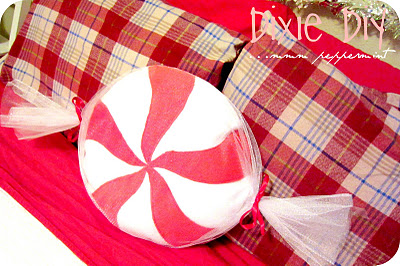 Would you like to make your own holiday peppermint pillow? Well, you're in luck! Mandi from Make it Dear was sweet enough to ask me to contribute a craft for her Holiday Time Tuesday series. A new festive craft project each Tuesday until the 20th. Check out her fun tinsel wreath and another contributor's awesome chalkboard paint mugs.
I made a this pillow with fleece and tulle. Even my boyfriend thinks it looks pretty awesome (and he's always a critic).
***Oh, and if you're looking for more crafty holiday inspiration I did a whole series last year called Dixie DIY Christmas. Some of my faves include the Santa face cupcakes, glitter glue ornaments and the muffin tin advent calendar.