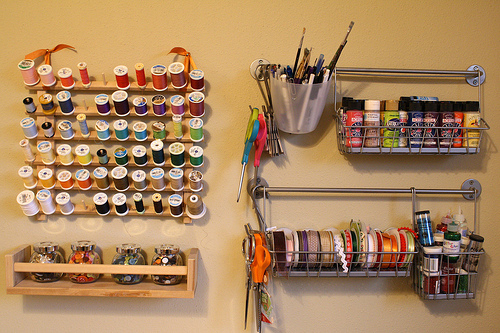 Craft Room Tour Extravaganza!
A miracle has occurred. For the first time since I moved into this house in June I can say that my craft room is fully cleaned! So I think that's a good reason for a craft room tour, right? Right. Let's get started.
My craft room is small by anyone's standards. It is the smallest bedroom in our tiny house and I swear I've seen closets in many houses that are bigger than this room. But, it's a good size for a craft room, everything is less than a couple steps from me at any time. I just have to turn to my left or right to grab what I need.
But it's not perfect by any means. I'm quickly running out of space for extra fabric. I'd prefer my tables to be taller and the room can easily become a giant mess in a matter of seconds (I tend to dump things in huge piles around the room).
However there are plenty of helpful organizational hints found in my craft room that can be applied to other rooms.
Lets move around the room in a circle:
I put my ruler and cutting mat on the wall behind my door. Since the door is open most of the time it's good to have flat things behind it.
Your wall is one of the best places to store things. I have hanging racks and shelves for buttons, paint, glitter, ribbons and pens. I have hooks that hold scissors and needle packs. I bought the thread rack from Joann and it's usually completely full.
My sewing table is just fold out one that I already had. I'd like to get a new one but it is the perfect depth for a small room.
Underneath the table is a case that holds all my sewing supplies that don't fit on the racks or I don't use as often like elastic, zippers, and french curves.
My dress form is in the corner. The screw that controls the height broke so now it's permanently a dwarf size form. Usually it serves as a hanger for half finished projects.
I have a tiny bin for trash and two other bins, one for paper recycling and another for fabric scraps that are too small to make clothes from but big enough that I feel bad throwing them away.
I save packing paper under my ironing board for pattern making and tracing.
I put my ironing board by the window because I like the view but also because the window sill serves as a nice shelf while working.
I bought an iron hanger from Ikea and attached it to the wall next to the ironing board
The fabric stash shelf is also from Ikea. I organize my fabric roughly by size and type – craft fabric and cottons, fashion fabric, then muslin fabric and interfacings. Originally I was going to put fabric in boxes until I realized I had way too much. The plastic bags keep in progress project pieces all together.
The room isn't big enough for me to be able to walk all the way around the cutting table but three open sides are ok.
I strung a line across the wall and use clothes pins to hold up pattern pieces.
The bulletin board is part mood board, part "don't lose this stuff" board.
I keep my extra machines and their cases out of the way at the top of the closet.
My yard sleeps in that funny smiley face box.
I keep rolls of wrapping paper and gift bags off to the side and paper crafting supplies on the shelves. I've got everything from marker to scissors to adhesives to magazines, albums and paper. Since I don't scrapbook as much as I sew it's nice to be able to put this all away in the closet.
This bookshelf is the twin of the one in the closet. It is both storage and a display for knick-knacks. Up top is my pattern shelf. In the bin on the left is everything but Simplicity (not counting vintage). The ones on the right are all simplicity patterns followed by my own patterns in zip lock bags.
Lower down are jewelry supplies, beads and little jars of random stuff like jingle bells and mini clothespins.
The bottom are all my candle making supplies – wax, glasses, scent oils, etc.
—————————–
Besides the technical changes I'd like to make (like taller tables) I'd also like to pretty it up a bit. I have a bunch of orange and white fabric that I want to make into a Roman shade for the window. I'd also like to paint the walls. Right now they are "buy-my-house-beige." I'm thinking I could do a coral or honeysuckle or maybe a green. Or maybe some fancy wallpaper…
So, what should I do to my craft room? Paint it? Get curtains? More lighting? Is there something essential that I'm missing? Do you have a craft room or just a craft desk in a corner?