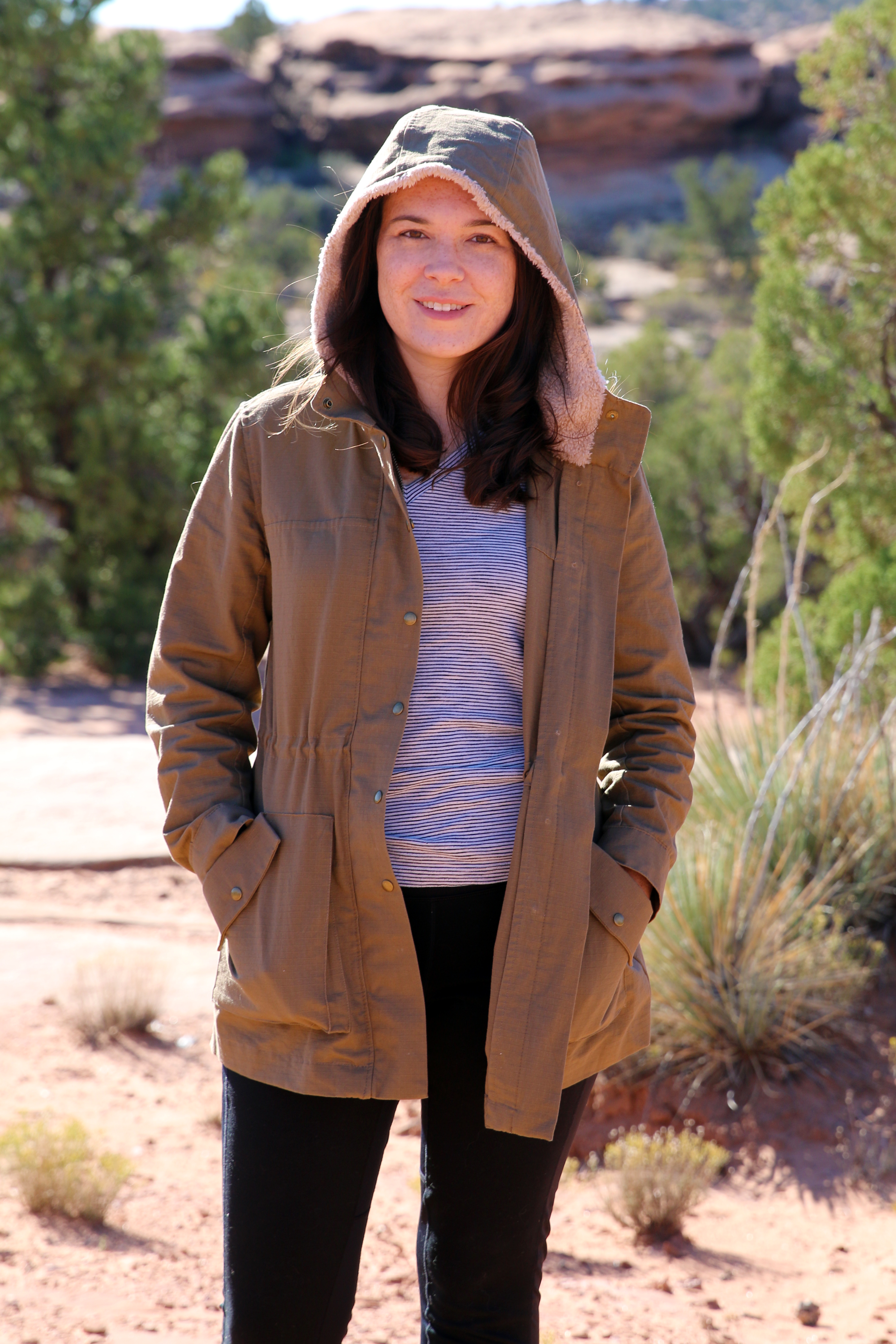 Closet Case Patterns Kelly Anorak
Ok, buckle up. This is the big one. The big sew of the season. A full-on 100% jacket. Or Anorak to be more specific.
This one tested me in many ways and in the end, I'm not sure if I came out on top. In any case, it's finished and I love it, flaws and all, and it's only spurred me on to make another.
Let's dig in: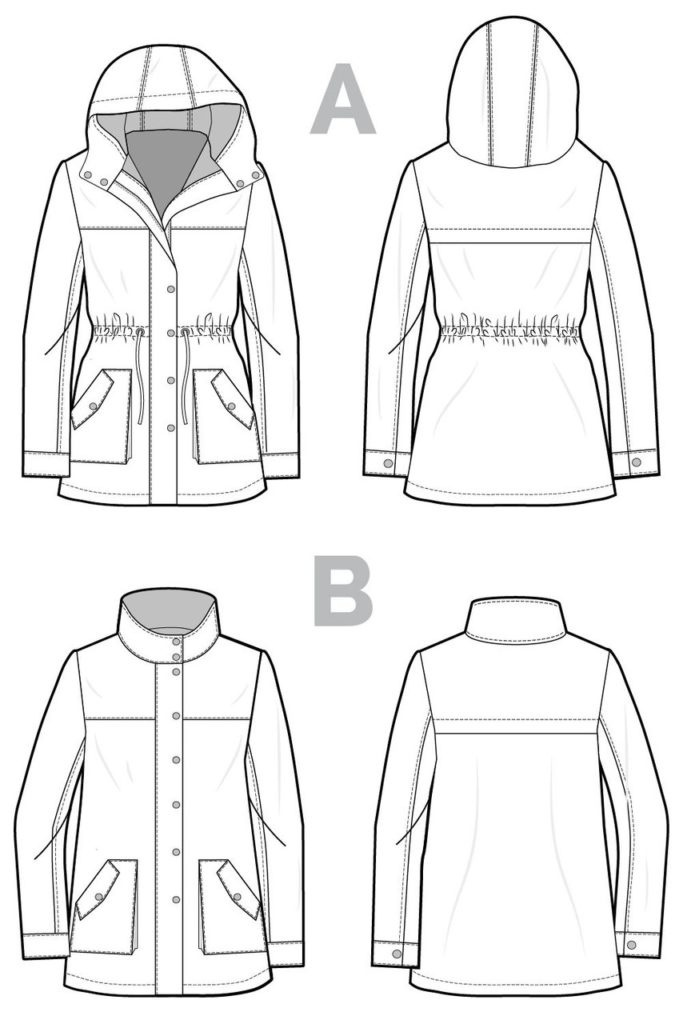 This is the Closet Case Kelly Anorak which was released last year to much fanfare. I liked the design, classic yet sporty. But it wasn't until I started planning my trip to Utah that I decided that by golly, I NEEDED a new jacket!
I definitely have a preferred "style" when it comes to dressing for the outdoors. Now you might say, "it doesn't matter what you look like while you're in the wilderness, so long as it's functional." To that, I say, "go rain on someone else's 7-mile hike!"
For me, my ideal look for traipsing across in the desert/mountains/forest involves a cross between Lara Croft (circa the 2013 reboot) and a 1911 Egyptologist. Basically, I want to look like someone who regularly carries a torch.
So when I saw a jacket at REI that was almost identical to the Kelly but had a shearling hood lining, visions of torch-lit ancient tombs glittered in my eyes.
I immediately ordered some shearling and a couple yards of ripstop cotton from fabric.com (appropriately named "coyote").
I had about a month to finish the jacket but first I needed to address some fit issues.
1. The sleeve was too small. Luckily the sleeve is in two pieces which made it easier to alter.
Not only did I made it wider in the bicep but I lowered the height of the sleeve cap to give me some more rotation in the arm. Before I could only lift the arm in front of me to neck-height. Now I can reasonably scale a rock wall while wearing it. Not that I did, but still.
2. In several versions of this pattern, I see a recurring fit issue. It's not a huge problem but I kept seeing it enough that it bugged me. Right above the bust, near where the chest yoke seam met the armscye – a fold. A lumpy, slightly angled fold. Always appearing when the wearer had the jacket zipped up. Like the jacket was crying out for a dart.
Luckily I had a friend who loves fitting more than I love complaining. She helped me tackle that dreaded fold in a muslin.
Unfortunately, that fold proved hard to fight. You'd think you could take the fold out at the yoke seam but the yoke doesn't come anywhere near the fullest part of the bust. And while the yoke piece of the jacket is curved toward the armscye, the body of the jacket is not curved along that seam.
My options were to make a whole new side dart, or try to squeeze the excess fabric into that yoke seam. Neither option was a perfect fix. I ended up forgoing the new dart and trying to curve the yoke seam more. It helped – but didn't fix it completely.
(That fold(s) is still visible – though not all the time – with the jacket zipped. And now that you see it on me, I dare you not to see it on other people's Anoraks as well…)
To adapt the hood I simply cut out the same hood pieces again from the shearling. Then I adapted the lower front piece that gets snapped together to be sewn from the cotton. I didn't want to try to apply snaps through the fur.
Now, I have to admit, fiddling with all those front zipper-area flaps was confusing and frustrating. Following the tutorial online helped.
One thing I found annoying in the instructions, however, was the part where it suggests finishing the hem before adding the zipper and the flaps. So I did. Then when I went to add the flaps and zip I had to unpick some stitches to get it to fit (maybe I stitched too far over??? I don't know). But after those steps, the instructions essentially said, "if you didn't hem before, go ahead and hem now." It likely would have been easier had I hemmed after the zipper section.
Another change I made was to the drawstring. This idea I stole from my REI inspiration piece. Rather than risking my drawstring getting caught on a tree branch or other obstacle while hiking, I turned it into an interior drawstring.
Inside of the jacket, I stitched the drawstring end to the center front zipper area, then I left the casing open at each side seam. The string extends out from the casing at the side seams so it can be tied. You could go fancy and buy one of those spring-press stoppers but I was short on time.
(on the right you can see the holes made from attaching the snaps which I talk about below. Also, I bound the side seam allowances in bias binding, although I realize I should have just flat-felled them instead. Oh well, they look pretty at least.)
Removing the exterior drawstring meant I needed to adjust the position of the snaps. And here's where things got messy.
Since I wasn't going to use the drawstring hardware, I chose not to buy the Kelly's hardware kit and instead bought snaps from WAWAK.
When the snaps arrived I realized I did not have the correct tool to set them. I have multiple tools for snaps, grommets, eyelets, etc – but not the kind made for this specific type of snap. I immediately ordered a new tool but when it hadn't arrived by the day before my trip (even though I paid extra for faster shipping, ugh) I got desperate.
I went to the Tandy Leather store in my city and bought a new tool.
I returned home and the new tool doesn't fit the spring snaps either. Luckily, I had the right frame of mind to buy extra snaps at Tandy. But upon closer inspection, I realized these were ring snaps. Ring snaps are different than spring snaps in that they have a tiny, loose metal ring inside them on one side. This makes them noisy, it also makes them hard to snap on and off. But it was my only choice.
Oh, and did I mention this package of ring snaps only had 10? And I needed 12?
Yeah, so my jacket has fewer snaps than it's supposed to. ANNND when I was out of snaps I tried my darndest to get one of my many tools to work on my original snaps for the left cuff. I got one half of the snap on before I gave up. Instead, I hand stitched the cuff closed. On the outside, it looks like a normal snap but it's completely nonfunctional.
At this point, I didn't care anymore.
Oh, and I didn't think to fold the under facing of out of the way while attaching the snaps, and banging on the metal tools formed tiny holes in the fabric in that facing layer. Ugh. Welp, lesson learned.
I wore this jacket at some point on every day of my trip and I noticed a problem… My pocket stitching started to come undone along the top edge. I realize now I should have stitched these pockets like one stitches back pockets on jeans, with a little triangle of stitching at the opening to prevent this exact sort of thing from happening. I fixed it when I got home.
(the moment I realized my pocket stitching snapped. I was not happy.)
Ok plans for my next Kelly *rubs hands together like a scheming villain*
Lining – gonna buy the lining pack and make a warmer jacket. This add-on includes a new sleeve that is larger around which I hope will preclude my need for width adjustments. Does anyone know a good source for high-quality flannel? None of that cheap stuff from Joann.
Breast pockets – the pattern has that yoke seam over the chest and is just begging for pockets. A pocket deep enough to hold my phone/keys would do well. I'm thinking interior pockets with an exterior flap as opposed to patch pockets on the outside.
Do the snaps the right way! 'Nuff said.
Better, more secure stitching around those pockets.
Shearling lined hood again – because I bought a yard of that stuff so I gotta use it up somehow.
I think I'll do the ripstop cotton again but in a different color. It looks cool up close, was easy to sew with, is a good width, and best of all, it's cheap!
Carry an actual torch while wearing it.