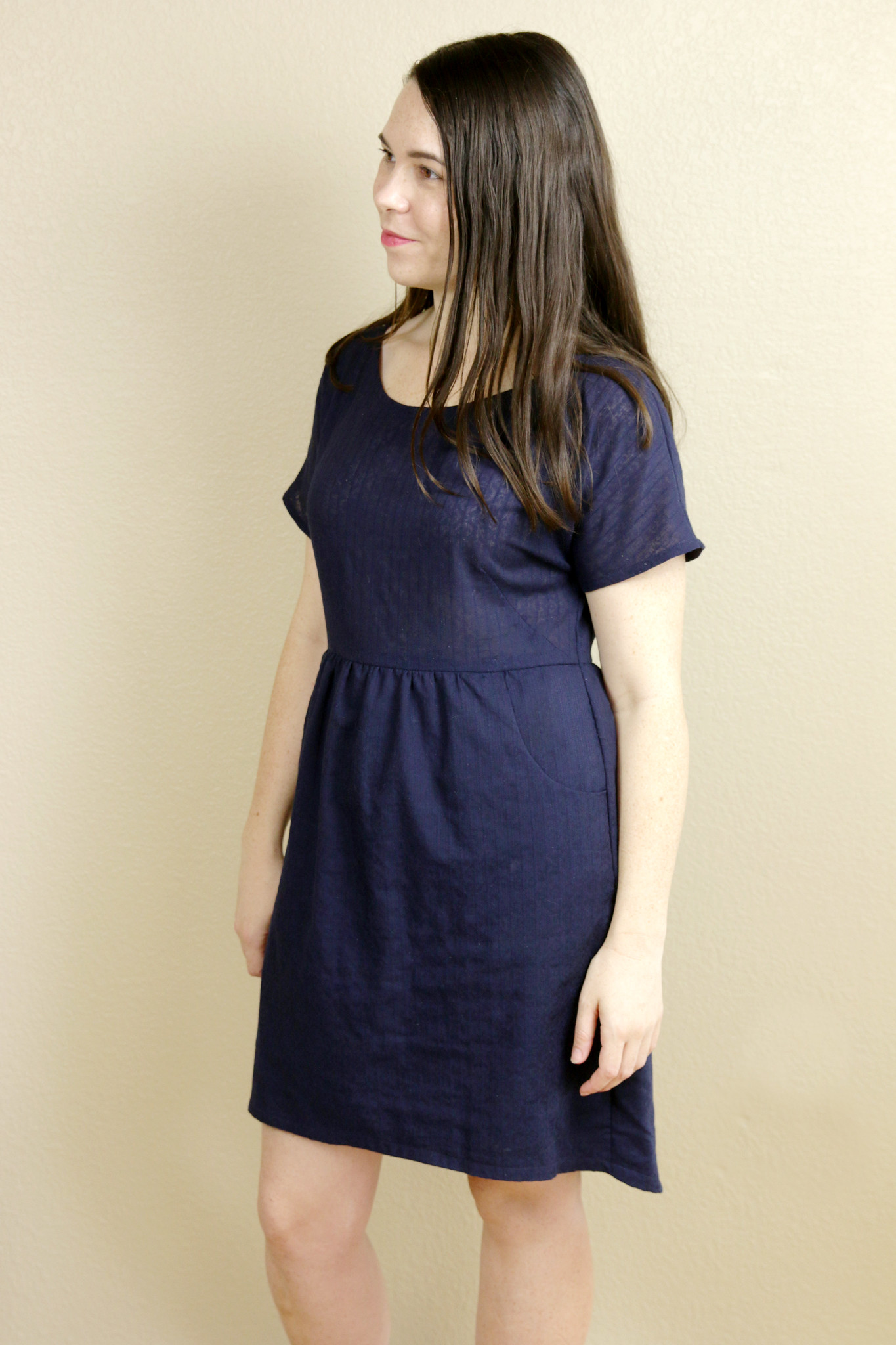 Navy Stripe Fancy Tiger Crafts Fen Dress
While I've been working a lot on YouTube/costuming sewing lately, I have made a few more modern garments and busting my stash while at it!
This is the Fancy Tiger Crafts Fen Dress, an easy, un-fitted but still feminine, simple gathered dress. Perfect for warmer Texas days when I don't want my clothes clinging to me but still want to look put-together.
I've wanted to make this pattern for a while and I also wanted to use this fabric for a long time. Luckily I had enough yardage to make it work.
This navy cotton fabric came from a fabric swap and is slighrly sheer with an almost burnout-style filigree pattern to it. That sheer pattern is almost invisible unless you look up super close. It also has a woven vertical stripe in it which is a bit more noticeable. Because of that sheerness I had been reluctant to use it in a project until now. Luckily, I found some navy voile in my stash (don't know if that came from a swap or if I bought it, not sure how it ended up in my possession) and it was perfect for lining the skirt!
I cut a size 6 in the bust, graded to a 4 in the waist and cut a size 8 skirt. I probably didn't need to be so picky about sizing considering this dress is pretty loose anyway.
No changes for fit, I figured since I was using stash fabric I'd consider this to be a wearable muslin but I like it so much I think it's fine as is. My only nit-pick – the cut-on sleeve hems tend to "wing out" at the sides. This was probably due to the thin fabric getting stretched slightly while hemming. It's not a deal-breaker, though.
I know dark navy isn't exactly a summery color but if you're raiding your stash sometimes you just gotta work with what you got. This dress is a definite winner and if I find enough other suitable fabric laying around I might have to whip up another!