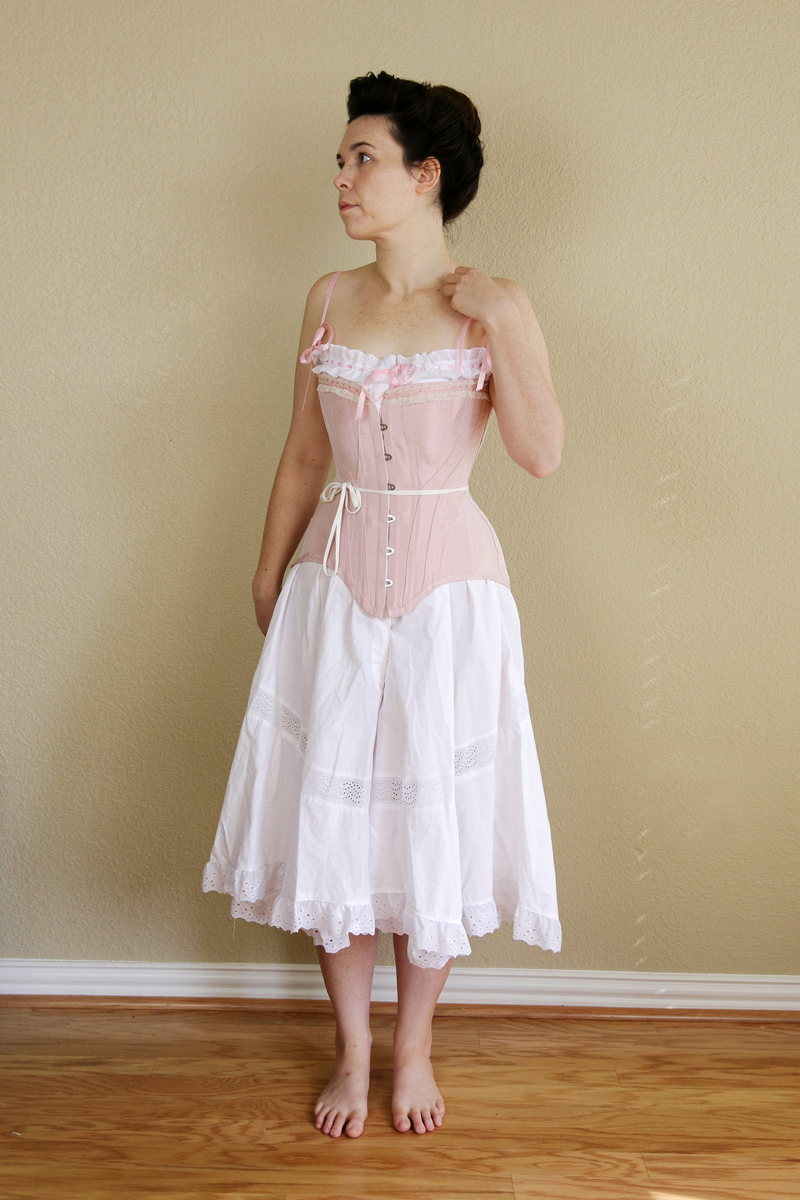 Edwardian Underthings
I realized I never posted about my collection of Edwardian underwear that I sewed, jeez, four years ago now??? I'm wearing most of these garments under my Alice Roosevelt gown.
The thing with historical costuming is there's just SO. MANY. LAYERS. When I want to make a modern outfit I just whip up a dress in a few hours but if I want to tackle a new costuming era there's a bare minimum of four garments I have to make before I even get to the dress!
Anyway, at long last, here are my underthings for the roughly the first decade of the 20th century.
Corset
I'll start with the corset because it's the garment I'm most proud of and also it's pretty and pink!
I used this 1903 corset pattern from Truly Victorian. The main layer is coutil with a pink silk taffeta overlay. The lace along top is from Joann but I thought it looked pretty antique-y.
This style is a "straight front" or "S-Curve" meaning it's not going for the hourglass shape all around the body like a Victorian corset from the previous decades. Rather it features a low, full bust and flat stomach in front and more room in back so from the side view it looks like a curvy "S" line.
To fill out the figure I'm wearing padding in the bust and backside. The pattern comes with these extra pieces and the corset is designed to be worn with them. The little back pad is like the last vestige of the Victorian bustle, just a tiny little pillow for extra oomph. All that combined makes for an exaggerated silhouette.
Pair of Combinations
All of the following garments are made with cotton muslin and various laces/ribbons.
I didn't take pics of just the combinations but you can see them peeking out of the corset.
Combinations were, well, a combination of two garments that used to be separate, the chemise and drawers but with the changing styles it became more practical to make them into one garment. The top half is a sleeveless, button-up piece with ribbon straps attached to a waistband.
For this I used Truly Victorian's Edwardian Underwear pattern.
The bottom portion consists of split drawers also attached to the waistband. The insertion lace on the legs is really high quality but the embroidered lace at the top and the hems… not as nice. maybe one day I'll replace it.
Petticoat
I don't want to talk too in-depth about this garment, mainly because I don't really like it. See, Edwardian petticoats are known for their miles and miles of insertion lace and frills. And all that lace can get mighty expensive. So instead I decided to buy one giant lacy frill and stick it on the end of the petticoat (which is a heavily modified version of Butterick 5970).
One day I'll take it apart and re-sew it with a more historically accurate look. …One day when I feel more comfortable about spending beaucoup-bucks on lace that no one will see.
Corset Covers
In the Edwardian Period women often wore corset covers – kind of like a 1900s style camisole or tank top. It served multiple purposes: to smooth over the corset (no "Visible Corset Line" please!), to add an extra layer under those lacy white dresses or tops, and to poof out the bust to give that pigeon breast look.
I made two corset covers, both from the TV Edwardian Underwear pattern. The first has two rows of bust ruffles and it was SUPER FLOOFY. Like, too floofy for my liking so I made a second version sans-ruffles and I like that one a lot more.
I didn't originally make this set for my Alice Gown. I began by making another dress but sometime in the last couple years I lost some of the lace used in the dress and can't finish it. Maybe I'll rediscover it packed away in some drawer someday. Until then I'll have these clothes ready to go when I want to make a new Edwardian outfit!