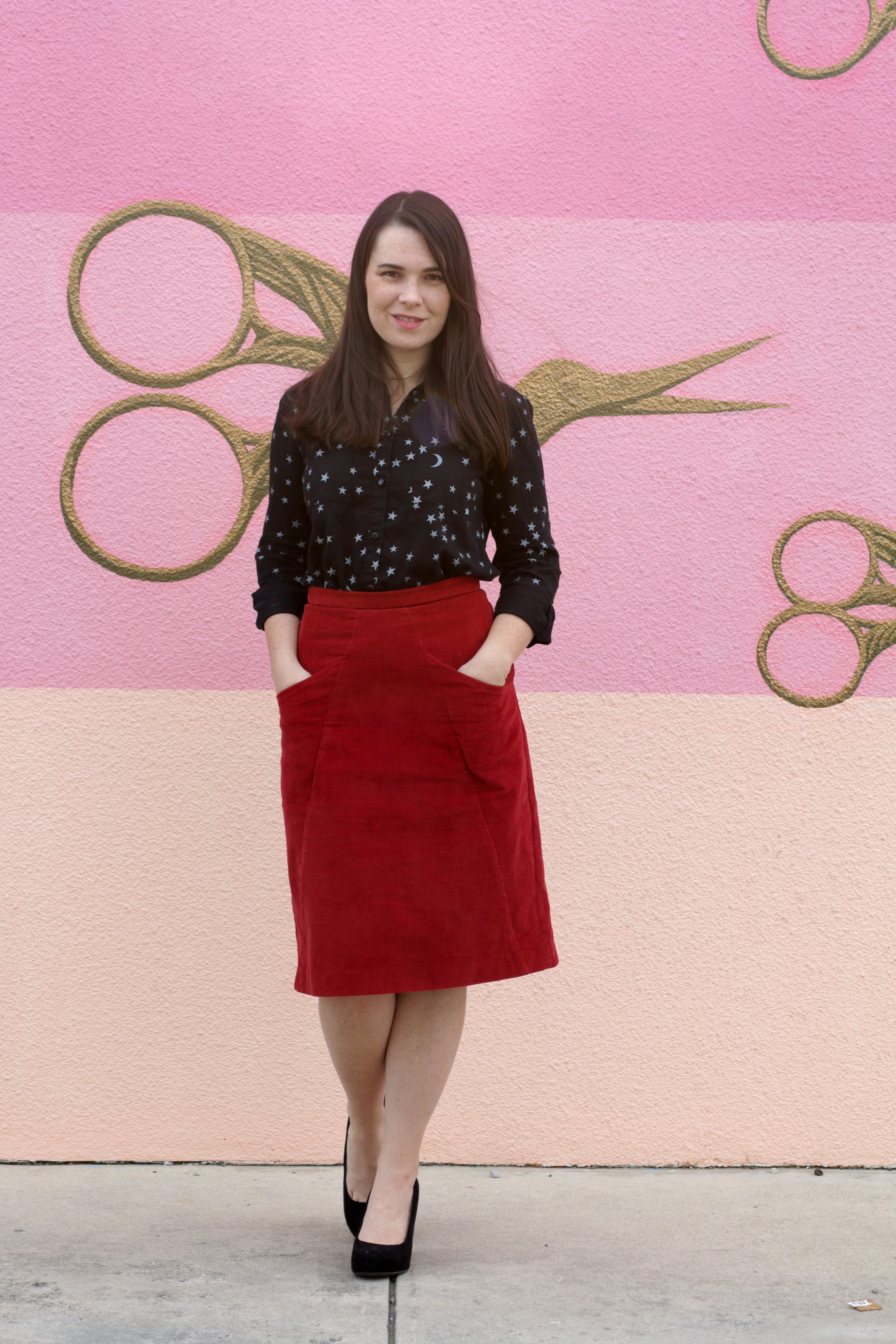 Blueprints for Sewing A-Frame Skirt
You guys!!! I think I found my new favorite pattern…
My apologies for the high number of photographs. What can I say? I love this skirt so much and it looks so good in every single picture that it's difficult to choose which to show.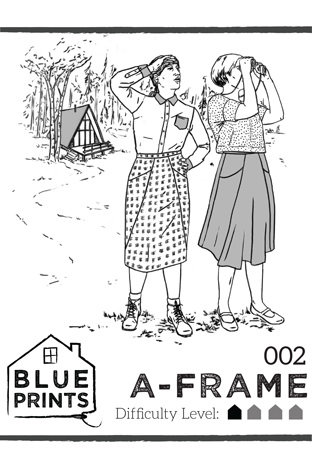 This is the A-Frame skirt from Blueprints for Sewing, view A – the pencil skirt version.

The fabric is red corduroy from The Cloth Pocket (beware, the fabric is a more muted color in real life than in these photos). It's a great medium weight – not too thick, which is important when seam allowances get bulky. I used a thin leftover cotton for the pocket lining which also helped reduce bulk.

The skirt came together fast and the instructions were clear. The pattern also includes several fitting tips, which is always nice. And I generally liked the techniques, order of assembly, and little details included in the instructions which helped to create a professional finished project. You get the feeling that the drafter knows what she's doing.

I cut a size B in the waist and graded to a D in the hips. It fit great! The only change I made was to slice off about 1/2″ at the center back grading to nothing at the side seams. I maybe could have cut a bit more. This need was likely due to my sway back which made the skirt sit higher on my back waist than in the front.
One thing that is interesting about this design is that the kickpleat isn't "open." It's stitched together then folded over. It's more like a real pleat and less like a slit.
This might be ok on a different fabric but looking at these pictures, I think unless I press the kickpleat down quite well, it has a tendency to flop out slightly. It's not a big deal. What I can do next time is just leave it open and fold under my seam allowances for a smooth finish.
I appreciated that the pattern included instruction for a lapped zip, invisible zip, as well as a handpicked zip. I chose a lapped as I worried the corduroy wouldn't handle an invisible very well and lapped zips always look extra professional.
I used a button from my stash. I always like opportunities to show off a unique button.
I love the angular style lines and the seams curve really well over my back half which gives it more of a "pencil" shape than a standard straight skirt.
The pockets are just the right depth to hold a cellphone without it falling out.
I can't wait to sew this skirt again! Just gotta get the right fabric. I think I even want to shorten it to above the knee and make it mini-length. That way I can ditch the need for the kickpleat, too.
BTW, if you're in Austin I'm teaching a couple classes on this skirt so if you want to make one for yourself, learn new techniques, and sew with some new friends check out the schedule!