True Bias Hudson Pants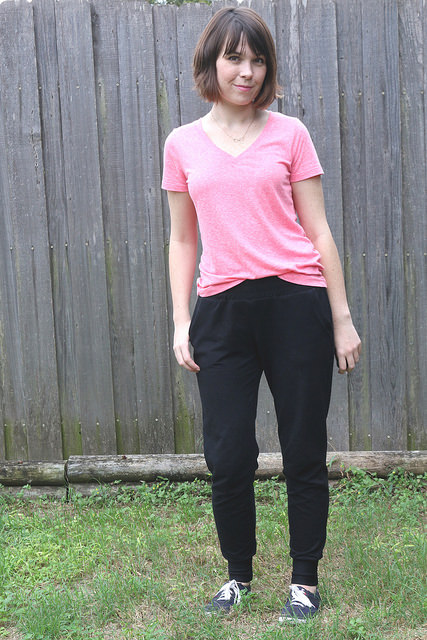 The Goal: I'm going on a road trip this month! A trip that involves several hours in a car and a lot of hiking at my destination. It's also November and I notoriously own a grand total of two pairs of pants. Both jeans. Yeah, I need some more pants. Mission accomplished!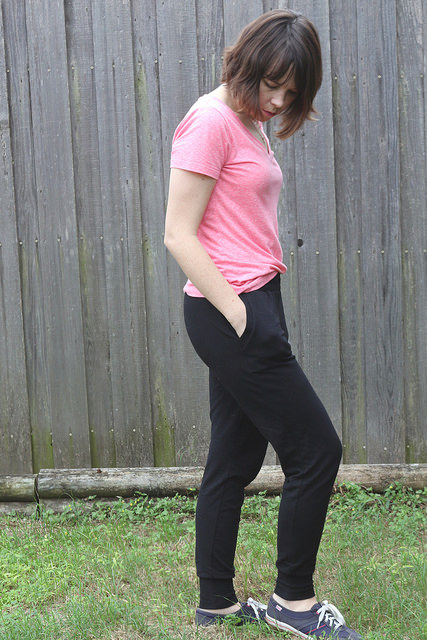 (I realize black fabric is difficult to photograph so I upped the exposure on these pics to make the details easier to see)
The Pattern: The Hudson Pant, True Bias' first pattern (her second, the Sutton Blouse is out now!). I figured this would be a good pattern to use, it's like a fancy knit track pant. Comfy enough for lounge wear (or extra long car rides), cool enough for everyday wear (like checking into a hotel after extra long car rides), and I figure it would be ok for outdoorsy activities (like a lot of trail walking).
Plus, pockets! Plus, ankle cuffs so no cold wind blows up your pant leg! Plus, stretchy waistband!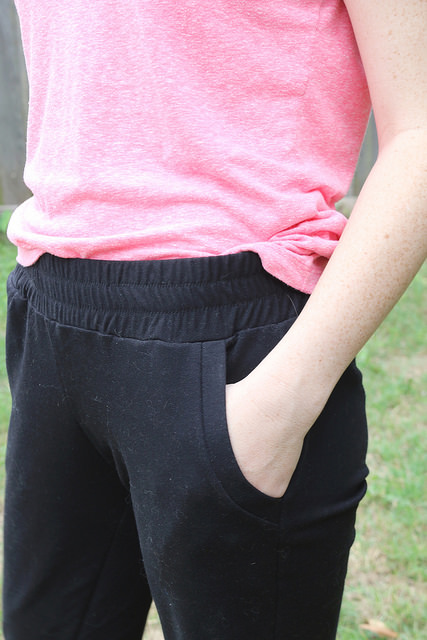 (ugh, the cat hair! so much cat hair!)
The Fabric: For my first pair I knew I wanted something solid and plain, something utilitarian. But that doesn't necessarily mean cheap. I found this French terry at Austin Fabric Co-op for $22/yd. Luckily this pattern doesn't require much yardage.
Still, $30 for what are essentially really nice sweat pants seems like a lot for me. No regrets, tho, this stuff is awesome. It's a rayon, cotton, spandex blend and it is won. der. ful.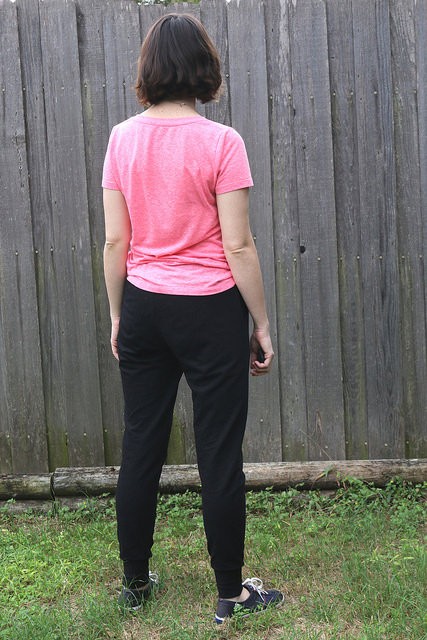 The Changes: None, except for one mistake. I sewed the button holes for the drawstring but then accidentally sewed the waistband on backwards and I sure as heck wasn't going to seam rip out black serger thread on black fabric so, uh, no drawstring for me.
I made a straight size 6 based on my hip measurement. I figured these are supposed to be slim fitting knit pants, not skinny jeans so I didn't bother with any fitting. For a casual garment like this unless there are big major problems like too short crotch length or something it's really not worth messing with. But if I really wanted to I'd probably adjust the back legs. A common issue I face with having stick legs attached to wide hips is excess fabric in the thighs.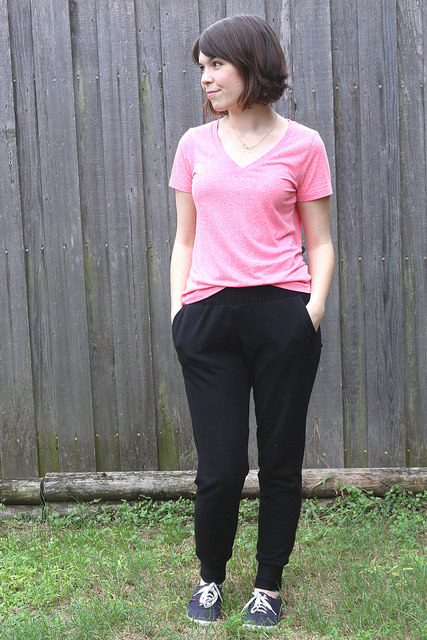 The Results: Well, I don't think I've taken these things off since I made them. They're great and super comfortable. I'll definitely be making more, maybe even woven versions.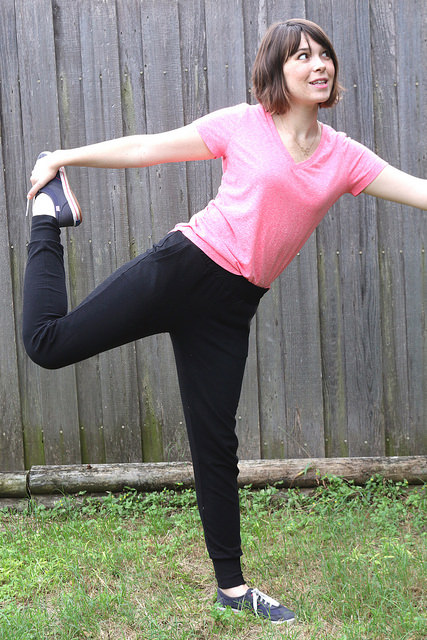 (I ran out of pose ideas. I don't really know what I'm doing here. Or what I'm looking at with those *crazy eyes*)
As for the pattern itself it was great. I had no problems with printing or understanding instructions. Illustrations and directions were clear.
This is a pretty simple pattern and a great way to jump into pants sewing if you don't want to feel discouraged by crummy fit problems. Also, with so few pieces, I whipped these puppies up in a flash! Gotta love (relatively) instant sewing gratification.