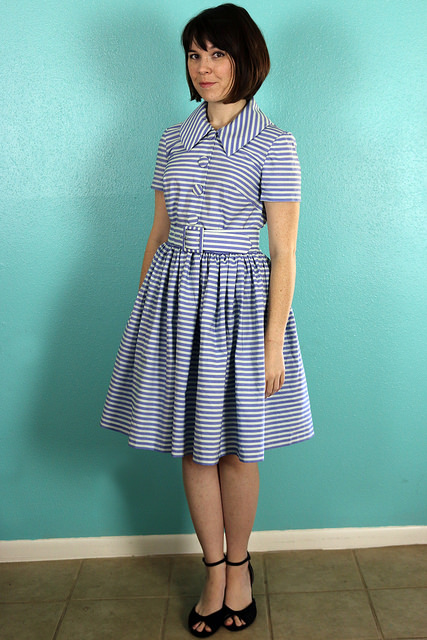 "Breathless" Dress
A film by Jean-Luc Godard. A dress by Dixie DIY.
Let me begin this post with a bit of history. "Breathless" or "A Bout de Souffle" is a 1959 movie by French director Jean-Luc Godard and is arguably one of the most important films of all time. If that sounds a little pretentious, don't worry, it's also just a plain good movie.
If you haven't seen it here's the basic run down: Michel(Jean-Paul Belmondo), a car thief, who, frankly, doesn't seem very bright 'cause he shoots a cop for a dumb reason, is on the lamb and runs up to Paris to hide out with his aloof American journalist girlfriend, Patricia (Jean Seberg). He then tries to convince her to run away with him to Italy and she's kinda like, "meh" about the whole thing.
It's a love story and it isn't. The characters are modern and likeable but also self indulgent. The movie is sweet but at the same time it doesn't romanticize love. Unlike Hollywood movies of the time (and many still being produced now) Breathless doesn't treat its couple like they're "meant to be" with dramatic kisses set to a string overture. It's much more ambivalent and the characters often struggle to emotionally connect to each other.
But the plot isn't the main reason Breathless is so appreciated as a great film. Godard, himself a huge cinephile, used his directorial debut to turn filmmaking convention on its head. Everything was shot on location, no lighting, guerrilla style with no real "script." It is self referential with plenty of references to Hollywood movie making styles without adhering to any of its rules. If you watch Breathless today it might just seem like a kind of quirky "indie" flick but at the time it was ground breaking.
Watch a handful of popular Hollywood movies from the late 50s, then watch Breathless, then watch some of the best movies of 1967: Bonnie and Clyde, The Graduate, Cool Hand Luke and notice the differences. It's all because of Breathless and movies like it.
So what about this dress?
The Goal: Regardless about how you feel about the movie or its message, politics, conventions, whatever, that Patricia had style! And this dress, worn toward the end of the film, was lovely so I decided to re-create it… like two years ago. Yes, this dress has been in the making for a long, long time.

The Pattern: Self drafted based on a bodice block. The skirt is just a gathered rectangle (the original dress has a series of tiny knife pleats). I tried half a dozen versions of the collar in an attempt to get it right.
However I began this dress so long ago that I think I must be smaller now than my original block because it's a little loose in the bodice.
The Fabric: A pima cotton from, I believe, Mood. But since I bought it more than a year and a half ago I know they won't still have it in stock.
The movie is in black and white so I just assumed that the stripe was blue.
The stripes in Seberg's dress are wider than mine but I think the weight of the fabric I bought is pretty spot on.
I bought the belt-buckle kit off Etsy. Sadly, they don't make those anymore. You'd have to track down a vintage one if you really want a matching belt.
The belting came from The Common Thread. The belt eyelets are regular old Dritz. And thanks to Susan and Miss Lulu for helping me cover those buttons. They look great but I can never get them to work for me.
I also bought a vintage zip with that buckle kit. Might as well keep the vintage theme going. I did a lapped zip in the side seam.

The Results: If only I had some white heels and gloves, a sweet pair of cat eye glasses, and the ovaries to cut my hair that short and I'd complete the look.
Mostly, I'm just glad this project is finally finished!
If you'd like to learn move about Breathless here are a few articles:
Breathless on New Wave Film – lots of info on the making of the movie
"Why Breathless?" on Thought Catalog – Why Breathless is still important 50 years later
Breathless on Cinemalogue
You can rent the movie on iTunes or Amazon or on disc from Netflix. There are plenty of clips on YouTube but I can't find the whole movie with English subtitles.