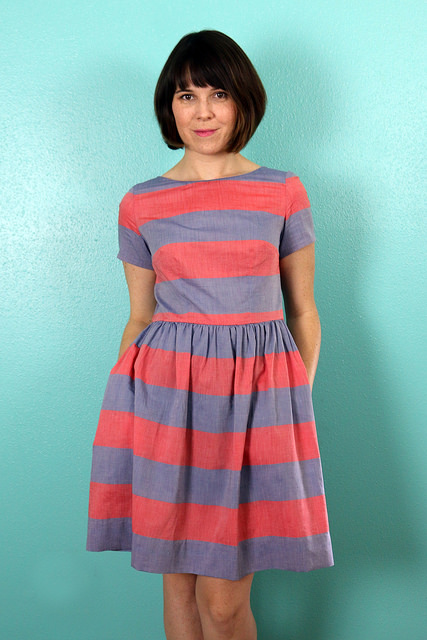 Big Stripe Emery Dress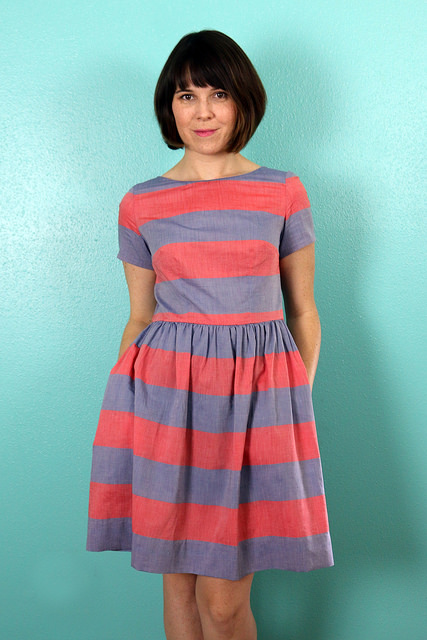 Taking a break from historical sewing for some regular additions to my wardrobe…

The Pattern: The Emery Dress by Christine Haynes, a classic fit-and-flare style with gathered skirt and darted bodice. It has options of longer sleeves and a collar as well. I decided to keep it simple.
Partially inspired by Lauren of Rosie Wednesday who has been quite prolific in sewing Emery's lately, she's probably made at least half a dozen.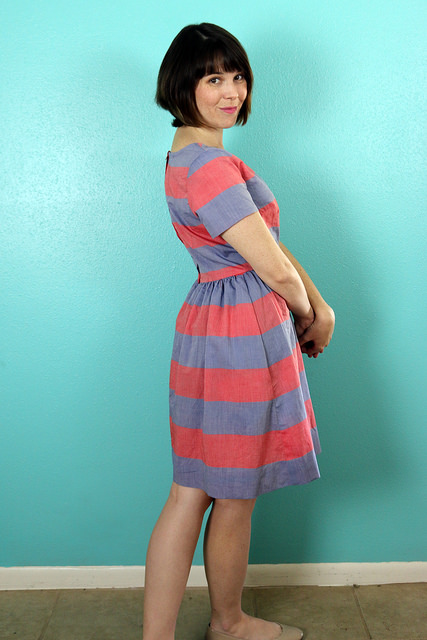 I cut a size six and it fits pretty well with no alterations but I'm wondering if I need to alter the upper chest area, it pulls across my front if I move my arms back even a little but when I stand normally it's almost like there's too much fabric there. It's weird, not totally sure what to do about it. Thoughts?
The Fabric: A big stripe shirting from Form and Fabric, an online store that recently opened a storefront. I love this fabric so much! It's so soft and light, perfect for Texas summers.
Lisa from Notes from a Mad Housewife bought some, too, while she was in Austin visiting and made a Scout.
The Changes: I made some self bias tape and used it as a neck facing rather than line the bodice, something I do when I can because when it's so hot you usually don't want an extra layer of fabric.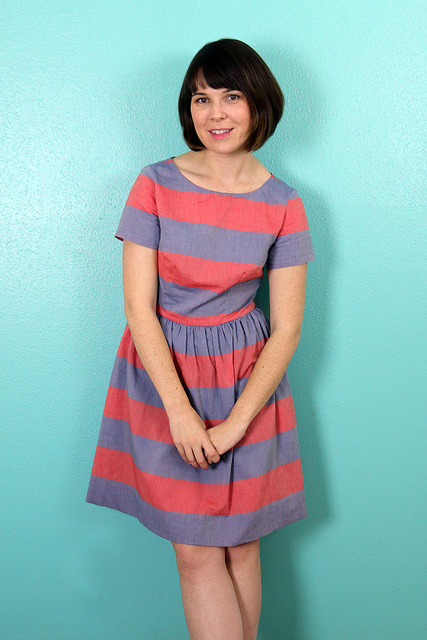 I finished all hems by hand, including the neck binding. And I did a lapped zip instead of a regular or invisible one. I've done lapped zips before in practice but never on an actual garment.
But my zipper was too short. I have to put the dress on over my head rather than stepping into it because of that little detail. I just used a zip I had in my stash because I was too lazy to drive to the store and buy a longer zipper yet I some how perfectly fine about sewing all the hems and picking a zip in by hand. Priorities.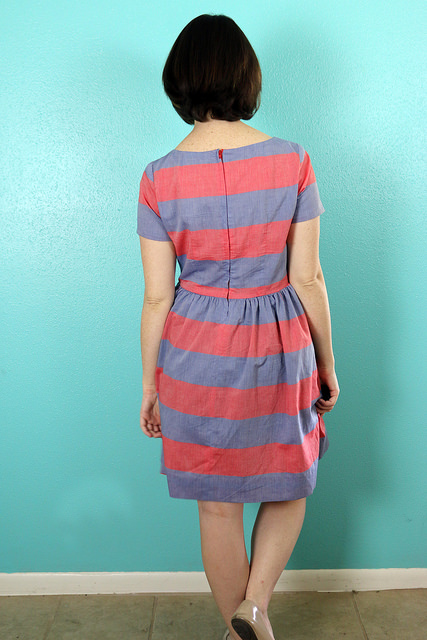 The Results: Overall I'm very pleased. I've already gotten a few compliments on it. It's an easy dress to throw on and look cute and I've already worn it several times in the last week or so. Win!
Only change I'd probably do next time – I think the waist is a tad too loose or like half an inch too low, or both, or neither. I don't know, if nothing else I'd probably raise the skirt up a bit at the back waist 'cause it's not even from the side. But this is just a minor thing and won't prevent me from wearing the dress.
On the other hand I loved the addition of the back shoulder darts, they worked great to give a smooth shape in the back and most patterns don't include them.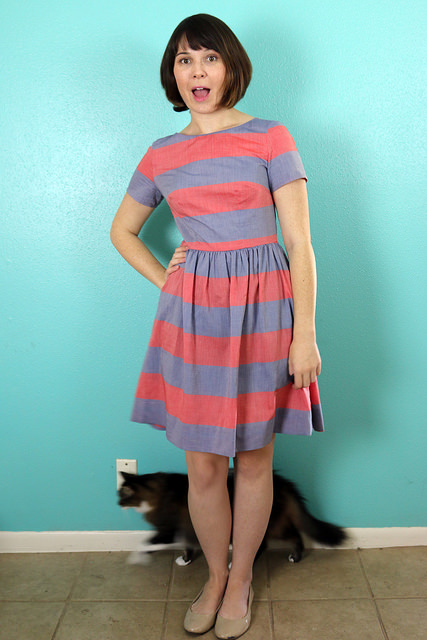 I already have plans for my second Emery!