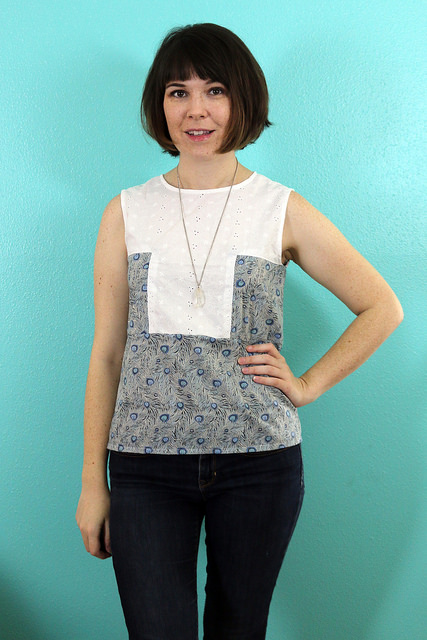 Teach Me Fashion's Two Tone Singlet
Recently Teach Me Fashion reached out to me to see if I would do a review and I thought, "sure, why not?" It was an interesting concept – PDF patterns designed to be used in conjunction with short instructional videos.
You may not know this but in a past life I worked as an editor for internet videos and I learned much about the fickle nature of YouTube watchers (which includes myself) and what makes for an informative and engaging video experience.
Many educational videos suffer from a few common blunders like like the "Get to the Point!" problem where the instructor talks for 30 seconds or more at the start of the vid about what she will teach you in the video instead of actually teaching. Viewers have short attention span and this is a big no-no.
Along the same line is the "Unnecessary and Repetitive" problem. If I need to review a step in the instructions I can rewind. I don't need to see the teacher do the same thing over and over again. It's a waste of time. Even Craftsy classes are guilty of this. (OMG Susan Khalje, I don't need to watch you meticulously line up the grainline for all eight pattern pieces!). Editing is your friend.
And finally the "Unclear video and confusing instructions." Or essentially when the whole thing is a mess. The camera is too far away to see what is being done. The instructor is filming on the fly without a script so he make mistakes and has to backtrack. And the viewer is so confused that they give up.
Thankfully Teach Me Fashion has none of these problems. In fact I think their videos are excellent. Great pacing with the verbal instructions so you can easily follow along. No repetitive steps. Once you see her topstitch one side you don't need to watch the other. Sometimes the video is sped up which saves time but is still helpful. The camera is close to the action. The background is just a well lit white table so there're no distractions. And as a bonus, I really enjoyed Heather's neat Australian accent. 😉
Right now they have seven videos up all with downloadable patterns to go with each lesson. There's knits, dresses, leggings, a skirt and more. But let's talk about the one I made…

The Pattern: The Two Tone Singlet, Teach Me Fashion's free pattern and a great starter pattern for beginners or a quick pattern for more advanced sewists.
The pattern PDF includes all the basic info (fabric requirements, materials, etc) and text instructions which are sufficient but watching the accompanying video is the way to go.
The Fabric: Both fabrics are from my stash, yay! I had a tiny bit of eyelet leftover from my very first Macaron (wow, that was a long time ago). The bottom fabric is a Liberty of London print that I kindly received from a sewing group member who was moving. I couldn't believe she was giving it up but now I'm glad some of it could get used.
The Changes: None really. I cut a size S and it fits pretty well. There's no shaping in any of the seams but I think that makes it simpler for a new sewist to make this top without being bogged down with the details of a perfect fit. For me I just like the loose shape.
I followed the instructions in the video almost exactly and there are some nice details a newbie could learn from like topstitching the yoke seams, sewing right angle corners, french seaming in places and adding bias binding as a facing.
I can't exactly call the bottom sections a "peplum." They're just rectangles and the back rectangle has tucks (mine are a little off center, oops, but I didn't care enough to re-sew them. laziness for the win!). If I made this again I might alter those pieces to be more peplum-y. It's pretty easy.
You just use the slash and spread method to only spread out the bottom to make a more curved pattern piece.
The Results: This shirt is pretty darn cute. I usually don't sew/wear sleeveless shirts (for silly/lazy reasons) but I might have to make an exception for this one. It's summery. It's loose fitting which is an important factor for a Texas top (ugh, we've reached the 100+ degree days, I won't be wearing pants again until Halloween).
If I sewed this again I'd probably use a nice silk and make a dressy version.
I know sometimes us bloggers we can be kind of lax when it comes to reviews. You want to be nice, right? Well, I really do think that Teach Me Fashion's vids and patterns are a cool concept that's well executed. They're not for the absolute beginner – a user will still need to know how to use a sewing machine and be familiar with basic terms and concepts. But we all remember starting out as sewists – we didn't want to make boring pajama pants (even though they're good practice) – we wanted to make fun, exciting and stylish clothes right now! And I think TMF is a great jumping off point for a newbie to sew a garment they'll love to wear right away.