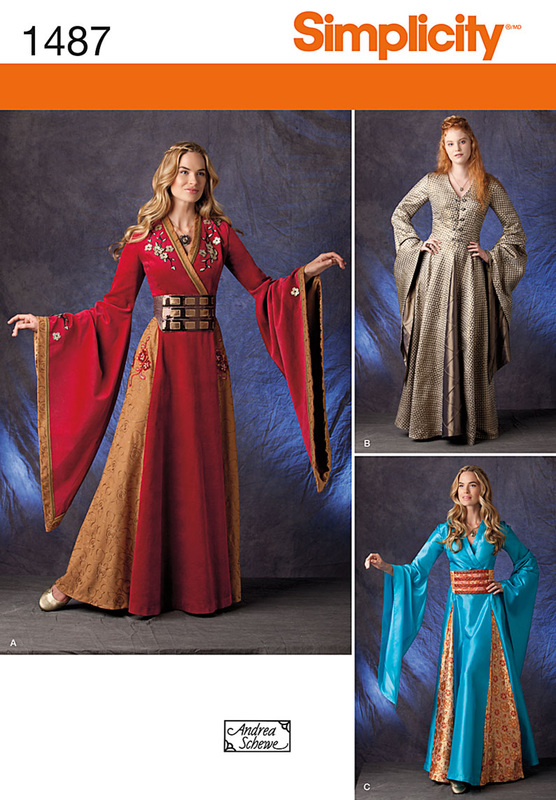 Interview with Andrea Schewe, Pattern Designer
A few weeks ago I some how found myself at Andrea Schewe's incredible blog. She's a costume and craft pattern designer for Simplicity and on her blog she chronicles everything from her research to her design and sample making process to tutorials on how to create great costumes yourself.

If you peruse the costume or craft section of the Simplicity catalog you'll find her little logo appearing all over the place. She's made patterns ranging from fantasy hobbits to pirates to Elizabethan gowns to toddler animal Halloween costumes and more.
I was fascinated with the business side of designing for the big 4 and Andrea has such an informative an inspiring blog. Luckily she was kind enough to answer a few questions…
How did you get started working in pattern design?
I worked in the professional costume shops in New York for a number of years. Then in various other jobs in the fashion industry. I learned my sewing and patterning skills from my mother, who taught costume design and construction, then learned more at every job.
I wasn't completely happy in the fashion world so when a job for soft toy maker was advertised I applied and got it. That job was fun. I made all kinds of rag dolls and plush animals. So, between professional costumes, fashion and cloth toys I acquired the skills to make the various things I now make for Simplicity.
When Simplicity approaches you to design a pattern what information do they give to help you create your pattern? Or does Simplicity just let you make whatever you want?
Simplicity sometimes gives me free reign when working on a new design. So, they will ask for something in a specific category, I will then send in reference photos to give them an idea of what I'm thinking about.
Next step would be to email in sketches. After they are approved, I will start work on the mock up samples continuing to check in for lots of reasons including approval of construction issues such as how many pattern pieces and specific sewing techniques. I, also, usually need to get fabrics approved. Other times they will send me photos of what they want. But even then I will let them know what I think will work or not.
We have a very good "give and take" working relationship. And I sometimes make patterns for other licensees, such as Disney and Amy Brown.
How long does it take to design a pattern? Do some styles take more time than others?
Most patterns take about 2 weeks of solid work for me, (then much more time after it is sent to Simplicity's workroom) once the design is settled on, although some do take longer.
The tudor gown with all the correct underwear probably took me at least a month and a half. I do have a few people I hire to sew when I get really busy.
How many iterations of a design do you make before you settle on a final? How many samples will you create to send back to Simplicity?
On average, I have to sketch things about 3 times for each pattern. When finished, I send to Simplicity one sample of each style ready for photography, all the patterns and any sewing instructions I operations I think should be done a certain way. They have instructions for most things stored in their computer system, so it would be silly for me to spend the time to write complete instructions.
Does Simplicity request you to make a certain size to fit their models?
I must make my samples in for each size range of patterns in Simplicity's sample size. Again, their computer system is set up to work best from these certain sizes. For Misses it is their 10 (32 1/2" bust, 25" waist, 34 1/2" hips), for Women's sizes it is Simplicity's 22 (44" bust, 37" waist, 46" hips), for babies size 6 months, Child size is a 4, Girls size is a 10 and Men's is a 40" chest.
The children's and Men's sizes are the same as ready to wear and the same as they have been for decades, but the Misses and Women's sizing have not kept up with the changes in modern ready to wear. People really need to measure themselves and the tissue pattern when sewing for the best fit. Don't let the fact that you wear a size 8 in the store but need to cut a 16 when sewing bother you. How a garment fits is what is important.
From the time you submit your pattern to the company how long does it take to then appear in stores?
The turnaround time after my samples arrive at Simplicity is about 6 months. They have to check my samples, make all the sizes, write the instructions, draw the technical illustrations, photograph the models, make the guide sheet layout, make the layout for all the pattern pieces on the tissue, make the envelope layout and create the catalog. And then, of course get it all printed. I think they work amazingly fast.
You sometimes talk about restrictions like only being able to fit a limited number of instruction sheets and tissue paper in a pattern envelope. Or using supplies for your samples garments that come from big box stores so they are easy for users to find. What are some other technical challenges you face when designing patterns?
The biggest thing I have to worry about that is unique to someone making home sewing patterns is figuring out how to reuse the pattern pieces on two, three or more different styles in one pattern envelope. It makes you think in a different way. I also am mindful about how much all the materials I'm asking the customer to buy are going to cost and try not to require tons of expensive trims or too much fabric. People can always add the more expensive stuff on their own creation.
When you design costumes do you have a specific user in mind or do you try to design something that will appeal to a wide audience? How do the needs and wants of different sewists (like community theatre costumers, historical reenactors, cosplayers, or even novices making Halloween costumes) play into your patterns and instructions?
I and Simplicity try to make patterns for a wide variety of customers. We do create some patterns specifically for certain people, making some things easier, some historic, some sexy, etc. And if a certain pattern sells well, I'll more make in the same category. So, the people who buy the most patterns will get more patterns made for them and one or two categories will predominate. Steampunk is really popular right now, for example.
I have a few of your historical patterns. What's your research process like for these designs compared to the obvious fantasy styles?
Whenever I get to work on an historical garment, and please note I said GET TO – it is a big commitment for Simplicity to do a period correct piece, I first spend time looking at books with patterns from the period. Find out what kind of undergarments were worn and anything else I can.
Now, over the last 15 years Simplicity has really stretched itself trying to provide patterns for really accurate historic clothing. It takes so much more time every step along in the process. But even then it's not possible to make the pattern 100% perfect. Within their format things have to be simplified. Plus, Simplicity wants it easy enough to sew for most people. There are a lot of compromises that have to be made.
Simplicity doesn't have an opinion about historically accurate vs. modern interpretations. They go with what sells best. But, I think the people in the workroom prefer to work with modern sewing techniques, because that's what they are used to and all their computer systems are set up for that.
On your blog you mentioned you were copying an extant dress for a museum in order to create a muslin used for fitting a display mannequin so that the original doesn't get damaged. Are you often asked to do projects like that? And how do you go about carefully copying delicate garments?
I've only been asked to work on a museum project two times. It is really interesting work and I'd like to do more. To make the copy, the museum first sent me a photo of the dress, I then could learn about the period and research similar patterns before getting to actually handle and measure the gown. I then spent a day with the dress taking multiple photos and taking every measurement I could think of, So, with the pattern diagrams in my books and all my measurements and photos I was able to make a muslin sample for them to work with and paper pattern, just for the museum's reference. This muslin will be used as the manikin is built to display this very fragile garment.
You once made a comment on how kids costumes that feature lots of pink in the envelope deigns tend to sell well. Why do you think that is? Does it have something to do with "Princess Culture"? Because of this does Simplicity request pink samples from you?
Yes to everything you said about pink. Some day this will change, but it has been so drilled into everyone's head that pink is for girls, people don't even realize this only started to happen after the 1950s. My 1960's Barbie only had one pink thing, her night gown!
What's the weirdest pattern you've ever had to make? The family size, lime green, fleece footie pajamas come to mind. (Even though they were color corrected on the envelopes they look pretty funny in their original color)


Years ago, over 20 to be exact, it was poplar to cover your vacuum cleaner with a stuffed animal with a big full skirt. I made a pattern that had a cow and a duck. I wonder what we are making now that will seem funny 20 years from now?