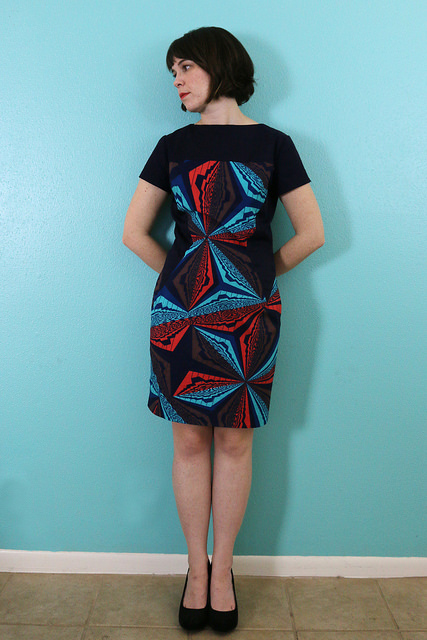 McCall's 6278 Vlisco Print Dress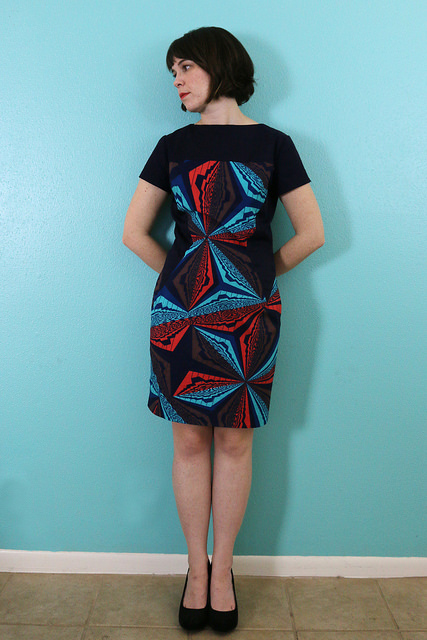 The Goal: Well over a year ago I ordered six yards of Dutch wax print fabric. It seems like for awhile my friends and I all fell head over heels for Vlisco's lovelies after following Cathy's Treadling in Benin blog.
I originally bought the fabric for a specific purpose but it seems that I will never get around to that so rather than let it sit sad and lonely in my stash I had better use it. Oh, and this fabric only comes in pre-cut amounts, otherwise I wouldn't have bought SIX YARDS of the stuff. From HOLLAND. So shipping was… well, what you can imagine. I probably only used about one yard for this dress.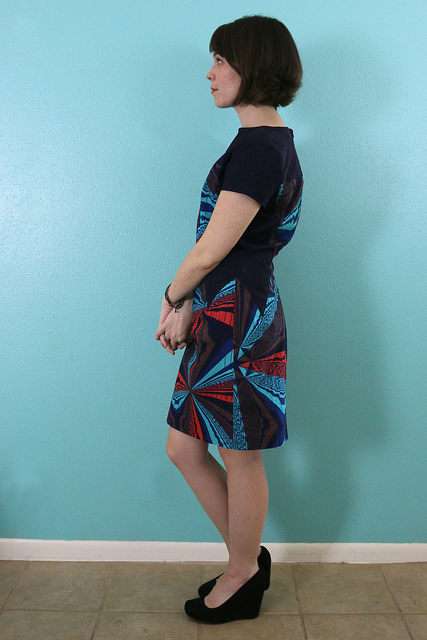 The pattern: McCall's 6278, which appears to be already out of print even though it's only a couple years old. The only other make I've seen has been Closet Case File's stunning red and silver version.
I loved the cool angular look and the ability to color block made me feel better about conserving the print fabric.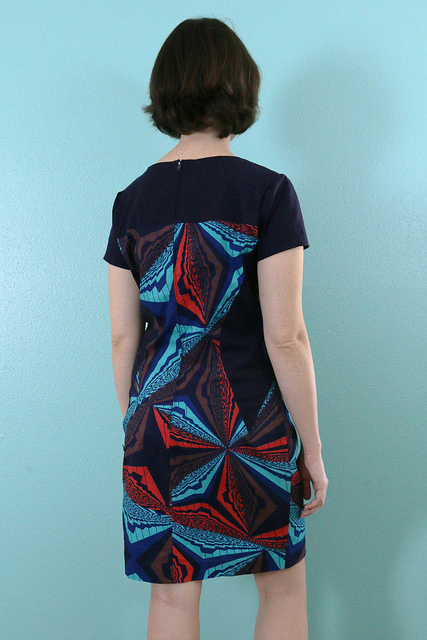 But man! Those points! I've sewn pointy points before but these ones at the hips take the cake. Afterward, I realized what I should have done was fold under the seam allowances on the side pieces, layer it on top of the printed fabric, and topstitched. All those side pieces are topstitched down anyway (seam allowances are pressed toward the side inserts) and I could have avoided unnecessarily snipping my seam allowances on the printed fabric.
And the finicky points made a bulky mess of things. I steamed the heck out of those points to get them to be as smooth and flat as possible.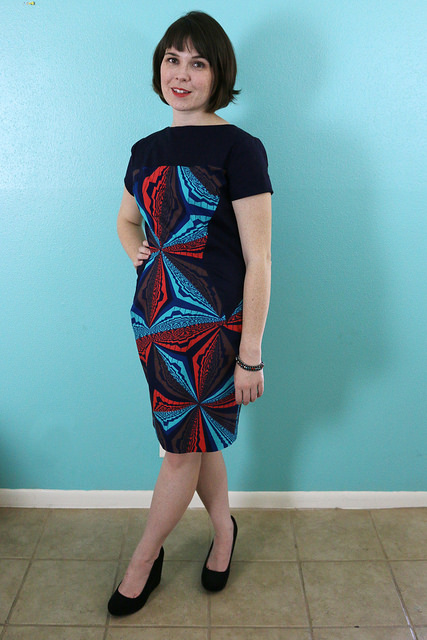 I must have cut out the pieces when I bought the pattern and then forgot about it. I had cut a size 12 but I should graded to a 14 in the hips.
The Fabric
: As of this writing this print is
still available
in the sale section of Vlisco's website (and for way cheaper than what I paid)!
The contrast is a solid navy cotton sateen with a bit of stretch. It definitely matches the print but the navy also blends in a little too well. The pointy side pieces almost disappear next to the body fabric.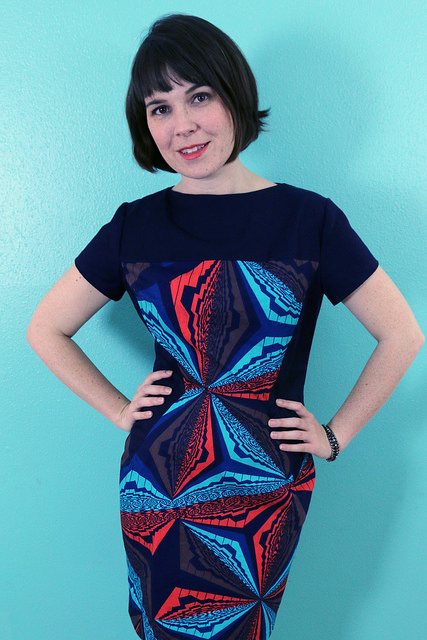 The Changes: Other than letting out the side seams at the hips, not much. I ditched the full lining (this pattern wants you to fully line the interior exactly the same as the exterior so technically you could make this dress reversible if you so desired. I finished all my seams and added a neck facing instead.
Oh, and I used a regular zip rather than an invisible 'cause I accidentally bought a regular one instead.
Oddly, there's no back vent in the skirt. It's not constricting to walk in but it would have been nice to have a small slash.
The Results: my husband, always the insightful commentator, said I looked like a psychedelic flight attendant. Whatever that means…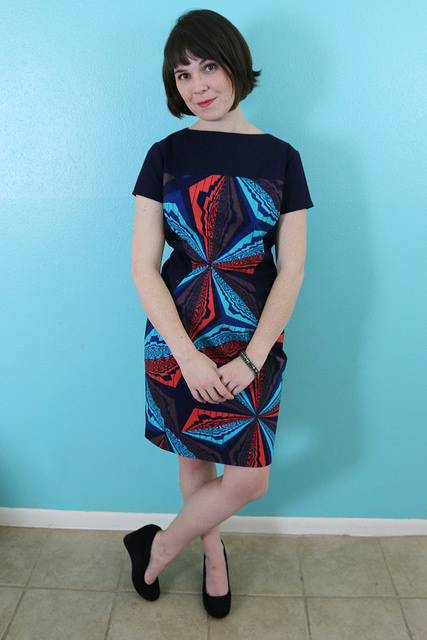 It fits well enough. A wee bit tight in the bum and I'm sure this dress could have used a sway back adjustment (although looking at these pictures, perhaps I don't need one) but it's not a huge issue. The back neck gapes a tiny bit but only I would probably notice it. Also, the front neck is a little high but not a deal-breaker.
Other than that I quite like it! The style is unique and the print is a show stopper, seriously cool design. I probably wouldn't make this pattern again but I'm glad I gave it a try.