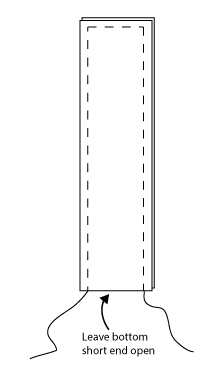 Sleeve Tab Tutorial
Recently I made a Grainline Archer button down shirt and added these little sleeve tabs (which I think everyone agrees to call them that now, which is alright by me) to help keep my sleeves rolled up and to add a little bit of extra style.
I wrote up this tutorial so you can easily make tabs for your Archer or any other shirt for that matter. I added my tabs so that my sleeves roll up to about elbow length but you can add them anywhere on the sleeve, this was just how I did it.

Important: Add tabs before sewing your sleeve!
Cut 4 rectangles 7.5″ by 2″. 1/2 seam allowances are included on all sides.
Interface two of those rectangles.
I angled the corners on my tabs but you can leave them rectangular or curved, whatever you like.
Right sides facing, pin one interfaced rectangle to one non-interfaced rectangle. Stitch around three sides leaving one short side (the non angled, side) open.
Clip corners, grade seams and turn right side out. Topstitch 1/8″ to 1/4″ from the edge all around the rectangle.
On the closed short side stitch a vertical buttonhole starting about 1/2″ from the edge.
On the open short end of your tabs, fold it under to the wrong side about 1/4″ and press. (Oops, I accidentally drew this short end like it was stitched, you can stitch it or not, doesn't matter, just fold the short end opposite your buttonhole)
On your sleeve pattern piece, on the wrong side, draw a vertical line down 7″ from the sleeve cap's shoulder notch, then move over 1″ towards the front of the sleeve, mark this spot. (If you don't move them towards the front a little bit they'll look like they're on the back side of your arm. Mine are moved slightly forward and they look like they're just right on the center of the sleeve.) You can pin the tab temporarily and try it out to adjust the placement.
Wrong sides together place the center of your folded tab edge on your marked sleeve spot.
Pin and stitch a square.
On the right sides sew your button in the center of the stitched square.
Repeat for the other sleeve then stitch up your shirt like normal.
You can see my tab through my semi-transparent fabric when my sleeves are down to get an idea of how they're supposed to look.
If you want to make epaulettes it's the same idea except on your shoulders. Stitch the unsewn short end into the sleeve cap seam and add a button along the shoulder seam line near the collar.
Pretty easy right?