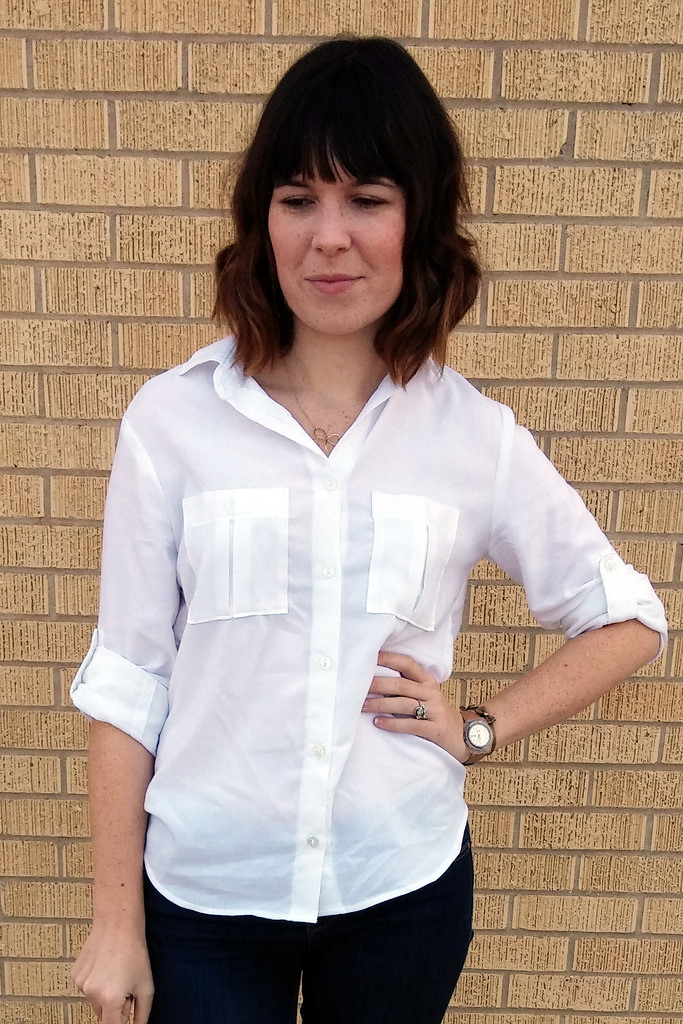 Grainline Archer #2
(I got photobombed by my nephew, lol)
The Goal: I wanted to make, in my head, a safari style white buttondown. Something less dressy and more utilitarian than your standard white shirt. I had the fabric and pattern for awhile but I had yet to actually sew it.
The Pattern: Another Grainline Archer! After my first one, I immediately dived into my second version. Love this pattern. I did a straight size 4 (this shirt isn't very fitted, which I like, so no need for any major fit adjustments).


The Fabric: A white rayon challis from Super Textiles, a non-air conditioned warehouse in Dallas that sells fabrics on the cheap. I think this was $3 a yard. I also bought the little clear buttons there, if I remember correctly. If you're ever in Dallas you should check it out.


The Changes: Ok, here's where things got interesting. First, the pockets. By the time I cut out my pocket pieces the unthinkable happened. I ran out of spray starch. This rayon is super shifty. Luckily it tears so that helped me get some straight lines on the cross grain while cutting but for sewing, this stuff doesn't want to stay still. I cut these pockets about an inch shorter than the pattern piece and roughly 3.5 inches wider to accommodate the pleat.
I blame the shifty fabric for my mistake of sewing my pockets inside out. See, I intended for the box pleat to face out, instead, I stitched them the other way and didn't even notice until they had been sewn to the shirt. At that point, I had sewn the pockets down a total of five different times because they would shift around as I stitched even with all the pins I owned trying to keep them in place. After the pocket-sewing-fiasco of 2014, I decided to leave them as is. While wandering around with my fam the other day I found myself staring at random people's shirts to see if I could find pockets like mine to justify my mistake.
On a better note I also added these little tab thingies on the sleeves (I seriously do not know what these are called so I've just declared them tabs until I am corrected).


It took a little work to figure them out, I'm sure you've seen them before. They're lengths of fabric stitched to the inside of the sleeve with a buttonhole on the free end. On the outside of the sleeve there's a button attached so you can hook the tab to it and hold up the sleeve. A cool detail I think. And with the shifty fabric my rolled up sleeves tend to unroll themselves anyway.
Would anyone be interested in a tutorial for this? I figure I can't do a tutorial for something I can't even name, lol.


The Results: Yay, I have a white shirt! Versatile and cute. Goes with anything. Fits well. Super win!