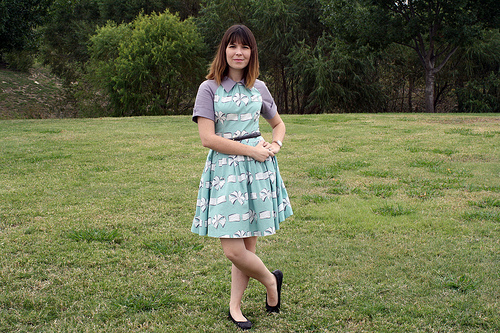 Simplicity 1755 – Leanne Marshall Dress
My sewing mojo is running on high gear lately. I think I might have gotten a jump start from sewing costumes (which I'll blog about at some point when I'm finished, you know, in like the next year). And I'm riding the sewjo wave as long as I can!
The Goal: Stash busting! I bought this bow fabric months ago from The Common Thread. Been sitting around in my room ever since.
The Fabric: Mint, gray and white cotton with big bows in stripes. This was a challenge 'cause they're unconventional stripes and the bows and ribbons change each row. It's a whole bunch of subtly different bow prints which makes it incredibly difficult to pattern match. The gray sleeves and collar are just some Kona cotton.
The Pattern: Simplicity 1755. It's the first and only Leanne Marshall design I've tried. I made version B with the sleeves in a size 12 which fit perfect (big 4 sizing is all over the place some times. my last simplicity dress I cut in a 10, which had I cut this one in a 10 it would have been too tight).
I had barely enough bow fabric to work with and not enough to accommodate such large stripes. The skirt is in 5 pieces and I tried the best I could to get the stripes lined up but they're a little off. The bodice side seams are off slightly, too. Luckily even I can barely tell because the pleated skirt is so full, and if I can hardly tell ain't nobody else gonna notice it either.
The Changes: Very little. I didn't add the buttons on the cuffs, didn't need 'em for the cuffs to stay in place. I cut the front piece on the fold because I didn't want to have a visible seam in the stripes. Then I made my own facing out of some extra fabric (and interfaced it) for the front slit.
I didn't make the tie belt because really, this dress already had enough bows. Regular belt instead.
The Result: This is a pretty cute dress and BOWS! Love me some bows.
I liked some of the instructions, too, which added tips like reinforcing the split in the sleeve cuff or a new way that I hadn't tried before to sew that cuff split/neck slit. Pro details there.
Also, raglan sleeves are the best! No setting in regular sleeves? Yes please! And I'm totally over kimono sleeves. Raglan sleeves are the new kimono sleeves.