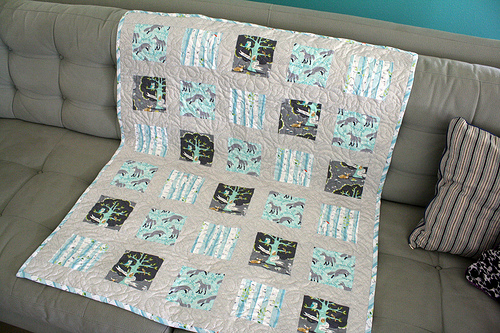 A Little Quilt and a Big Thank You
Hey peeps, I'm back! Sort of. I just finished the binding on this little quilt. I'm almost embarrassed. My IRL sewing friends always give me flack for going to the dark side – quilting! But ever since I discovered that I didn't have to quilt the darn thing myself it was like a whole new world opened up!
I got the simple pattern for this for free and I just so happened to have four coordinating fabrics in my stash (some of the only quilting cotton that is in my stash) that would work well for this pattern.
I think all the prints are from the same collection, there's foxes and woodpeckers on trees and the "Friends of the Forest" tree with a bunch of cute animals. I had enough fabric left that I made bias binding out of the woodpecker print. The two bias tape tools I have are some of my favorite things in my sewing room. I love that I can whip up my own bias whenever I want.
With credit for long arm quilting, already owning the fabric and having extra batting around the house this quilt feels like it was free (ok, I had to pay for the back).
The quilt is pretty small, it's more like a big baby quilt and the print is kind of juvenile, too. I don't have any babies around lately to give this quilt to. Maybe in the future it will be a gift. For now it'll just have to be satisfied with being another couch quilt.
**********
Also, thanks for all the thoughtful comments on my last post. I really appreciate the support and while I know it's a touchy subject I certainly don't want to alienate anyone. I think you get what I mean so no more heavy topics, let's get back to more sewing, right!?