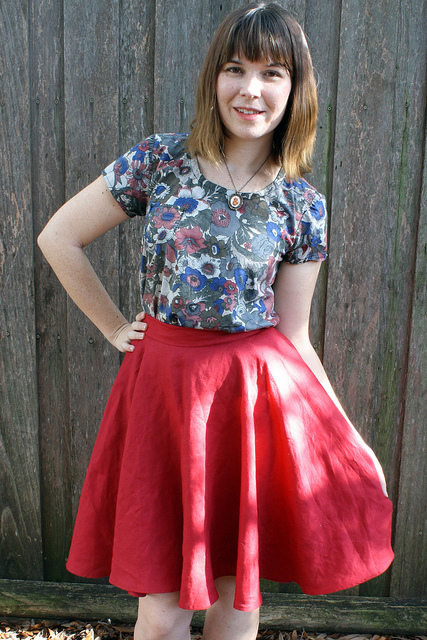 The Little Red Circle Skirt
I can't believe it but it's been raining for like 3 days straight. This is good because we could really use the rain but this also means I can't exactly go outside to take pics and inside is too dark with all the clouds. Luckily today it cleared up and took these photos of my new circle skirt!
Remember my last circle skirt? Well, what I didn't tell you was that skirt was a test sample for my new class I'm teaching on drafting circle skirts. Monday night was my first class that I taught (it went really well! yay!) and this red skirt was my in progress "example" skirt I used to demonstrate steps to my students.
The fabric is a red linen which is on the thinner side but is much stiffer than the rayon I used on my last skirt. The linen gives the skirt a little more of a voluminous effect.
I did a baby hem on this skirt rather than hem tape like last time 'cause I knew you might be able to see the underside of the skirt because I made this skirt with a slight hi-lo hem. It's most obvious from a side angle.
Making the hi-lo hem was easy, and I made a nifty little graphic to demonstrate!
Basically, you take your circle skirt pattern, which looks like a big donut, and you shift your center circle (for your waist) forward a few inches closer to the front of your pattern. That makes the front of the skirt shorter and the back longer.
My hi-lo effect isn't very exaggerated. I was limited to the width of my fabric, it was only 54″ and I didn't want to cut the skirt in two pieces. I like the single back seam look. Nor did I want the front of the skirt to be too short
The rest of the skirt is pretty much the same as last time – regular zipper in the back, waistband with a button (this time it's a shiny shell button!).
I pretty much love this skirt! And it's red and I don't own much red clothing right now so something new is pretty exciting. It fits well at the waist and the linen fabric gives it a different shape compared to my teal skirt. And the fact that it's solid makes it easy to match with tops! Circle skirts for the win!
In other news I got to wear my bombshell swimsuit this weekend (to a rather shallow and slightly slimy river, but whatevs) and I'm going to Florida for a week next week to visit family and I'm sure I'll get to wear it again. It's quickly becoming my favorite swimsuit!