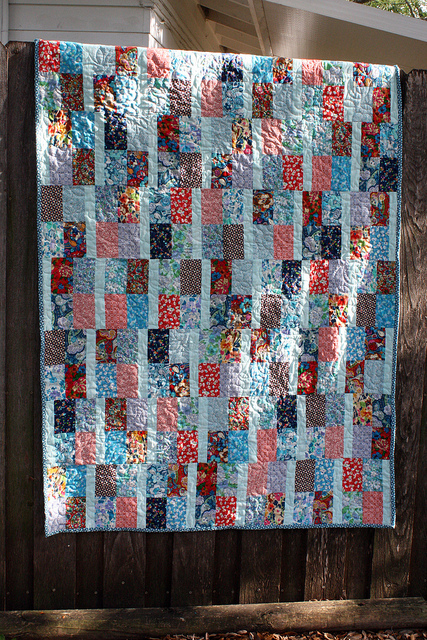 Quilting and Teaching
I'm back! And just in time to get my new quilt back from the quilters. Thanks so much to my friend Susan (aka Miss Lulu) for guest posting while I was away on vacation. If you follow me on instagram you've probably seen all my Boston pics.
This is my second quilt I've made that I got quilted at Remnants using their long arm quilting service. Uh-oh, I think I'm becoming a quilter!
It's not that exciting – I made it using a kit and a pattern. All the fabrics except for the light blue panels are Liberty of London prints (did you know they had a line of quilt weight fabrics now?). Basically I loved that I could use bits of all the wonderful prints!
I did get a little creative – with some scraps I made a stripe on the back side, just for fun.
And for some reason I though it would be a good idea to hand bind the entire quilt. Yeah, probably won't be doing that again. Major props to people who hand quilt! Such patience that I do not possess.
*****************
This isn't just your ordinary tote bag. This one is big, strong, and packed with interfacing to make it hold up to whatever groceries (or even small children) you put into it. The thick straps wrap all the way around to the bottom seam and are reinforced. There are interior pockets, too. Even Amy herself says this is the bag of hers that gets the most use and it'll be your go-to bag, too.
If you've made an Amy Butler bag before you know that she includes thorough instructions and professional finishes. If you've never tried an Amy bag before this is the perfect one to start with and a great canvas for fun prints.
The class is recommended for advanced beginners and up – those who can at least cut out pieces and use a sewing machine. You really don't need much experience at all.