Ballet Dress Revised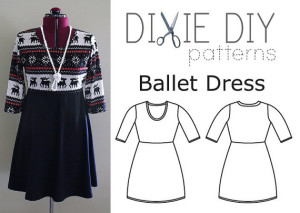 Hey peeps, guess what? I finally recovered my files from my old laptop that died, oh, like 9 months ago. What does this mean? Well, for me it means I now have the original Adobe Illustrator versions of some of my old patterns, not just PDFs. (Yeah, backing up files is important, I know…) For you it means that I took some time to revise my Ballet Dress Pattern.
It's been about a year and a half since that pattern debuted and since then a lot of you have made it. I've loved reading about your makes because it helps me to improve my designs. So I took some advice. Here's what I've changed:
Lengthened the skirt by 2 inches
Lengthened the bodice by 2 inches (that means a total of 4in for the length of the dress)
Reduced the sleeve hem opening by 3 inches and angled the sleeve cap for a tighter fit
I also did some graphical changes in the info and instructions sections and added a printing layout.
Hopefully the extra length will help those ladies who are taller or bustier than me. And you're right, the sleeves are too loose. I think the altered sleeve cap will also help if you want to make short sleeves rather than 3/4.
Now, if you've already bought the Ballet Dress pattern, no fear. You can send me an email at dixie (at) dixiediy dot com and let me know which email address was tied to the Pay Pal account you used to buy the pattern and I'll send you a copy of the new one for free. I might send out a mass email to everyone who's bought it, I haven't decided yet. Would that be helpful or are mass emails annoying?
Thanks so much to all of you out there who have made, shared and critiqued my patterns. I appreciate this community so much and you all keep me learning and inspired!