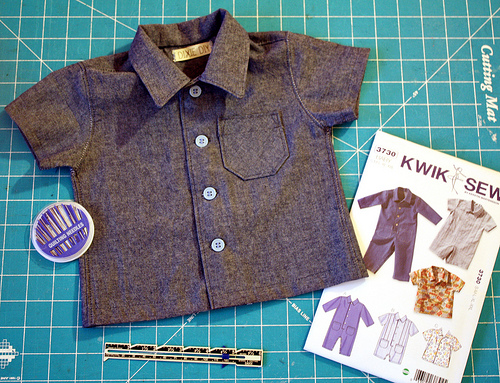 Kwik Sew 30720 Baby Shirt v3
This is just a quick project that I finished. It seems like I've been in the midst of so many projects that hardly any are finished. It's nice to be able to whip something out really fast, ya know?
So I know another person who's having a baby soon, and it seams like they're all having boys which is great for me 'cause I'm getting my money's worth out of this Kwik Sew pattern. This is the third time I've made this tiny top.
I made this one in a size M sew the kid will have a couple months before he can fit into it but that's fine.
I used some blue chambray and little blue plastic buttons. I stitched down all my seam allowances and topstitched my edges. It's in blue so you can't really see it but I like the extra stability it gives to the seams.
I even added a Dixie DIY tag at the back neck so that kid can remember who loves him. 😉
And then I was able to smoosh the shirt into a very tiny box which I then wrapped.