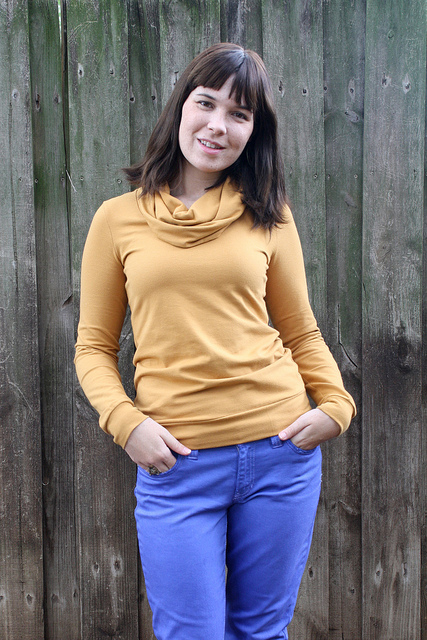 Butternut Sewaholic Renfrew
Even though I know I could draft a basic, long sleeve tee I often don't take the time to do it. Why? Because I am lazy. Sometimes you just want a quick sewing fix, amiright? And drafting, no matter how simple, still takes longer than cutting out an already made pattern.
And because weather here fluctuates with the tides I've got about a three day window to take advantage of this cool front before 65 degrees turns back into 89.
Soooooo… I made a Renfrew! I sewed the cowl neck version but added full sleeves rather than 3/4 because I have exactly – quick, let me go count – zero long sleeve shirts. I used to have a sweater but donated that sad looking thing sometime this year. Considering last winter I got by mostly wearing this jacket, I think I'll be safe if I don't have that many shirts guarding my full arms.
But here's where my whole "I'm lazy and I want to save time" thing gets thrown out the window. This pattern has 5/8″ seam allowance which is cool and all but I wanted to use my serger which makes a nice 1/4″ seam allowance. But I hate using my serger knife to cut off excess fabric 'cause it makes the edge all jagged and leaves more mess for me to clean up so instead I traced all the pattern pieces and then went back and removed 3/8″ off of all the edges so I wouldn't have to serger-trim the SA later.
Ok, lets get down to the nitty gritty, kitty.
The Goal: I was smitten by this teaser of fall that the earth likes to do to me this time of year and wanted a long sleeve shirt.
The Pattern: Sewaholic's Renfrew. This was my first time using a Sewaholic Pattern. Since they're designed for the pear shaped lady my measurements were all over the place. I ended up cutting a 6 at the bust and blending down to a 4 at the waist and hem. I think it worked out fine.
Ever since I admired Grainline's Scout Tee I've been really intrigued by the details of pattern design. There are some things I like about this pattern, like how the side seam curves in nicely to give a little shape and how the sleeves' seam lines aren't perfectly straight either. The only thing I didn't really like was that the front and back curves on the sleeve cap are the same. This isn't a big deal and is even less so with a knit but it still bothers me a little (Megan Nielsen's Darling Ranges Dress also has a symmetrical sleeve cap, which I don't like much). Your front has more volume than your back so your sleeve curve should look a little different on each side. But it's not a huge problem, so whatevz.
The Fabric: A nice stable knit in a color I'm calling "butternut." Very autumnal. I bought it at Fabricker, a local Austin store that now also has an online shop! Check it out! I also just bought this cool graphic floral print cotton.
I forgot to ask what the content of the fabric was when I bought it. I guessed cotton but after washing I wasn't so sure so… I burned it! Have you ever done a burn test on fabric before? I hadn't, although I had an idea of how which fibers were supposed to react. I'm pretty certain it's 100% cotton. But I did go a little pyro and started burning every different scrap I could find. Fun stuff. 😉
The Changes: Other than adding long sleeves the only thing I changed was not top stitching the neckline seam allowances down. If I had made the round or v-neck styles I would have but with the cowl neck I didn't need to.
Next time I might make a sway-back adjustment. Maybe…
The Results: I like it, especially the cowl. It looks like a scarf. I feel like I need a big 70's knee length wrap skirt and knee high brown leather boots to go with this top. Something about the color puts me in a 70s mood. I guess purple jeans will work just fine, too. 😉